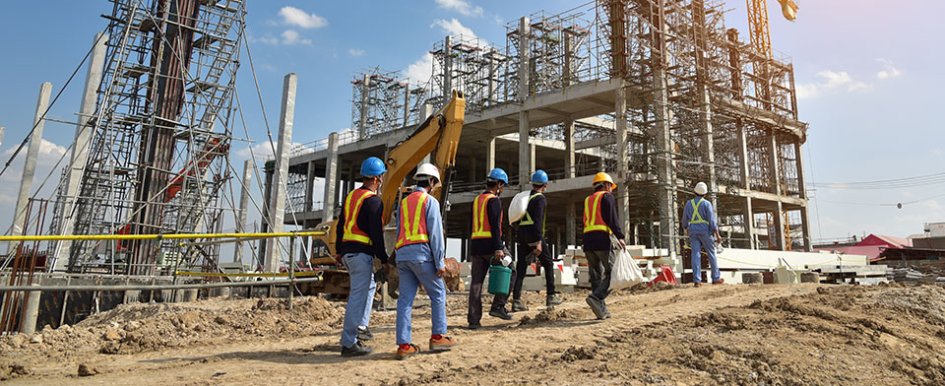 Exploring the pros & cons of construction's post-pandemic 'new normal'
When 2020 began, most business leaders probably did not think a global pandemic would shake the very foundation of the world economy. In fact, back then, one of the most enduring challenges that construction leaders faced was the threat of the skilled labor shortage and its detrimental impact to productivity. Now, businesses have new sets of rules, guidelines and tactics they must implement to be successful in the "new normal" that was thrust upon us all as a result of COVID-19. 
While much of the fallout related to the first 6 months of this pandemic still remains a significant unknown, construction leaders pivot to known variables such as social distancing, leveraging technology and meeting clients demands. Moving forward, business leaders will undoubtedly find new ways to not only thrive, but also recover from the errors they will make as they react to these new dynamics. One mistake to note is supporting the belief that jobsite productivity will remain static—it won't. However, there are several pros and cons to recognize about productivity and the new normal that could be our silver lining: 
Pro: Crew Sizing
With social distancing rules in effect, there may be a need to reduce crew size. Obviously, if a five-person crew was planned and each member of that crew was as effective as possible, there will be a loss. However, in many businesses, crew sizes have ballooned with no explanation or challenge to that size. For instance, could a four-person crew be as effective? With new rules in place, there may be no other choice but to reduce the size.
Pro: Spacing
There are many studies that show the optimum spacing for personal productivity. Oil companies have explored these spatial constraints for years to determine how to effectively use personnel in areas where safety and productivity need to be maximized, such as an offshore rig. Similarly, many construction managers are operating under the false premise that if you cram more bodies on a jobsite, output will increase. There is definitely a law of diminishing returns and simply adding bodies to confined spaces will only serve to impede productivity. The good news is that the new rules may prohibit placing more people in an area.
Con: Spacing
In some cases, these bodies were needed to accomplish a task. For instance, it is likely that individuals may have to work in close proximity because the task requires it (i.e. installing a window, placing a lintel, tying rebar, etc.). New rules may require new methods and means to accomplish said goal. Additionally, as different trades occupy a space, general contractors and owners may not allow crew stacking, even if it isn't of the "overload" variety. This may require longer durations for specific activities, which should be reflected in estimates and budgets.
Con: Cleaning Time (Part 1)
Personal hygiene is not limited to washing one's hands. Cleaning tools and work areas will take time, whether it's at the beginning of a shift or at the end. While some time should be allocated for preventive maintenance, new rules may dictate the less-than-optimal use of a 40-hour work week.
Con: Cleaning Time (Part 2)
Cleaning may not be limited to tools. It is likely that materials which arrive on jobsites may require a certain level of cleanliness not normally seen. Obviously, a greenfield project may have a final cleaning phase that will provide a certain level of closure for customers. However, consider an electrical contractor working on a renovation of an active medical clinic. The time associated with cleaning switchgear, light fixtures, etc., needs to also be accounted for when developing a budget.
Pro: Technology Leverage
For years, many firms have talked about going paperless. In some cases, firms that did go paperless seemed to make more paper—of the dollar variety. Optimizing digital technology for everything—timecards, job reports, punch lists, submittals, schedules, purchase order, QA/QC, etc—is probably just what the construction industry needed. By going paperless, crews can focus on the work and gain efficiencies that were often thought to be out of reach. One of the best examples is earned value reporting. By using digital tools, crews can report both time and quantities and get real-time productivity information, enabling real-time course corrections. 
Pro: Technology Leverage
Adoption of virtual tools such as Zoom, Webex, Team, GoTo Meeting, Facetime, etc., has been accelerated because of the pandemic. In fact, tying in via virtual tools was often a last-ditch effort for some individuals to time in prior to COVID-19. In the absence of true face-to-face interaction, these tools have become essential, helping maintain schedules and communications. These tools have the ability to become as ubiquitous as a hammer drill or backhoe on jobsites, enabling teams to close the distances and utilize time more effectively.
Jobsite Cleanliness
Overall, workspace hygiene and cleanliness will take on a new complexion and could have ramifications on contractor costs. However, there is another perspective that should be considered. Outside of extraordinary exceptions or requirements, trade contractors and general contractors alike have largely struggled with simply keeping sites clean, so this added focus may actually improve productivity and safety. 
There are changes on the horizon that all businesses should recognize as new standard operating procedures. The recognition and incorporation of these changes need to permeate all aspects of the business—including, but not limited to, estimating, budgeting, planning, cost monitoring, productivity reporting, and financial benchmarking. Overall, it is essential that construction business leaders adapt, react and pivot quickly to this new normal.