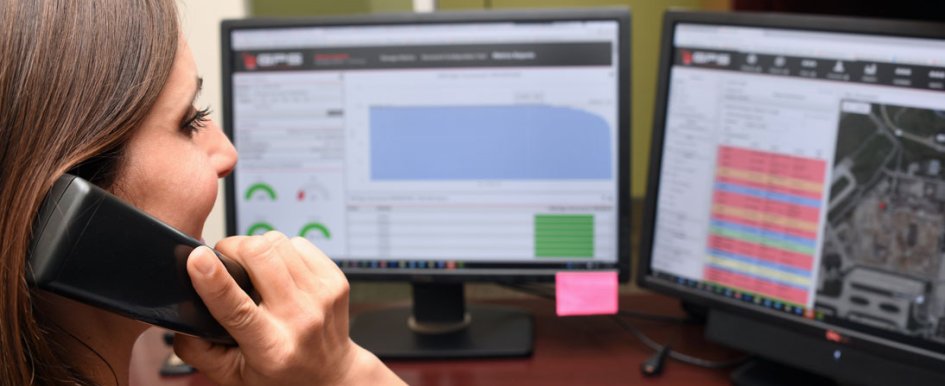 The importance of customer service when selecting software for your business
Wednesday, March 29, 2017
Almost everyone has experienced that one call to customer service. Listening to the on-hold music and trying to pass the time until, finally, a customer support representative's voice comes through on the other end of the line. Then, after trying to explain the problem to several different people, your issue is still not resolved. This situation is frustrating enough when it's on personal time. But it can be even worse when you are trying to resolve an issue at the office and the answer is crucial to continue working on your project. Even though technology plays a substantial role in today's business operations, there is still a need for robust customer support to troubleshoot technical issues when using software. Beyond that, there should be additional training and customer support resources to ensure customers get what they expect from the system they use.
In a 2017 fleet management technology report, respondents surveyed said that ease of use, customer service and cellular coverage were the top criteria for choosing a telematics provider. Ease of use and cellular coverage are foreseeable, but it is important to note that the value of customer service is on the rise. For construction professionals who are new to telematics, it may come as a surprise that after-sale support is such a key differentiator when choosing a provider. Those who have used a system are familiar with the challenges that arise when a provider's customer support is not up to par. When selecting a system, it is essential for fleet personnel to verify the provider's customer service options to ensure success from implementation throughout the lifetime as a customer.
Get Help Planning Telematics Deployment
Implementing a telematics system to a construction fleet takes a great deal of planning and organization. To avoid unnecessary downtime and ensure devices are installed correctly, approaching implementation with a strong game plan makes all the difference for your company. It is far easier to complete a successful rollout with experts who know the ins and outs of how to do this effectively.
That is where a telematics provider's customer support team comes into play. A few areas in which a telematics provider's support team becomes extremely useful during implementation include:
Coordinating the installation of GPS tracking devices
Helping set up users and administration of the software
Setting KPIs for the telematics program
Training, support and coaching on best practices
Utilizing customer support and resources during implementation ensures the system is set up correctly, employees are trained with the right information and businesses can hit the ground running with their new telematics initiatives.
Designate a Knowledgeable Point of Contact
Dedicated account management has become a popular trend for software as a service (SaaS) companies. The reason why is logical; when customers learn to best utilize software, they will receive the most value and ultimately stay a customer for a longer period of time. The days of signing a contract with a telematics provider and not hearing from the provider again until it is time to renew the contract are in the past. If a provider doesn't offer dedicated support and resources, it should raise a red flag about its approach to customer success. An account manager is an important aspect of customer support because he/she acts as a point of contact that knows everything about his/her customers' specific use cases for the system.
Every business is unique and has different reasons that it needs visibility over its equipment. It is beneficial to work with an expert who understands those details. Account management becomes extremely valuable with big data. Telematics systems can provide endless amounts of information about a fleet, which can be a double-edged sword.
The benefit is that any type of information about a business's vehicles, equipment, operations and mobile workforce becomes available. Having that type of information helps construction fleets solve major business challenges. Adversely, users can become overwhelmed by all the information available. Account managers help fleet personnel navigate the bountiful information to make sure they don't miss the big picture, which is to reduce costs, reduce risk and increase revenue.
Call an Expert, Not a Call Center
When comparing potential telematics systems, it's very easy to turn it into a price war. The features don't look all that different, so the cheapest system wins. The problem with this approach is that cheap software often doesn't work as advertised and less-value-added services are available. There is no doubt that price is important, but you shouldn't make this the only persuading factor in your decision.
When a provider charges less for its system, there are usually specific reasons why. Typically, the software's functionality is much lower quality and the provider may outsource technical support. United States-based, 24-hour, technical support can make all the difference when issues arise. Having the ability to call a representative that works for the telematics provider and has a comprehensive understanding of the platform is far more likely to provide a quick and precise answer than an outsourced call center representative.
Obtain On-Demand Training & Resources
Another key aspect of customer support is well-documented articles and other training materials on software features and devices, best practices and use cases that can be accessed through the telematics platform. As a user, it is often easier to access an online help center with searchable articles, video and feature descriptions to get the information quickly. Online training courses are also useful as a guided learning experience to get the whole team up to speed on how to use the system.
Telematics is not new to the industry, but there are still many business owners who have not adopted it into their fleet operations. Even for those who have, telematics solutions available have drastically improved from the simple track-and-trace capabilities it was commonly used for when it first hit the market. Nowadays, telematics systems can provide true fleet intelligence to businesses, and providers are going above and beyond to ensure customer success. Selecting a provider that focuses on after-sale customer support will help ensure the platform is used most effectively throughout the entire organization.