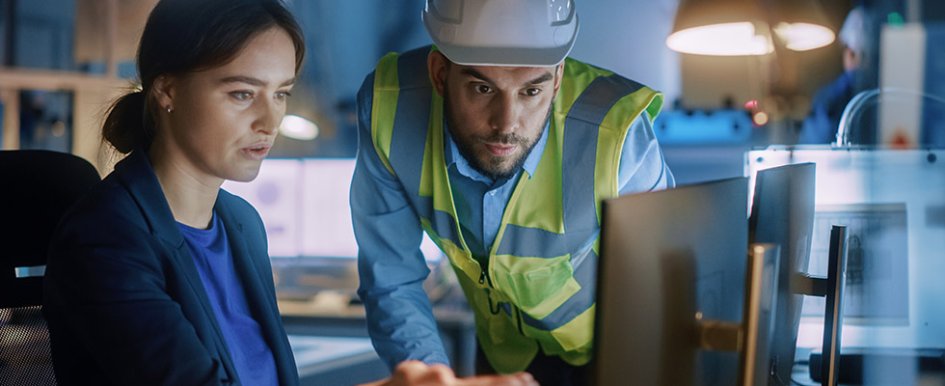 Explore the latest tools to minimize delays, reduce mistakes & increase productivity
Thursday, September 21, 2023
Some of today's toughest challenges for construction owners and general contractors (GCs) involve keeping workers safe on the job and ensuring the overall health of their projects. Balancing safety and productivity are critical to any construction business's ongoing success. 
Whether your work involves commercial projects, water/sewer, pipeline excavation or demolition, you never want to be hit with a costly Occupational Safety and Health Administration (OSHA) violation, which can range from $15,625 per violation to a maximum of $156,259. 
Barely scraping by on razor-thin profit margins is also not a business model most contractors want to run. But this is often the result when construction firms don't standardize their data or use digital tools that integrate with their other tech solutions. 
The solution? Adopt the right digital technology and automation tools to eliminate safety blind spots and improve overall project delivery for a stronger return on investment. 
Firms that implement the right digital automation-based tools can transform how they handle emergencies and embed digitization and automation strategies for efficiency. Adopting emerging tech — including cloud-based software and wearables — is essential for firms to stay competitive.
Construction Industry Obstacles
First, let's look at the pressures most GCs face on any project.
Construction is known as a high-volume, low-margin industry. Of late, it has been experiencing an even greater squeeze due to labor shortages, fluctuating material costs and the lingering impacts of war and the pandemic. 
According to McKinsey's "Construction Productivity Imperative" report, 98% of commercial contractors reported that their projects experience delays or cost overruns. Complicating matters further, these projects go 80% over budget, on average.
Today's construction companies are capital-intensive, involving fixed assets like tools, heavy equipment and vehicles. Many construction businesses scrape by from project to project with little room for errors or OSHA fines. 
Eliminating Safety Blind Spots
Like productivity and profitability, safety can be a struggle because of the very nature of the projects themselves. 
Many activities on the construction jobsite expose workers to serious hazards, such as falling from rooftops, being struck by heavy equipment, unguarded machinery, electrocution, silica dust and asbestos. The cost of workplace injuries can add up quickly. The average workers' compensation claim is more than $42,000.
What if you could see at a glance whether contractors coming onto a jobsite have been trained on the proper safety protocols? Do they have the appropriate personal protective equipment (PPE)? What if you could drill in to whether workers were waiting for a safety inspection or permit?
Automation-based tools like cloud-based software and wearables can deliver real-time visibility. Even better, in an emergency, automation-based tools can provide additional support at the worker level, unlocking critical data. 
For example, industrial Internet of Things (IIoT) wearables provide sensors that collect and transmit data into cloud-based software across a standalone network independent of your internal IT infrastructure. You can then easily access real-time data about the work happening on the jobsite.
This elevates jobsite visibility, safety and security, and connects workers, equipment and operations through a scalable, minimal infrastructure network. With this, you have real-time, data-driven visibility into site access, worker and equipment location, manpower, safety incidents, and evacuation and muster procedures. It provides actionable insights to streamline processes and improve safety and productivity.
With the right tools, GCs can know the location of all workers to reduce muster time and ensure OSHA compliance. This provides real-time visibility into who has mustered and where during an emergency. First responders can appropriately prioritize search-and-rescue efforts based on real-time location data. Seconds can mean the difference between a positive outcome and a fatal one.
By digitally tracking contractors and equipment utilization, project owners and managers can identify and eliminate safety blind spots to decrease time to safety.
Real-Time Data Is a Game Changer
In a manual environment involving spreadsheets and phone calls, accounting for where all workers are on a jobsite can be challenging. When emergencies arise, manually collecting and consolidating muster rosters can cost valuable time.
Companies that leverage IoT digital solutions have seen up to 70% faster muster times.
With digital automation, project owners can see who is on-site and have insight into contractor fatigue and equipment usage. Using this data, contractors can make informed decisions on how to schedule and utilize workers experiencing higher fatigue rates than others, reducing the risk of an incident. 
In this case, software tools provide fatigue dashboards and an alerting system so contractors know who is nearing or reaching their limit for hours worked. You can set alerts for daily thresholds (such as 14 consecutive hours on the job) and consecutive-day thresholds where you receive alerts (such as on the 14th day).
Monitoring fatigue can be critical on a construction site where 40% of all construction workers in the U.S. are 45 years or older. According to the Mechanical Contractors Association of America, something as simple as wasting motion climbing a ladder can set construction companies back more than $5,500 per worker per year. The more you move, the easier it is for your muscles to tire out. Fatigued muscles slow your output down and increase the potential for injury. 
You can also use digital tools to keep up with equipment. Equipment utilization software can track and provide insight into equipment usage. Analyzing the amount of time equipment is idle or being used can mean better decision-making.
For example, software tools can reveal patterns of extended idle time during specific hours or days, indicating opportunities for scheduling adjustments or resource reallocation. It may also highlight equipment that consistently experiences high idle time, indicating the need for maintenance or replacement. 
Knowing all machinery used for construction is up to date and meets safety standards also means you bake informed decision-making into your business process. Better monitoring of contractors and equipment means better safety, value and productivity. 
Automating for Productivity
Many GCs use complex digital systems, generating a vast amount of data. Integrating and consolidating the data into a centralized platform can be challenging, especially with legacy systems.
Leaning into powerful, new automation tools allows contractors to access the insights and capabilities to keep workers safe and mitigate emergencies. Plus, automating safety frees up project management to focus on project timelines and productivity to ensure the overall health of a construction project.
When contractors and project owners lean into contractor data management tools, it is a win-win for both sides. All aspects of the owner-contractor relationship are brought into one real-time view. For example, spend management software can match actual hours worked with scheduled hours, rates and other details, and actively control all on-site aspects of project spend. 
Increased transparency and accountability mean payment accuracy for contractors and fewer conflicts. With a single shared source of truth, owners and contractors get real-time visibility into work site productivity and progress, ensuring everyone is on the same page. 
You can also identify resourcing issues such as the availability of skilled labor, equipment and materials earlier, allowing for proactive resolutions. This helps to minimize delays and costly mistakes, as well as increase productivity.