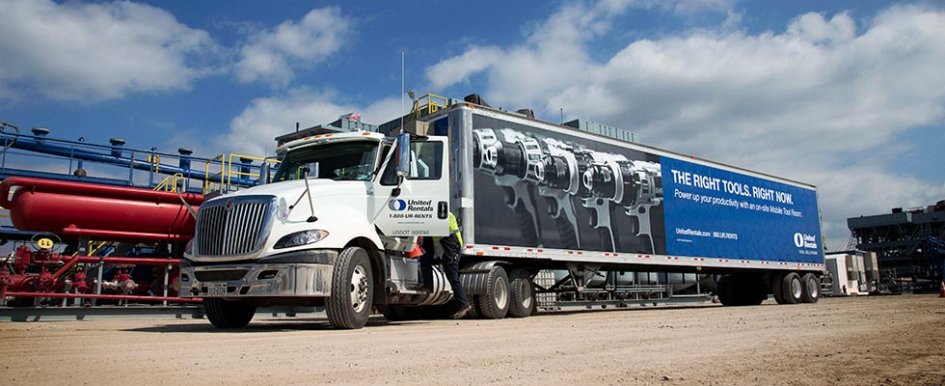 United Rentals goes inside managed tool trailers, use cases & the benefits for busy contractors
As the construction industry ramps up for this summer's busy season, contractors are in need of solutions to the many lingering challenges. One of the top issues reported by construction professionals in both residential and commercial construction nationwide is the slowdown of supply chains. While there is still no silver bullet, by recent accounts, contractors may be able to get ahead by pursuing new opportunities.
Supply chain snags continue to drag out project duration and fuel overshot budgets, ultimately stunting project completion and making emergency spending more of necessity. So how can contractors keep costs in line and streamline on-site expenses?
Construction Business Owner (CBO) spoke with industry veteran Greg Jones, who holds the position of tools regional sales and marketing director at United Rentals, the largest equipment rental company in the world.
The company has an integrated network of 1,288 rental locations in North America, 11 in Europe, 28 in Australia and 18 in New Zealand. In North America, the company operates in 49 states and every Canadian province.
Jones has been with United Rentals for more than 16 years and regularly works with contractors to keep their jobsites running smoothly with tool and equipment rentals. Jones helps customers with comprehensive tool solutions that help them safely achieve project goals and attain profitability margins.
In the following conversation, Jones shares insights on the ins and outs of managed tool trailers, which enable companies to rent top-quality, well-maintained tools to help boost productivity and streamline operations.
CBO: What can managed tool trailers do for the construction jobsite?
GJ: Managed tool trailers are stocked and placed at customer worksites with the rental tools, small equipment and consumable supplies needed during each phase of a project, including backups. Expert personnel staff the trailers to manage inventory, check out tools to authorized users and conduct inspections, maintenance and safety oversight.
CBO: What set of problems can they solve for contractors?
GJ: First, tool trailers help mitigate lack of visibility of what tools and small equipment are available on a jobsite. They can also help increase accountability, traceability and consumption management because of enforced process and dedicated workflow. Managed tool trailers can help maintain budget, as the projects are scoped and the trailers are stocked accordingly without redundancies.
Ultimately, managed tool trailers can help increase productivity on jobsites because the teams have the right tools at the right time. The barcode tracking system helps ensure every worker has what is needed. When workers have functional tools at their fingertips, productivity increases by an average of 23%, according to United Rentals research.
CBO: How can they be used to streamline productivity on-site?
GJ: Having the right tools, at the right time and in proper working order will increase productivity; the workers know where to go to get what they require. We will also house and track a contractor's personal protective equipment (PPE) and consumables which make for streamlined workflows and processes before work even starts each day.
CBO: How are managed tool trailers maintained and/or staffed and stocked?
GJ: The tool solution is 100% customizable to suit project needs. They can be manned or unmanned and are stocked with the tools that a contractor requires for the job. We will track a contractor's own tooling and PPE/consumables as well. We will administer monthly key performance indicators (KPIs) for consumption management purposes in order to keep the project on budget.
CBO: What range of tools (and/or small equipment) can be included in a managed tool trailer setup?
GJ: With over 6,000 categories/classes, we will work with each client to ensure the right fleet mix. Tool trailer inventories can include power tools, chain hoists, piping tools, welding, torque wrenches, lighting, pneumatic-powered tools, radios and more; and can all be tracked with GPS software.
CBO: What is the expense required to operate a managed tool trailer and how does that expense compare to traditional methods?
GJ: The costs associated with the solution are a direct result of the tooling requested by each client. Traditionally, a customer would have to spend capital expenditure at the beginning of the project and hope that the tools were there at peak when they require them. Furthermore, clients typically purchase three tools for every tool required as necessary backups. With a managed tool trailer, contractors only pay for what they need.
CBO: Is this considered an operational expense or can it be charged back to a project?
GJ: That depends on how the customer won the project, but it can be both.
CBO: How are these trailers protected and/or insured? Can they deter jobsite theft?
GJ: The trailers are locked when not in use. Every time a worker comes to the tool trailer to pick up a tool or PPE consumable, a barcode is scanned, as is the worker's identification badge. If someone needs a tool that is on-site but not in the tool trailer, companies can quickly track down who has it and determine if they still need it. When the item is returned, the barcode is scanned, and the item is added back to the inventory list.