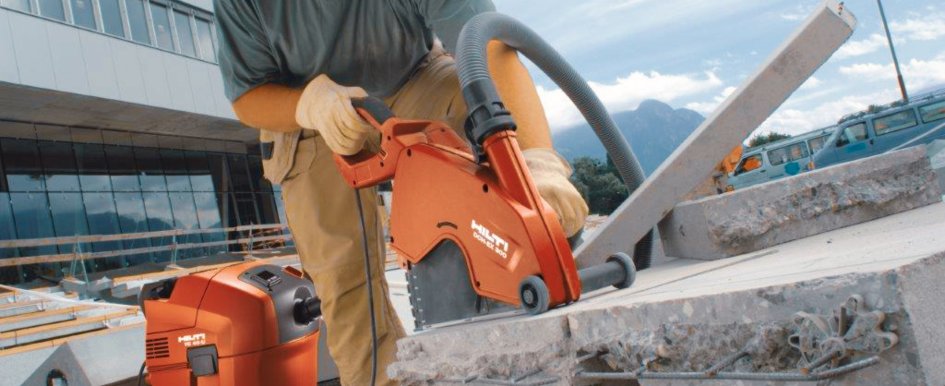 How the two work together to create a better jobsite
In the construction industry, safety and productivity seem to compete for priority, but when viewed as a necessary pair, they work together to increase efficiency. These days, technological advancements play a large part in improving the experience of completing a task, many of which incorporate both safety and productivity.
Dust Control
In September 2017, the Occupational Safety and Health Administration (OSHA) implemented the Respirable Crystalline Silica Standard, which requires that construction companies take certain measures to reduce the exposure levels of respirable silica while performing dust-creating tasks. To get below the Permissible Exposure Limit (PEL), as defined in the standard, many tasks now require specific engineering controls and work practices.
Some manufacturers have provided education and product portfolios on this topic, which help ensure contractors are OSHA-compliant. Dust removal increases the speed of the work and the lifetime of the tools being used, resulting in a more efficient crew. Applications that call for drilling, coring and/or sawing are accomplished using either a dry or wet method. Dry methods often utilize a shroud or hollow drill bit with connection to a vacuum. One such dry method uses an onboard system attached to the tool, making it cordless and free from additional connections.
Wet methods utilize a flow of integrated water supply to the tool or piece of equipment. One such common wet application involves gas saws. When cutting with a gas saw, high levels of silica dust can be produced. The water is used to suppress this dust and prevent it from becoming airborne. Once the task is complete, the leftover slurry still has to be cleaned up with a wet vacuum. One innovative technology on the market uses a wet vacuum with an attachment that provides water dust suppression and reduces cleanup at the same time—a water management system (WMS). The system can be used in supply and recycle mode, which allows the water in the tank to be reused for diamond drilling applications up to seven times, while filtering out the dirt into an easily-disposable bag, or in water supply mode, which engages a steady supply of pressurized water from the tank. Vacuum cleaning mode provides powerful suction to quickly take care of the final cleaning.
Tool Technology
Technologies, such as connected tools, active torque control (ATC), cut assist, blade stop, and scanning and measuring make the worker more efficient and create a safer environment. Many combihammers, drill drivers and cordless tools feature an ATC system that reduces the potential for injury caused from kickback by stopping the motor almost instantly if the bit binds and the housing begins to rotate too quickly.
Cut assist is an intelligent software that automatically advances the tool at an optimum rate by enabling the worker to set up the tool and automate the work. The technology also detects when the cut is completed so that the dust-suppressing water supply is cut off. Blade stop is a technology incorporated into battery saws that quickly stops the blade when the trigger is released.
Scanning on-site can help increase safety and productivity, minimizing the potential of hitting or drilling into metal and nonmetal objects by aiding the worker in finding suitable places to cut or drill. Measuring devices allow workers to safely measure distances and heights from virtually anywhere on a jobsite.
Tool connectivity is becoming more prevalent on jobsites. Some manufacturers have mobile apps that provide instant access to specific how-to videos, as well as operating instructions and OSHA silica dust standards, listed by tool type for easy worker access. Connected tools sometimes feature a built-in digital service indicator screen that notifies the user when it is time for cleaning and a host other services.
Cordless Equipment
Another way contractors have found to help increase jobsite safety and maximize productivity is to go cordless. Industry data suggests that close to 70 percent of all funds spent on construction tools now goes toward cordless equipment. Cordless tools add a variety of benefits to the user—the most important being eliminating the need to drag around a cord, which quickly becomes a tripping hazard. Cordless tools also tend to be more compact and easier to maneuver into tighter areas. Many jobsite applications, including metal sawing, concrete drilling and even direct fastening into concrete, can now be performed with cordless tools that provide comparable performance to the equivalent corded tool.
Cordless tool batteries charge relatively silently in a short amount of time, and a few batteries can support a full platform of tools. Additionally, cordless tools virtually eliminate the need to maintain a gas-powered generator or rely on a central power station off a main power line. With the technology in lithium batteries constantly increasing, consumers will continue to see improvements to cordless tools, helping them work even longer and more productively.
Ergonomics
While ergonomics may not have a direct safety impact, elements such as vibration, repetitive tasks and overhead tasks can take a toll on a worker, decreasing his/her productivity over time. Providing tools and equipment with the technology to decrease their exposure increases worker efficiency and reduces the risk of fatigue-related mishaps. Vibration in tools often results in discomfort and fatigue for operators. One way to decrease vibration exposure is to limit the amount of time a worker can operate the equipment, but this also decreases productivity. With new technology, manufacturers have been able to reduce this impact by implementing internal counterweight systems or decoupled handles on tools, which take on some of the vibration generated, rather than transferring it to the operator. In larger equipment, vibration dampeners or isolators can be applied.
For another ergonomics example, take the decking field. Traditionally, deck installers have welded decks to main structures. These welds are typically placed every few feet, causing the worker to have to bend down each time to complete the weld. While completing this back-breaking work, the worker must also worry about welding fumes, high-amperage electricity, cord trip hazards and more. A stand-up decking tool with mechanical fasteners allows the worker to avoid many of these safety risks, putting him/her at peace and on schedule.
Workers are trained to avoid overhead tasks when possible, but there are times when it is not. In this case, there are options available to reduce the risk involved and keep productivity at a high level. Using an extension pole to help reduce risk by limiting the height of overhead tasks, allows workers to move from location to location without moving ladders or mobile scaffolding.
In construction, productivity is often the main focus, but the safety of the workers should take precedence. The two are not mutually exclusive; focusing on safety does not always diminish productivity. Ultimately, safety and productivity go hand in hand. A safe worker is a more productive worker, and having both a productive and safe jobsite means having a better, more profitable business.