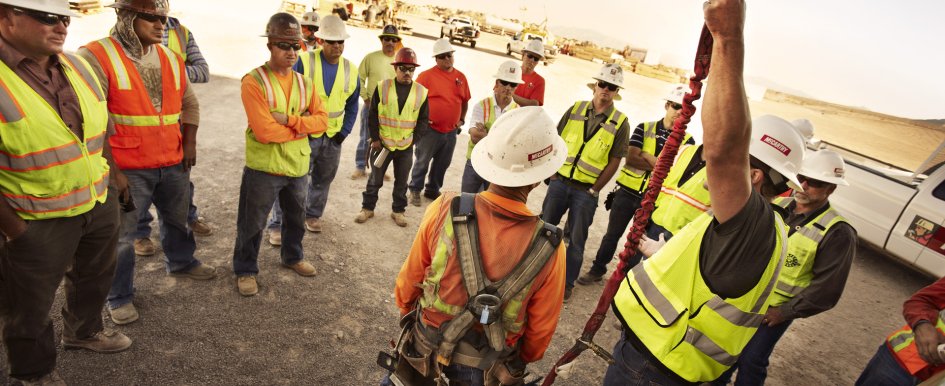 Insight from Safety Manager Ruth Milian on improving the quality of your safety processes
With recent updates to OSHA regulations for fall protection and the final rule for silica dust, there has been a renewed interest in what companies are doing to build best-in-class safety programs for their workforces. Often, the quality of your company's safety program comes down to the people that are enforcing it and the way they are engaging with employees. Having a clear understanding of what every jobsite role needs can help inform a safety director or manager's decisions.
Take McCarthy Building Companies Inc.'s Ruth Milian, who says her 11 years in various roles with the company is one of the defining reasons she is successful in her current role as safety manager. Milian recently caught up with CBO about how recent changes to standards, construction tech, workflow processes and more have influenced her role in building a stronger community centered around safety at McCarthy. Read her answers below. 
CBO: Tell us a bit about yourself. What does your role at McCarthy Building look like on an average day?
RM: I've been with McCarthy for 11 years. I started as a project engineer, and then moved into our estimating department. From there, I became an assistant superintendent, and then had the opportunity to try out a safety position. I've been a project safety manager for almost 5 years now. It has been a great learning experience pertaining to the efforts that go into training our people and how we equip them to complete their work well. I'm currently a safety manager on a project at the Hartsfield-Jackson Atlanta International Airport. I've gotten to work in very different roles with the company, and I think it's helped me succeed in the role I am in now because I understand several different parts of the process very well.
When we are planning for upcoming tasks, I immediately think about what safety risks we should be planning for based on who will be on the jobsite at any given time. I've also had to tweak my thought process quite a bit, though. In most construction roles, you are looking forward. In safety, I now look backward and forward. How did we prevent injuries or illness on previous jobsites? How can we improve on those practices in the future? How do we use past experience to eliminate risk on the next jobsite? My day-to-day responsibilities largely involve making sure everyone on the jobsite has the gear and training he/she needs to complete work safely. Then I am also interacting with project owners and subcontractors—I spend a lot of time listening to their needs and making sure everyone is on board with incorporating our safety standards. And then of course, I spend a lot of time with documentation.
We track all of our on-site observations through BIM 360. Using iPads on our jobsites has made this much easier. I also focus a lot on communication on the jobsite. This includes driving mentorships between younger and more experienced employees, and making sure everyone is equipped with the knowledge he/she needs on the jobsite.

CBO: How have new construction technology and/or workflow processes McCarthy has recently implemented had a significant impact on the company's overall safety record?
RM: During the last recession, solution providers were allowed the time to research and make technological advances. As such, we've seen several products come out since then that have the capacity to transform the way we work. The ability to access and process information quickly is paramount. We have a small computer station available for use on every jobsite, but have also invested in iPads for more individualized use. I've been impressed by the availability of singular apps aimed at solving different jobsite issues, such as one for measuring the noise level on site.
When you can show someone tangible evidence of how loud it is, and how it will impair his/her hearing without the right personal protective equipment (PPE), he/she is much more apt to use the gear provided. With BIM 360, quantifying observations with photos, texts and annotated drawings or pictures has improved our recordkeeping immensely. Being able to run a variety of reports for one specific subcontractor or team member is also extremely helpful. Through these reporting tools, we have tangible proof that we can address with immediate action.
CBO: What advice do you have for risk managers/safety personnel for building a company culture centered around safety?
RM: From someone who has worked in other roles on the jobsite, it's extremely important to remember that as a safety manager, I am dealing with individuals—with human factors. You really have to think about the people involved when you are structuring training programs and making purchasing and process decisions. One method of training will work for one group on the jobsite, but it won't for another. Employees are molded by their past experiences. My job is to give each employee everything he/she needs, so he/she rarely needs me. If I've done that, the employee will instill safety into every single task he/she completes on the jobsite.
Ownership is key. It's almost like training your replacement, except you are training every employee on the jobsite. I have to connect with every employee, which means at times, I have to hand-hold, and sometimes I have to use tough love. Educating the entire team throughout the process makes the safety culture stick. For a project that lasts a while, such as the one I am currently working on at the airport, there are times where it seems that the fervor the team possessed in the beginning has died slightly. Pay attention to that feeling, and make sure you encourage it to continue—that's how you maintain a high degree of safety.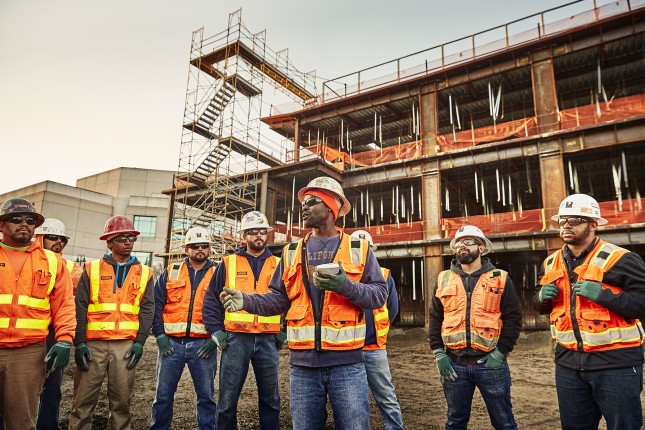 CBO: How have recent OSHA regulation changes or updates affected your planning for jobsite processes?
RM: Luckily, many of our standards have been ahead of OSHA regulation changes. Anyone who comes on the site has to comply with the standards we have in place. We have been very proactive in talking about any regulation changes months ahead of time. We have also brought in several vendors to do product demos and discuss regulation updates. Our ability to adapt to new standards is dependent on educating our folks in the field well ahead of time. There is an understanding that whatever the field team needs to easily comply with new standards, they will receive it. Because of this, our subcontractors are usually on board early on as well. They appreciate that these processes are in place.
CBO: Anything we've forgotten to discuss?
RM: It's important to me that I focus on being genuine and showing that I care about the outcome of each employee on the jobsite. Working and communicating to find a solution together is always my goal. There's a growing awareness that safety professionals aren't just there to stand around and point out what's wrong or unsafe. It's good that a changing mentality exists. We are present to help, not hinder.
For more information, visit McCarthy Building Companies Inc.