Keep these basic principles in mind when selecting fall arrest systems to reduce injuries and boost your safety record.
A construction business owner must juggle several responsibilities at once. Not only do you need to manage profitability and quality of work; you must safeguard your employees. It is paramount that you protect your workers' safety to ensure the viability of your company.
Falls remain the largest source of injuries and death in the construction industry. According to OSHA, more than 200 construction workers are killed each year from falls. These falls carry enormous costs to a business in the form of lost productivity and insurance settlements.
Providing your employees with the information, training and equipment they need to conduct work at heights efficiently and safely can help mitigate your risk. When protecting your workers at all heights, make sure they remember the ABCDs of fall protection: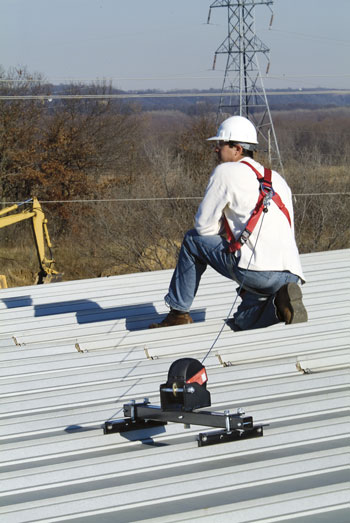 Anchorage—The anchorage is the secure point of attachment for the fall-arrest system. The appropriate type of anchorage connector varies by the industry, the job performed, the type of installation and the available structure. The anchorage structure to which the connector is attached must be capable of supporting a load of 5,000 pounds per person or shall be designed, installed and used as part of a complete system that maintains a safety factor of at least two, under the supervision of a qualified person.
Body Support—A full body harness is the best way to achieve body support while working at heights. Harnesses distribute fall forces over the upper thighs, pelvis, chest and shoulders. They also provide a connection point on the worker for the personal fall arrest system.
A well-designed harness should provide enough comfort to wear throughout the workday and should be adjustable across the chest and shoulders and around the legs. For optimal wearability, select a harness with built-in ergonomics, increased padding and lightweight materials. Harnesses that provide comfort and adjustability allow the worker to perform for longer periods of time and thus increase productivity.
Finally, select a harness that is intuitive and easy to use. You don't want workers struggling in and out of clumsy harnesses, as that decreases productivity and safety.
Connectors—A connector is a device that links the user's full-body harness to an anchorage. When used as part of a fall-restraint system, the length of the connector must be carefully selected so the worker is restrained or prevented from reaching a fall hazard.  
Shock-absorbing lanyards are designed to take the strain out of a fall. They are flexible lines with a connector at each end used to fasten the anchorage to the body support of a fall-protection system. For fall arrest, lanyards should be connected to the back D-ring, located between the shoulder blades and, ideally, anchored above the worker to minimize fall distance.
Self-retracting lifelines afford workers safe movement within the work area and include mechanisms that allow the device to extend and retract as the worker moves around. If the worker falls, the device will sense the sudden acceleration and arrest the fall.
Descent/Rescue—An essential part of the fall-protection program, descent and rescue devices are used to retrieve a fallen worker. Such devices include tripods, davit arms, winches and comprehensive rescue systems. Choosing the right descent and rescue equipment depends on the jobsite, the task being performed and the available workforce.
It is important to note that fall-protection equipment goes beyond personal fall arrest systems. Other equipment needed at the construction site may include ladders, scaffolds, nets and guardrails, depending on the work environment. Always provide workers with the equipment they need to get the job done safely.
The Real Cost of a Fall
Many construction business owners assume that fall-protection plans and equipment are expensive. In fact, the opposite is true. Investing in proper equipment and training can save your business money in the long run. Aside from devastating injuries and potential loss of life, falls represent an enormous business cost. They cause millions of dollars in losses annually in the form of lost work, increased insurance premiums and liability claims. And then there are the incidental costs of a fall. Falls impact the morale of the workers, decrease productivity and hurt your business's reputation. In fact, a poor track record with fall prevention and response can be a deciding factor when job bids are awarded.
Building a Plan
Having the proper equipment is important, but that is only half the equation in keeping your workers safe at heights. In addition to equipment, you must construct a detailed and thorough fall-protection plan. A fall is a stressful event, but having a plan in place can help diminish risk and increase the efficiency of your jobsite.
Your fall-protection plan needs to be developed before you begin any work on a jobsite. In the plan, you should identify potential hazards and determine the equipment needed to mitigate these risks. Every employee must be familiar with the plan to maximize its efficacy. Make sure your plan is stored in an area where employees can access it easily.  
All employees must also be trained on proper fall-rescue procedures in the event of a fall. It's vital that all workers realize the dangers of a fall, including possible injury or death. Additionally, your employees must know how to use all equipment to maximize its effectiveness, safety, comfort and usability.
To limit your employees' exposure to risk and help ensure effective response in the event of a fall, conduct hands-on training in controlled environments to simulate the complexities and dangers inherent in a jobsite. These controlled-environment trainings allow employees to practice using equipment and to confirm their knowledge of safety procedures.
Knowing the ABCDs of fall protection, investing in proper training and equipment and providing a detailed fall-protection and response plan can save lives and money. Consider a fall-protection program as a solid business investment as opposed to an unwarranted expense. Investing in training and employee best practices will lower OSHA recordables, increase performance in areas that impact insurance modification ratings and improve working conditions and productivity.