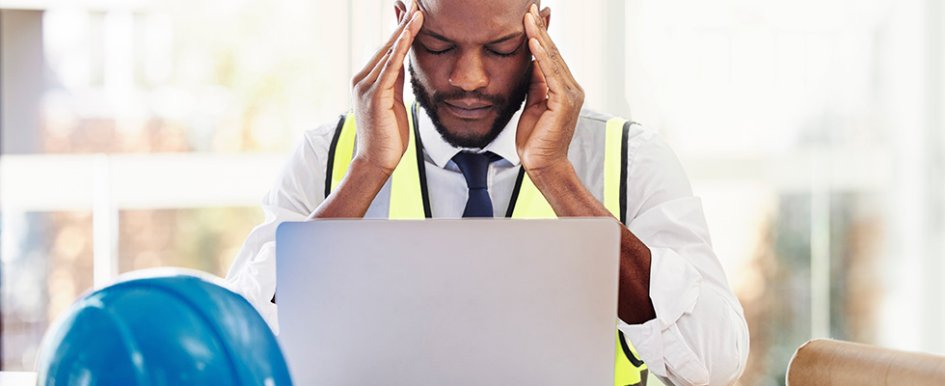 Recent findings reveal progress, gaps in employee health care
While the COVID-19 pandemic was largely negative for the world, it appears that the construction industry has experienced at least one positive outcome from the pandemic: a more open and engaged approach to worker mental health. Attention to the mental health of construction workers did not start in 2020. The opioid crisis hit the construction industry particularly hard due to the higher level of need for pain management among its workers. Many organizations were already considering how to help address issues of addiction, depression and suicide. However, as Dr. John Gaal, director of the Worker Wellness Program at the Missouri AFL-CIO's Missouri Works Initiative, states in an interview featured in a recent issue of Civil Quarterly, published by Dodge Data & Analytics: "I firmly believe that the impact of COVID has provided a safer environment to discuss these difficult topics such as suicide and opioid misuse and mental health issues."
The interview accompanied research, which is published by Dodge Construction Network in partnership with Infotech and Hexagon, on how civil contractors are currently addressing the mental health of their employees. The findings reveal that 39% of civil contractors currently provide resources to address mental health, with the likelihood that such resources are offered varying dramatically by size of firm, from 20% of small civil contractors to 53% of large ones.
However, later findings indicate that mental health resources may be more common than the initial findings suggest. When asked about resources including offering access to information on tools like mental health websites and mental health programs, and staff training on this issue, in addition to employee assistance programs, 67% of contractors report that at least one of the options is offered at their company. 
These are more common at large companies, where they are offered by 86%, but it is notable that half (51%) of the small firms offer at least one option. This reveals that attention to mental health is relatively widespread in civil construction.
However, there is room for improvement even at the large companies. One major finding in the study is a mental health training gap that must be filled. More than 30% of contractors cite training for leadership on the importance of mental health and for managers/supervisors on addressing mental health issues and recognizing the warning signs for suicide, but less than half of that share report this type of training occurring at their company.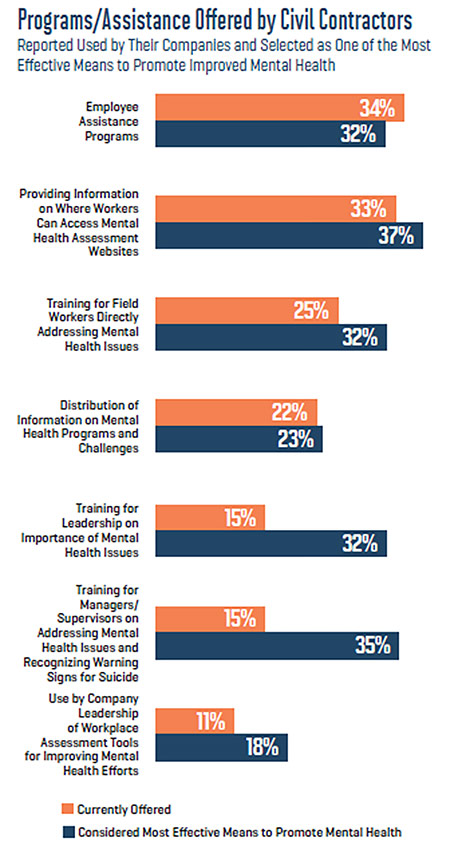 One of the biggest stumbling blocks for improving mental health in civil construction is the stigma associated with mental illness. Gaal cites silence and stigma as two of the biggest challenges that contractors seeking to reduce suicide rates in the industry need to overcome: "Not unlike in the military or law enforcement, expressing one's concern about mental health on the jobsite is often used as a sign of weakness and can result in destroying one's career progression." 
He recommends a website that can be viewed privately (the Construction Industry Alliance for Suicide Prevention website), and that recommendation is echoed in the data from the study. Civil contractors most frequently select access to tools used privately (such as webinars and assessment tools) as the top means of reducing the stigma of seeking mental health support. 
The other top factor for reducing stigma is having company leadership visibly prioritizing mental health. This finding reinforces the degree to which company leaders can influence the culture of their companies by clearly prioritizing factors that impact workers, such as safety and health concerns. It is particularly important as this factor is not influenced by size of company or the number of resources that companies can provide. Creating policies that clearly support those facing mental health challenges and encouraging acceptance of these challenges as medical issues rather than a sign of weakness is something companies of any size can embrace, because it is not dependent on having resources to dedicate to these challenges.
Perhaps the most striking finding, though, is that more than twice as many of the contractors surveyed believe that the state of mind/mental health their organization is better than it was five years ago than those who feel that it is worse. This is despite the stresses created by worker shortages, pandemic challenges and the other obstacles that have emerged recently. This finding may suggest that the increased attention being paid to mental health since 2020 is having a positive effect, and it suggests that continued attention to this issue can help yield a happier, more productive workforce.