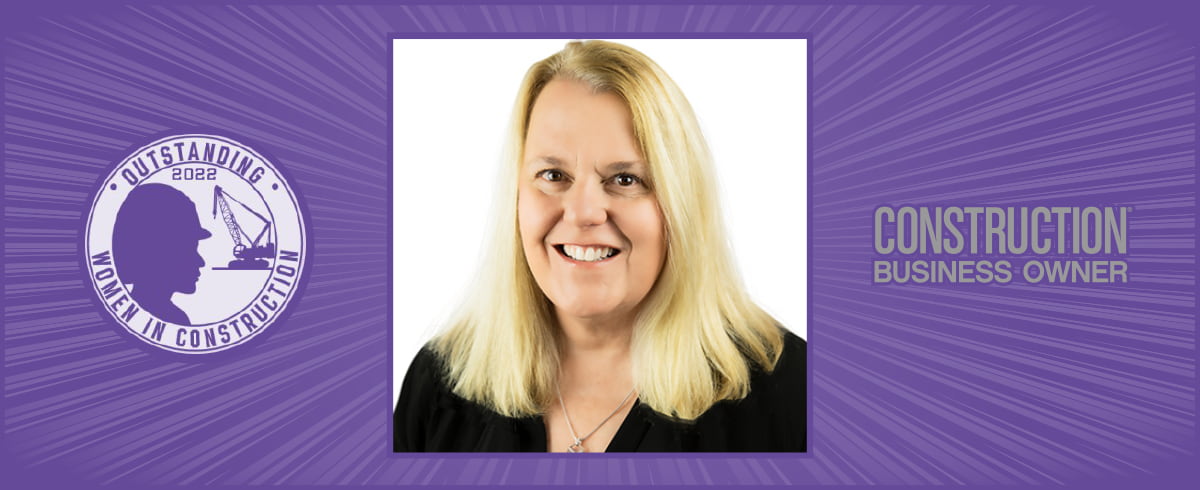 Outstanding Women in Construction 2022 Finalist
Thursday, November 10, 2022

 No. 1 Must-Have: "The ability to continue learning. To keep me wanting to jump out of bed and do what I do every day, I have to stay plugged in."
Nancy Novak spent her childhood summers on jobsites with her father. "He was the general superintendent for MK Construction & Builders, Inc., when they were one of the largest contractors in the world," she said. "He's really the one who introduced me to the industry and was the vessel through which I fell in love with it." So, it came as no surprise to her family when Novak pursued a degree in construction management from San Diego State University. Upon graduation, Novak was offered a job with Hensel Phelps Construction, where she stayed for over 20 years, working her way up from superintendent to operations executive over the mid-Atlantic region. There, Novak worked on iconic industry projects including the Atlas V launch facilities for Lockheed Martin, a total renovation of the Pentagon, and various prestigious clients, ranging from major hospitals to the Smithsonian Institution.
After retiring from Hensel Phelps, Novak spent 3.5 years traveling the world, during which she was sponsored by the company to attend conferences on women in the economy and diversifying various industries. "I met really influential people that helped me better understand why we were struggling so much in the construction industry," said Novak. "I spent so many years trying to figure out how to advance women in construction, and it was frustrating because we could build up a pipeline of women, but we couldn't get them above mid-management level. Even at that level, it was still only 10% of the industry." Novak realized that if construction were to diversify and expand, it must stop demanding potential talent change their entire ways and views of life to join the industry; it was the industry that needed to change instead.
About a year later, Novak ran into an industry acquaintance, chief of enterprise (COE) of Balfour Beatty Construction, who asked when Novak would return to work. "I wasn't planning to," she said. Novak wanted to spend her time exposing and helping to fix the industry issues she was passionate about, but she didn't want to be in charge of the actual construction anymore. "Then I have the perfect role for you," replied the COE. Novak became the company's national vice president with the role of unifying recently acquired firms into one national brand. She did so for four years.
Then, another industry acquaintance from Compass Datacenters asked her to come aboard. "You know, I really don't like building data centers. It's an increasingly unsafe and low-moral type of environment. Plus, they're just big boxes with lots of air and wire," she said. "You're right, Nancy," the caller said. "But we're trying to change the way we do business, and we're hoping to change the industry too." While Novak wasn't interested in building data centers, she was interested in changing the internal methods by which data centers are built. She agreed to come aboard. "For me," Novak says, "it was all about the person with the tool in their hand and trying to make sure that we could increase the tool time, respect that worker and get them home on a regular basis." Novak became the chief innovation officer. As far as Compass Datacenters goes, she is proudest of the fact that the company boasts 100% female construction managers in the United States.
Last year, Novak spoke to organizations devoted to advancing women in science, technology, engineering and math (STEM) careers, including the National Institute of Building Sciences, STEM Connectors, and Fortune Magazine's Most Powerful Women mentorship program. She participates in multiple organizations, working to create more inclusive environments as well, including Above Glass Ceilings LLC, the National Association of Women in Construction (NAWIC), and Infrastructure Masons' (iMasons') advisory board where she heads their diversity and inclusion committee. Her advice to other women in the industry is to build a network. "It's important to talk about career advancement and to tap into your network to make sure that
you're entering at the right level and that your employers are looking at your potential, not just
your credentials," she said.
Novak is working to close the gap between potential and credentials. At Compass, "We encourage our global vendors, general contractors and engineering firms to do the same. Not only are we leading by example but we're incentivizing them by putting down money for them to do what they can to draw in a larger percentage of women."
She puts her money where her mouth is when it comes to more sustainable methods of construction, too. "Lately, I've been laser focused on the sustainability nugget," said Novak. "People don't understand that the construction industry, the entire built environment, accounts for more than 45% of total greenhouse gases." So, she is always looking for a smarter, greener, more lucrative way of building. Her excellence in this area, says her team, is exemplified through her efforts in leading the company through adopting CarbonCure manufactured concrete. 
Novak is also the driving force behind Compass's use of artificial intelligence to optimize concrete mix formulations, reducing the volume of concrete required to build a data center by 25%. "When people say it doesn't pay to operate in more sustainable way because there's a premium for sustainability, I say that I've experienced just the opposite of that," said Novak. "There are very clever ways to make a business case for greener building practices, especially as it pertains to power consumption, and it's changing the landscape of construction's future."