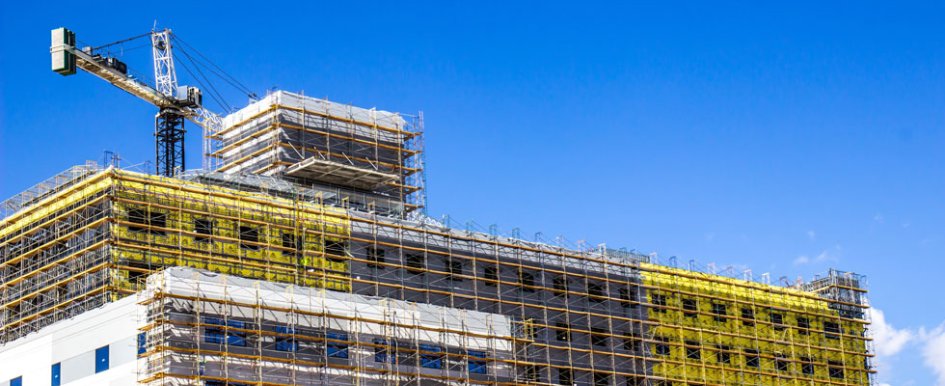 The importance of adaptability, communication & relationships in health care project management
At their conclusion, new health care projects are marvels of innovation, and fulfill community needs in a way that cannot be understated. While the result is often a spectacular feat that serves its patrons, these projects do not come without challenges. When tackling complex health care projects with unknown factors and unexpected surprises, there are several best practices that project managers can utilize to keep both the team and the project on course. Maintaining timelines and budgets can be made simpler with the implementation of an adaptability mindset, ongoing communication and commitment to building strong relationships.
Mindset Matters
All successful projects begin with a plan. Laying out project phases and needs in sequential, organized steps allows for a clear, straightforward path for the project stakeholders to follow. However, unexpected situations will always arise, particularly when it comes to complex health care projects that may take several years to complete. Project managers must be ready and willing to pivot at a moment's notice as new situations crop up or complications on the jobsite inevitably slow progress. Projects rarely play out as anticipated, and being able to change expectations and shift gears can make or break a development's timeline. Rather than halting an ongoing project for an undetermined period when presented with a challenge, being open to alternate solutions will allow the process to continue forward, determining where resets might be needed and what changes must be made based on new information.
This mindset of adaptability is especially important in renovations where unforeseen situations are expected from the start and the full picture may not always be seen until the project team begins opening the walls. Most project plans lay out the process from Point A to Point B. However, in health care renovation projects, Point B can be obscured until Point A has been learned and understood. If a project's plan is seemingly set in stone, it will be much harder to adapt to new circumstances. In addition to this necessary flexibility, actively seeking and taking advantage of opportunities when they present themselves will allow the team to stay vigilant and proactive to change.
Consistent & Frequent Communication
With these consistent shifts throughout the building process, there must be continuous communication within the team and across all involved parties. Coordination and discussion with key players are important for maintaining timelines and budgets throughout the development process.
For instance, health care projects require numerous and highly specialized pieces of medical equipment, such as operating room equipment, sterilization, imaging equipment and more. All of these entities need different building systems, from electrical to plumbing to shielding. Each piece of equipment and subsequent system have various needs for their specific purpose and use. Substantial coordination is essential to ensure the equipment arrives on time, fits and operates how it should, and is within the building and health care code standards. Additionally, the staff needs to receive the proper training for the use of the equipment, all of which requires detailed coordination across multiple teams.
Communication also comes into play with the constant development of technology over time. The ever-changing field of medical technology can result in new models of equipment being released during project timelines that often span many years. For example, a project with a two-year construction timeline may see a difference between the equipment reviewed and selected in the initial design phase and the equipment and components delivered as the construction is finalized. It is important to have open conversations across the project and client teams throughout the process to help anticipate changes and accommodate differing technology — both when it can and cannot be shifted.
To complete a project on time and on budget, communication of the "why" is often more impactful than the "what" because it creates an understanding between parties. For instance, clients may think shifts in the project plan — like changes to the layout of the interior walls — can occur just a short time before they are built, not understanding all the steps and nuances involved in the process could require several months' lead time. It is important for the project team to be open with clients that these types of shifts may need to be made well in advance in order to maintain the larger project timeline. Having a strong rapport between groups early on and throughout the process will help the project team stay in touch with any developments on the client's end that may impact the project. This helps establish the "why" to a potential change and creates a sense of understanding to help provide enrollment and the possibility of better and more cost-effective outcomes for the project.
It's important to also recognize the ways in which the COVID-19 pandemic has impacted how health care clients will think about the long-term needs of medical facilities, and therefore how the construction industry plans projects. The past two years have brought to light that outside of mandated policies, most organizations have different ideas and perspectives on how they want to handle their business practices and arrange their facilities to accommodate the evolving patient needs. It will become increasingly important for project managers to be ask questions about these factors when interacting with clients, not only to ensure the best outcome for their needs but to help the client understand the added impacts and expenses it may have.
Relationships at Heart
This rapport lends itself to the tenet of relationship-building. Establishing trust among team members and with partners is important for producing a seamless process. This trust includes personnel choices and making sure the selected team members are positioned to be successful and maintain morale over the long build. It also means understanding when team members need a break or must be rotated out to bring in fresh perspectives and knowledge.
Maintaining relationships with subcontractors and support partners is also pertinent to the development process. Individuals across the board need to be treated with a sense of respect and belonging to create a cohesive and successful outcome. If key individuals fall, the rest of the project is going to fall with them. It is important to support any struggling team members and partners, no matter how large or niche a role they play on the project. Taking the time to authentically understand and address their concerns and issues will allow for a better project outcome. A respected colleague often asked of himself and his teams, "Do you want to be right, or do you want to be effective?" This mantra still circulates in conversation and is a reminder to drop any personal ego and focus on what's important, namely effective relationships and taking individual responsibility for the success of the whole.
Complex projects have several moving and developing components throughout their life cycles. Quick adaptation, ongoing communication and strong relationships, all while continuing to look toward the end goal, are key to keeping projects on time and on budget. Maintaining a strict view of only the current situation and an unwillingness to address change can cause a loss of direction and deviation from the end game. Following these best practices will not only allow for an impactful final product but a relatively seamless process to get there.