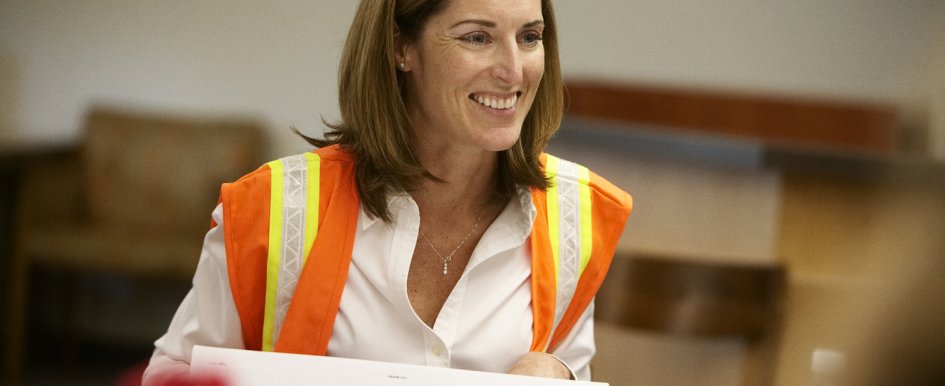 Insight from a 24-year industry veteran on how to promote diversity in your company
Sarah Carr, vice president of education services for McCarthy Building Companies Inc., is no stranger to the construction industry. Carr has been with McCarthy for almost 24 years. In her current role, based in Southern California, she oversees successful K-14 and higher education construction projects by: providing divisional resource support, maintaining client relations, development of project budgets, assisting project estimating and scheduling, managing field staff and overseeing project safety and total quality management.
In her tenure with McCarthy, she's grown from project engineer to her current role and has played a part on a variety of projects, including parking, commercial and education facilities. She has also earned several licenses, including: Designated Design-Build Professional, from the Design Build Institute of America and LEED AP BD+C accreditation from the United States Green Building Council. 
Outside of her role as VP of education services, she also co-founded WiOPS (Women in Construction Operations), which is a professional organization focused on mentoring and advancing women in the building industry. The founding Southern California Chapter has grown from 150 members in 2013 to nearly 600 members in 2018. In January 2018, the organization launched a second chapter in Northern California.
Find out what she had to say about working as a woman in construction below. 
CBO: Can you speak to McCarthy's role in promoting diversity in the workplace? 
SC: At McCarthy, we are committed to recruiting, developing and retaining a diverse talent base as we feel that our differences provide a rich perspective and allow us to think better and differently for our clients, partners and ourselves. For example, last year we launched the McCarthy Partnership for Women as a national, executive-sponsored, employee-driven resource group to provide opportunities, support and networking for our female partners. We are focused on personal and professional development, networking, outreach, communication and awareness and recruiting.
CBO: How do you think your career in construction has been different as a woman?
SC: Early on in my career, I found that it could be lonely. There were no female role models to look to for advice, and there were not a lot of people willing to provide mentorship. Knowing that women were missing out on a successful career within the industry was a driving force for me, and the seven other co-founders of WiOPS, to create an organization based on mentoring and networking with other females and males on similar career paths. Our membership has grown exponentially over the past few years, with the addition of new members in SoCal and our second chapter in NorCal. It has been amazing to see the women in the organization grow and develop in their careers over these last 5 years.
A career in the construction industry can be very different for women than it is for men. It can take more time for women to reach the same career milestones as our male counterparts. However, seeing the success from WiOPS alone gives me confidence that women have more access to opportunities, mentorship and networking within this industry and can be empowered to continue their career paths without hesitation.
CBO: Why should more women get into the skilled trades? 
SC: According to the National Association of Women in Construction (NAWIC), females comprise 50.8 percent of the U.S. population and 47 percent of the country's workforce; however, that rate plummets to 9 percent in the construction industry (including administration, human resources and marketing), and just under 3 percent in production roles. As the industry faces a skilled workforce shortage, we believe it is imperative to actively address the lack of female talent in construction to provide both diversity of thought to best solve client needs, as well as to reflect the communities for which we build.
CBO: What advice do you have for other women looking to get into the industry? 
SC: You can do it! And we will be there to support you.
$current_url = url(current_path(), array('absolute' => TRUE));
$short_url = get_bitly_short_url($current_url,'gcaudle','R_3ce2b5c4564848eabd1275f9d2f07ccf');
?>



Be open to diverse thoughts and opinions. Support the talent you bring in to your company. Be aware of the unconscious bias that may affect people in your organization.  - Sarah Carr
Click to tweet!
CBO: What advice do you have for companies in the industry who are trying to recruit more women?
SC: Be open to diverse thoughts and opinions. Support the talent you bring in to your company. Be aware of the unconscious bias that may affect people in your organization.