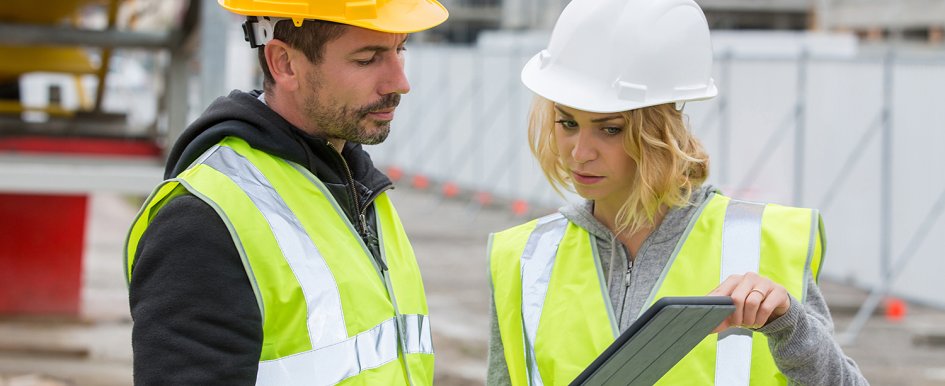 6 tips for acquiring talent with the credentials & experience your company needs
Tuesday, November 21, 2017
Recruiting top talent can be difficult in any competitive industry. Just as job seekers compete to stand out to recruiters and potential employers, firms also need to make an impression on qualified candidates to avoid losing them to competitors. Acquiring talent that has the credentials and experience, as well as the desire to stay with a company long-term, is fundamental in successfully reaching and expanding your business goals, but doing so is often much easier said than done.
This sentiment definitely rings true to the construction industry. In a survey by the Associated General Contractors of America posted earlier this year, the majority of construction firms surveyed stated that it expects project demand to grow. This is a positive projection, however, nearly three-quarters of those firms also expressed that they are having difficulties finding qualified employees.
As the study points out, this is largely because the construction industry is having a hard time recruiting younger job seekers, and many of the seasoned professionals who are able to fill senior-level roles are heading toward retirement age. This creates a large gap, illustrating the reason why there is such competition when it comes to snagging experienced talent.
If you're having issues finding the right people to fill your top roles, the following are a few ways to help bring qualified applicants your way.
1. Offer Competitive Salaries, Benefits & Incentives
Naturally, pay and benefits play a huge part in a job seeker's decision, so it is important that your offer is standard to the position and industry. If your budget doesn't allow you to outshine all of your competitors when it comes to salary, remember that there are other perks that help to influence an applicant. Get creative with employee incentives, and ensure that the benefits will enhance the candidate's quality of life. Someone is more likely to accept slightly lesser pay if your stance on health insurance, parental leave, vacation days and more is more ideal than another firm's offerings.
2. Be Clear & Creative in Your Job Descriptions
Applicants are more likely to apply for a job if they feel certain they are qualified for the position, as they want to put their energy and efforts into an opening for which they have a higher chance of getting an interview. In order to demonstrate this clarity, it's important that your job descriptions highlight the following:
The position's title

What experience, education, certifications, skills and training is needed

A detailed list of unique job responsibilities   

A summary of how the role contributes to the greater value of the firm

Salary and benefit information

Possibility of company growth and advancement within the company

Clear instructions on where, how and when to apply

A clear and enthusiastic call to action
Keep in mind that many job descriptions look the same. If an applicant searches for "civil engineer construction jobs" in a search engine or a job database, they will most likely skim over the results until they find one that catches their attention. To help your job listing stand out, remember that you are essentially advertising the position. Don't be afraid to show some personality in your wording, and showcase a few reasons why your firm is one of the best.
Also, bullets and shorter paragraphs generally work better for descriptions, as long, bulky chunks of text are hard to skim and can send readers onto the next listing.
3. Showcase Your Company Culture
Applicants at the senior-level typically aren't looking to bounce around from firm to firm. Instead, they are hoping to find a place of employment that they can settle into for the foreseeable future, which means fitting into a company's culture is critical. Unsurprisingly, studies have shown that the more uplifting and engaging the workplace is, the more productive workers are and the lower the turnover rate will be long term.
That's not to say you have to create a flashy or gimmicky culture. In today's world, company culture is often used interchangeably with what kind of extras the company gives away, and while perks can be effective as performance motivation, the culture you mold should not be used as a bribe to lure job seekers. Rather, it's best if it reflects your values and your overall tone as a company, as this is the best way to attract talent that will both add value to and benefit from the work environment.
Be transparent about your culture with your blog, social media posts and job descriptions, and get intentional with your hiring process. A high-level candidate will be assessing if your company is the right fit in the same manner that you are evaluating them, and incorporating your brand's mission and purpose into the interview will help all parties involved make the right decision.
4. Remember the Early Bird Gets the Worm
Indecisiveness never pays off, and you may end up losing a solid potential hire simply because you waited too long to make them an offer. Of course you want to vet your options and take time to consider which person you feel has the best chance of successfully filling the position. However, job seekers often apply to many firms simultaneously, and in an industry that's suffering from a shortage of qualified candidates, it is likely that your competitors will need to fill similar important roles.
The point is not to make a hasty decision out of fear that you'll miss out on an opportunity, but if you are considering a candidate who has 95 percent of the qualities and qualifications you're looking for, you may want to offer them the job instead of hoping that someone who crosses off every check box will appear.
5. Utilize Employee Referrals
Most professionals have friends and acquaintances that work in the same industry as them, especially when they're further along in their careers and have spent a significant amount of time networking and advancing their skills and qualifications.
Because of this, you may consider implementing an employee-referral program. Some of your staff may know someone who is looking for a new job. If you offer a bonus or reward-based system for employees who send relevant job seekers your way, both parties mutually benefit.
6. Bring in Executive Recruiters Experienced in Construction
As any business owner knows, the start-to-finish process of writing and placing job ads, reviewing resumes, calling in applicants for interviews, making offers and finally, signing someone on for the position in question takes a considerable amount of time.
This is exactly why many employers consider hiring on an executive search firm. Having a hiring professional take on the daunting task of filling an important role for your company significantly frees your time up, allowing you to focus on other priorities.
If this sounds like the route you want to go, it's important to take your time and find a search firm that can meet the specific needs of your construction business. Industry-specific recruiters will have more well-rounded knowledge of what your business needs, so they will be able to ask more on-point questions in the interview as well as better gauge the quality of the answers.
Also, recruiters who focus on primarily one industry will have a deeper pool of relevant, qualified job seekers in their databases, which can significantly expedite the hiring process.
The infrastructure of any successful construction business relies on the quality and skill of the team, and unfortunately, finding reliable and experienced talent isn't always an easy feat. Hopefully these tips help you fill those top positions with a bit more ease so that you can focus on growing, prospering and doing what you do best: building.