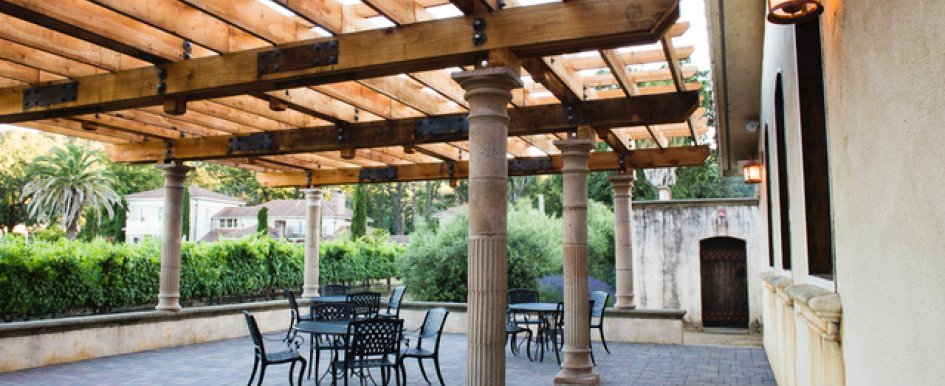 Using alternative building materials allowed one California winery to decrease long-term maintenance & increase sustainability
There's no denying that sustainable building projects continue to grow in popularity among commercial construction clients. A Dodge Data & Analytics World Green Building Trends 2016 SmartMarket Report projected that the global green building sector will double every 3 years, with survey respondents from 70 countries reporting 60 percent of their projects will be green by 2018. It's also a job-creator, driving growth in a construction space while also encouraging more responsible consumption of building materials.
When it comes to specifying the best sustainable products for a project, it is often wise to bypass plastic-based composite materials, alternatives such as concrete and steel, and return to our construction roots. One such solution is redwood.
This California-grown lumber has long been known as naturally strong, insect and decay resistant, dimensionally stable and fire-resistant. What's more, a lifecycle assessment—a scientific technique that helps quantify the environmental footprint of producing and consuming products we use in our everyday life—showed that redwood is one of the most environmentally responsible building materials available.
Redwood offered the perfect blend of style and sustainability for the Jeriko Estate Resort and Winery. Situated in idyllic Hopland, California, just north of wine country neighbors Napa and Sonoma, Jeriko is more than a winery and working organic farm; it also offers well-appointed casitas, villas and suites as an overnight resort.
In order to tastefully accent the beauty of the natural surroundings on this 75-acre property and honor the campus's Tuscan design roots, Jeriko installed two pergolas on the winery grounds. Once erected outside of the main tasting room, as well as in front of one of the private casitas, the warmth of the natural wood pergolas enhanced the natural beauty and ambience of the property, nestled among trees, greenery, and vines.
For Jeriko owner Danny Fetzer, the choice to integrate redwood as part of the design was an easy one. Aesthetically, the redwood structures complimented the existing winery design. "We decided on redwood pergolas largely because of the aesthetics," said Fetzer. "The look of the exposed wood mirrors the interior design of the tasting room."
Redwood lumber is naturally strong and durable, shrinks and swells less than other woods, and is less likely to warp or split. This natural strength, combined with its environmental benefits, makes redwood an ideal choice for any number of landscaping designs like the pergolas at Jeriko. Beyond aesthetics, natural redwood also supported the Jeriko commitment to sustainability and responsible consumption; the working farm is not only certified organic, but also certified biodynamic. The redwood used at Jeriko is Forest Stewardship Council (FSC) certified, and sourced from nearby redwood forests. Through FSC guidelines and modern logging practices, more redwood trees are grown each year than are harvested. The responsible production, Fetzer felt, would directly complement the values of the winery and farm.
The durability and functionality of redwood pergolas were also highly desirable qualities. Fetzer wanted a wood species that would last for years, with little maintenance required. Fetzer said, "Redwood can withstand the elements of time and weather." Less time spent on maintenance meant more time focusing on farm and winery operations, and more importantly, their guests' enjoyment and overall experience. At the end of its useful life, redwood is biodegradable, returning to the earth to help grow more trees.
In addition, through adherence to some of the strictest growing and harvest mandates, as well as a replanting protocol on commercial lands, today's redwood growers have plentiful lumber stock for future generations. Should the Jeriko property expand, there will always be plenty of sustainable, high-quality redwood available to support the plans.
These sustainable features have helped warm interest in redwood, but there's one feature that's inherently cool: thermal distribution. In a region that can often see soaring temperatures, the redwood pergolas provide much needed shade, while the wood itself stays cool to the touch. With the strategic addition of the redwood structures, guests are able to enjoy extended social time outdoors, while staying naturally cool and comfortable.
None of redwood's environmental benefits are engineered, and require no special handling to maximize the sustainable impact it delivers with each project. Moreover, there is no tradeoff between beauty, quality or durability. Redwood stands on the strengths of its own qualities, with a style that supports a broad aesthetic range.