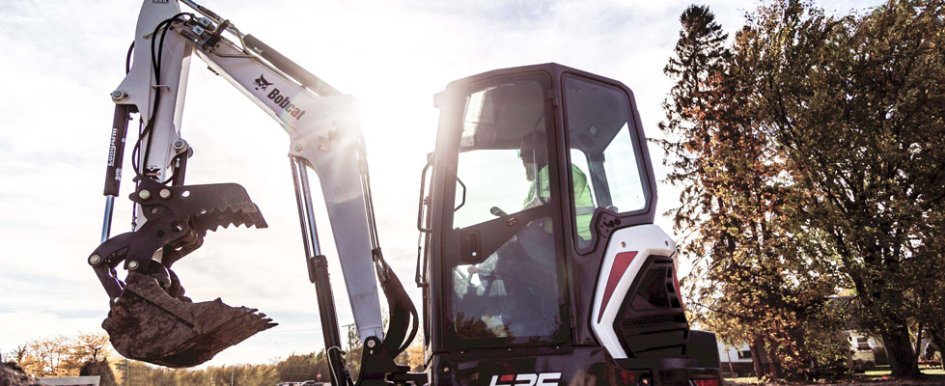 Your maintenance checklist for the slower months ahead
Thursday, January 7, 2021
As a construction business owner, the decision to store your compact excavator during winter can be based on a variety of factors, including where your business is located geographically and what type of work you do. If your business is located in the southern portion of the United States and in need of a compact excavator year-round, chances are you will not be storing your equipment. However, if your business is located in the northern region and your excavator is not used until after the ground thaws, you should consider storing your excavator and attachments.
Your excavator requires preparation and maintenance before and after storage to ensure reliable operation once it is returned to service. Tips you should consider before storing your excavator include keeping the machine out of the winter elements; checking fluids, oils and filters; inspecting the tracks; and examining hydraulic hoses and attachment connection systems.
1. Prep the Excavator for Winter Storage
The first thing you and your excavator operators should do is complete pre-storage preparation items as listed in your machine's operation and maintenance manual. Review the manual for recommended intervals and a checklist of winter maintenance items, as well as oil and fluid recommendations.
Thoroughly clean the machine of grease and debris, inside and out, including the engine compartment and the undercarriage. All machine components should be properly lubricated as noted in the manufacturer's operation and maintenance manual.
Once the machine has been fully cleaned, tag the machine to indicate it is in storage condition. As a final step before storing your excavator for an extended period of time, make sure to lower the boom fully with the bucket flat on the ground and place all controls in the neutral position. The blade should also be lowered to the surface.
2. Complete a Visual Inspection
After prepping the excavator, you should complete a walkaround and note any obvious maintenance items you see. If there are worn or damaged parts, make sure to replace them at this time. At a minimum, document items that will need attention prior to returning the machine to service during the spring season. You should also look for signs of damage or cuts to the rubber tracks. Ideally, tracks should be inspected in late fall or early winter before storage.
3. Check Fluids, Oils & Filters
Fluids, including engine oils, coolant, hydraulic fluid, grease and drive motor lubricants, need to be inspected before storing your excavator. If you are getting close to your next preventive maintenance schedule, it is a good idea to replace hydraulic fluids, as well as fuel and air filters, at this time.
Before storage, place a fuel stabilizer in the fuel tank and run the engine for a few minutes to circulate the stabilizer to the pump and fuel injectors. Fuel stabilizers aim to improve the longevity of the fuel and remove water, while anti-gel lowers the gelling point of the diesel fuel. If there is a possibility that the machine will be taken out of storage during winter, then make sure to add the appropriate anti-gel additive to the fuel.
It is recommended to use 100% Grade 1 diesel fuel if the machine will be operated in harsh temperatures -5 degrees Fahrenheit or below, or a 50/50 blend of Grade 1 and Grade 2 diesel fuel is recommended for mild winter temperatures between -5 degrees and 15 degrees Fahrenheit. Even if you are not using your machine until after winter, it is important that fuel and fuel systems are in proper working order while in storage.
4. Disconnect the Battery
Today's compact construction machines constantly draw on the battery. That's why it's important to disconnect the excavator's battery and store it in a cool, dry place above 32 degrees Fahrenheit. This helps eliminate the potential for battery discharge in cold weather. Be sure the battery has the correct electrolyte level and charge the battery periodically.
5. Keep it Covered
If possible, protect your machine from the elements by storing it inside. Keeping your machine in a dry, protected shelter can help prevent paint chipping, cracked seats and degradation of wires and hoses. Also, make sure to cover the excavator, especially the exhaust pipe opening, to prevent snow and cold air that could potentially impact internal components. Keep in mind that an excavator stored inside and out of the elements tends to have a higher retail value than an excavator stored outside.
6. Don't Forget About Attachments
Attachments require the same attention as compact excavators. Hydraulically driven attachments, such as augers and plate compactors, should be stored inside and out of the elements. As with the excavator, inspect hoses fittings and hardware for integrity and note items that will need attention prior to the upcoming season.
Returning the Machine to Service
Before you return the excavator to service, remember to check the external and internal components of the machine. Complete the following items before using your excavator:
Install a fully charged battery
Check the engine and hydraulic oil levels, as well as coolant levels
Remove grease from the exposed cylinder rods
Inspect all belt tensions
Make sure shields and guards are in place
Lubricate the excavator, as needed per the machine's service schedule
Remove the cover from the exhaust pipe opening
Start the engine and let it run for a few minutes, observing the instrument panels and systems
Turn off the engine and check for leaks
Keeping your excavator out of the winter elements; checking fluids, oils and filters; inspecting the tracks; and examining hydraulic hoses and attachment connection systems can help reduce machine downtime, allowing you to quickly return your machine to service.