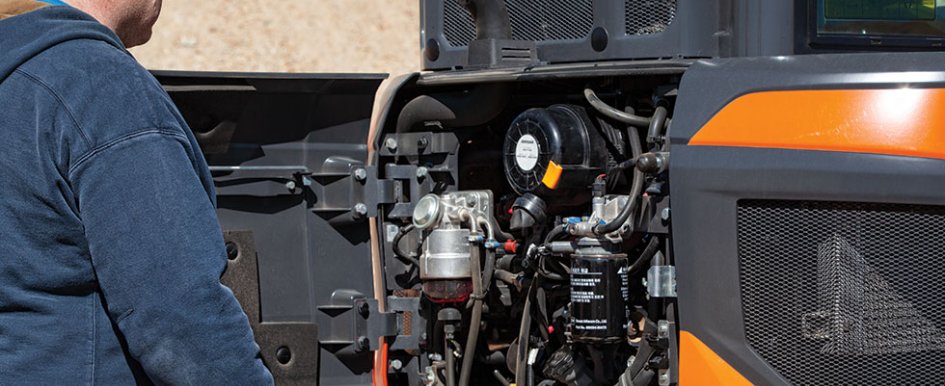 Ensure the longevity of this crucial component
At the heart of an excavator is its hydraulic system. A properly maintained hydraulic system allows an excavator to operate efficiently, season after season. Without consistent care, there is potential for the machine to be damaged.
Originally called the hydraulic excavator, a crawler excavator's hydraulic system allows small forces to be converted into big forces. Nearly every part of an excavator is tied to its hydraulic system.
For example, the excavator's diesel engine is connected to the hydraulic pump. The pump supplies the flow and pressure to the various functions of the machine. As the pump spins, oil travels through the system, allowing the excavator's tracks, boom, arm and bucket to work.
The excavator's front workgroup can be precisely controlled with fine movements of the machine's joystick controls. The hydraulic travel motors are what makes the excavator move from point A to point B on a jobsite. Most machines have two-speed travel motors: high range for traveling and low range for better power when working. When an excavator needs to turn while traveling, some machines will auto downshift into a low range to more effectively manage the turn.
1. The Importance of Fluids
Hydraulic systems run on fluid, specifically oil. Oil should flow through an excavator seamlessly. There are additives within the hydraulic oil that can help keep the components of the entire system clean. Additives ensure that any water or condensation that makes its way into the tank is separated properly. Water separators can assist with that process; however, they need to be drained regularly to keep the systems running optimally.
Quality hydraulic oil is necessary to ensure the crawler excavator is working properly. But what if the wrong or contaminated fluid makes its way into the machine's hydraulic system? If the wrong fluid makes its way into the hydraulic system, the machine won't run properly. If you suspect that the incorrect fluid has entered the hydraulic system, it's best practice to speak to your service technician or dealer as soon as possible to avoid further damage to the system.
It's also recommended to keep track of how often the excavator's hydraulic oil is changed. Operators should follow the prescribed maintenance schedule in the machine's operation and maintenance manual, which comes with every new machine. If you don't have a copy, contact your dealer to order a replacement or get access to an electronic version.
2. Daily Maintenance
As your excavator operators prepare for work, they should perform a daily machine walkaround. They should check the machine's overall condition. Particularly, they should look for any leaks or damaged hydraulic pipes or hoses. Making sure that nothing looks suspicious before operation may prevent unplanned machine downtime later on if something goes wrong.
When examining the machine's hydraulic pipes and hoses, your operator should specifically note if they're well-secured to the excavator. If not, the mounting hardware should be fixed immediately.
A damaged hydraulic hose can vibrate excessively and may leak oil. Any sign of wear on pipes and hoses should be addressed as soon as possible. Work with your local dealer to make sure the hydraulic pipes and hoses are installed and maintained properly to avoid unplanned machine downtime.
3. Warmups
During colder months, it's important to follow the machine's hydraulic system warmup process. In cold weather, the hydraulic oil may become thicker than normal. To combat that, many manufacturers offer a hydraulic system warmup procedure.
The warmup procedure allows the hydraulic system to reach an ideal operating temperature. This gradual warmup, no matter the outside temperature, is less harmful to other machine components than if your operator immediately tries to operate a machine in cold weather.
The warmer months can cause more strain on excavator hydraulic systems if not maintained properly. In summer, operators should be more diligent about keeping the hydraulic cooling system clean and in peak operating performance. Hot, dry weather can cause rubber materials to crack. It's important to keep a watchful eye during the daily walk-around on the rubber hoses.
4. Protecting Components
Some parts of the excavator's hydraulic system require little to no maintenance. For example, the hydraulic pump only needs to be checked periodically to ensure it's mounted securely and working properly. Since it's in the center of the machine, it's well protected by the other components. There are many other components, however, that need to be monitored. Closely examine these hydraulic system components:
Oil cooling system — A vital component of the hydraulic system, the oil cooling system located near the exterior of the excavator. This allows the cooling system to draw in cool air.
Machine panels — These panels typically cover vital components and it's important to keep them clean and free of loose debris. Make sure the panels close and latch properly.
Cylinder guards — These can be both standard and optional components. Depending on your line of work, you may or may not need the guards. Inspect the guards to make sure they are properly mounted for operation.
5. Personal Protection Equipment
The best way to prevent an injury when working on or around an excavator's hydraulic system is to carefully follow the maintenance procedures. When working on a hydraulic system, operators should wear the correct personal protection equipment (PPE). It's highly recommended to protect your eyes and skin.
Pressurized hydraulic oil can break the skin easily and make its way into your body. To prevent this injury, wear the proper PPE as identified in the operation & maintenance manual when working on the hydraulic system. Additionally, be sure to wear well-fitting eye protection in case any liquid splashes or sprays. Immediately seek medical attention if any liquid makes contact with your eyes or breaks the skin.
By following these recommendations, you can help make sure your crawler excavator's hydraulic system is working properly and help to minimize any machine downtime.