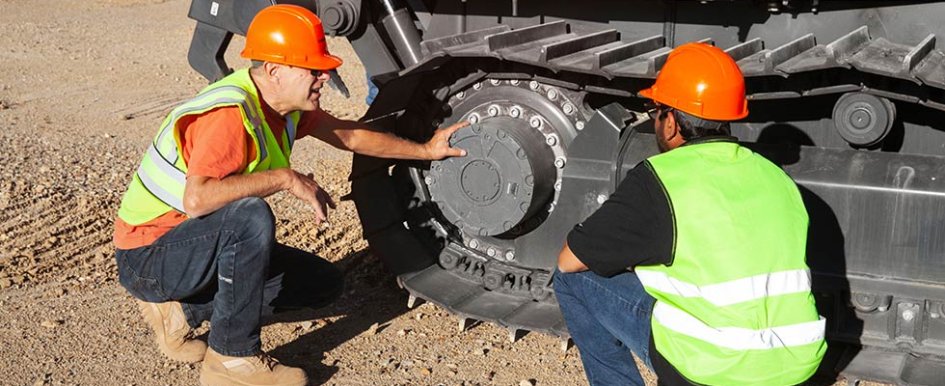 Dozer maintenance done right
Unexpected machine downtime can cost you time and money. When you're working on a tight schedule, the last thing you need is for your equipment to break down. Minimize your risks with straightforward dozer maintenance.
Dozers are built tough so they can take on the most challenging earthmoving tasks. But they are made up of many essential parts, like the undercarriage, that need to be maintained. The undercarriage itself accounts for roughly half of a dozer's lifetime repair costs, so it's important to follow routine maintenance procedures to keep your dozer performing at its best.
Below are eight tips to get better performance and life out of your dozer when working in tough construction applications.
1. Follow Pre-Maintenance Steps Outlined in the Owner's Manual
Before performing maintenance, properly park your dozer as outlined in the owner's manual. High-level pre-maintenance steps include the following:
Park your dozer on a level surface, and lower the blade or other work tool to the ground.
Engage the parking brake.
Allow the engine to run at low idle and cool for a set time.
Stop the engine.
Place a "do not operate" warning tag before starting maintenance.
Wear the appropriate personal protective equipment (PPE) when performing dozer maintenance. This can include a hard hat, safety goggles, safety vest, work gloves and steel-toed boots.
You and your dozer operators can request maintenance training and assistance from your local equipment dealer on proper techniques, and you should familiarize yourself with decals and key maintenance points on the machine.
2. Clean It Up
Remove debris, such as mud and dirt, from the undercarriage to help you get a better look at what needs to be inspected prior to maintenance. If you're working in material that hardens, like clay and mud, clean the undercarriage daily. This will help prevent debris from causing premature wear and damage to components. This is especially important in colder climates, where materials will freeze in the undercarriage. Frozen mud in the undercarriage can rub on the bolts, loosen the guiding and seize up rollers.
Many manufacturers offer dozers equipped with undercarriages designed for easier track carriage cleanout, helping debris fall to the ground rather than becoming packed in the track system. Areas of the undercarriage that naturally experience greater wear and tear are easy to access. Shovels and pressure washers can also be used to clean it. 
3. Complete a Machine Walk-Around
Perform a machine walk-around at the start of every shift and before maintenance. It's an easy way to prevent failures, extend the life of your dozer and lower operating costs. Here's are a few areas to check:
Undercarriage — Look for excessive or uneven wear and damaged or missing components. 
Rollers, idlers and drives — Make sure there is no oil leaking, which could lead to major failure in these components.
Track pads — Look for worn leading and trailing edges. Check for any rocks that may have gotten wedged under the trailing edge, which can contribute to undercarriage wear.
Be mindful that in harsh applications, such as extreme cold or heat, rocky terrain, or mud and water, the undercarriage may need to be inspected more frequently. For instance, when working in water, do not exceed the maximum permissible water depth, which is anything higher than the centerline of the upper track rollers. If the machine is operating on rocky terrain, inspect the undercarriage and track assemblies often for damage or excessive wear.
Saltwater and saltwater spray are very corrosive. When operating in water or around snow, clean the dozer with fresh water as soon as possible and check that all control systems operate properly. Carefully clean the electrical system to prevent corrosion.
4. Check Track Tension
A major cause of undercarriage-related dozer downtime is tracks that are too tight. When tracks are not properly tensioned — either too loose or too tight — it can lead to increased wear and damage to parts or to misalignment of moving parts. To keep your tracks working their best, frequently inspect them for proper tension. The recommended range for track tension and the exact technique for measuring it is in the owner's manual. 
Track tension may need to be adjusted as working conditions change. Be aware of the environment and how it can impact the tracks. Some manufacturers offer track-guard options, such as general-purpose and full-guard options, to fit your jobsite conditions. Some dozers have a removable side panel to easily add grease to the undercarriage's tension system.
There are various track shoe options to help distribute the load to the ground. Thinner tracks are popular in rugged, rocky environments. A low-ground pressure option is best in sandy soil conditions.
5. Inspect Fluid Levels & Filters
A dozer has multiple parts that need proper lubrication and cooling. Important fluids include the following:
Engine oils
Hydraulic fluid
Grease
Coolant
Drive motor lubricants
Some manufacturers offer dozers with accessible inspection points at ground level. When maintenance is needed, the cabin tilts up. There's no need to disassemble the cab to reach critical components. This makes it easy to see where to add or replace filters and fluids.
Following proper lubrication recommendations can help increase component life and reduce excess wear on the engine, power train, cooling system and other essential components. Filters are also important. They prevent impurities in hydraulic oil, fuel and air circuits from causing issues.
Low lubrication levels force the dozer to work harder, lead to instant loss of lubrication and significantly contribute to parts wearing out faster. Also ensure lubrication levels are not too high, which can lead to other problems.
The owner's manual includes specific details for replacing fluids and filters.
6. Check the Dozer Blade's Cutting Edge
The cutting edge on your dozer's blade can become overly worn, forcing your machine to work harder and less efficiently. A cutting edge that is too thin can lead to wear on the dozer blade itself, which can prove costly. Occasionally check the edge and be aware of how the various materials you are moving affect the wear of the cutting edge.
7. Inspect the Electrical System & Battery
The maintenance of your dozer doesn't just involve the outer part of the machine. The wires and batteries of the electrical system shouldn't be overlooked. Change out old or damaged batteries or wiring as soon as possible to avoid issues that can lead to machine downtime.
8. Practice Good Operating Habits
Operating your dozer has a direct effect on how much maintenance you need to perform. To minimize track wear, follow these tips:
Make wider turns.
Approach slopes properly.
Reduce unnecessary spinning.
Keep your dozer operating at peak performance with regular preventive maintenance. Following these tips and maintaining your undercarriage can help keep the cost of ownership down and extend the life of your dozer.  
Trying Out Telematics
Operators can remotely monitor and maintain their machines through construction telematics. It is a standard feature on some dozers on the market today, making it easy for operators to monitor the health, location and productivity of their equipment from a user-friendly mobile app and website. Dealers can also view the status of the equipment and notify operators when it's time for service. Some manufacturers offer an enhanced, subscription-based telematics monitoring service. Using a machine's telematics data, a team of heavy equipment specialists can not only track equipment, but also watch for critical machine fault codes, upcoming and overdue service and warranty expirations — then recommend action and deliver reports.