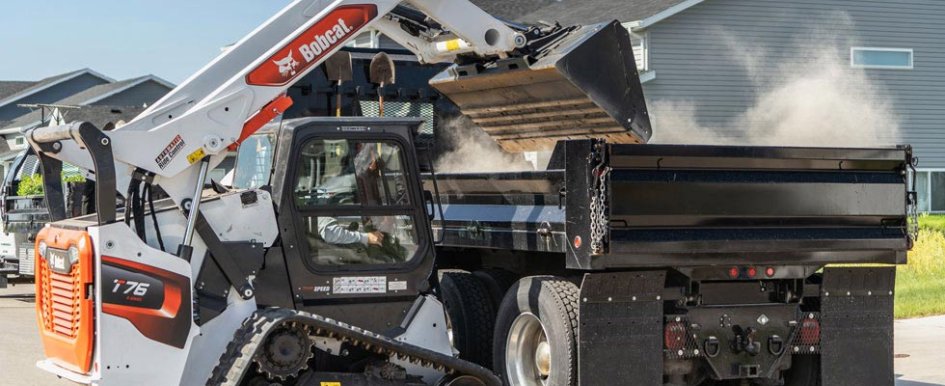 Increase uptime & improve performance
Improvements to compact track loaders — including increased digging and lifting performance, maneuverability, and attachment capabilities — have made them more versatile and productive for your business. However, these advancements can also require special care compared to older models that cannot be overlooked.
In fact, having a dedicated and proactive maintenance schedule helps to extend the life of your compact track loader, increase your return on investment and therefore, get more value from your equipment job after job. Make the most out of your investment by following these tips.
1. Start With the Equipment Maintenance Manual   
The first thing you and your team members should do is read the Operation & Maintenance Manual, which is typically stored in the machine's cab for quick reference. It's the best resource for properly operating and maintaining your equipment, while also keeping it running at peak performance. You can find all of our official manuals for operation and maintenance, parts, and service online, or you can contact your local equipment dealer to request a copy.
2. Inspect Fluid Levels & Filters
Fluids — including engine oils, coolant, hydraulic fluid and drive motor lubricants — need to be checked regularly. Using the wrong lubricants can lead to unnecessary repairs, so make sure to work with your dealership to match fluids to the manufacturer's recommendations and to the proper ambient temperatures.
Fuels should also be chosen to meet outside ambient temperatures. A No. 1 or No. 2 ultra-low sulfur diesel fuel is the most common specification in the industry. No. 2 grades should be used at temperatures above 15 degrees Fahrenheit; however, it is recommended to use a blended or No. 1 diesel fuel and/or anti-gel additives when temperatures drop below 15 degrees Fahrenheit.
To protect today's advanced components in compact track loaders, it is important to follow published interval schedules for engine, air, fuel and hydraulic system filters and purchase original equipment manufacturer (OEM) filters compatible with your machine. Changing filters on a consistent basis can help reduce potential system contamination and extend the life of core components.
3. Check the Battery
Today's compact track loaders constantly draw on the battery, so you should check it before operating. Make sure the battery is in good working condition with no visible signs of wear or damage. If you disconnect the battery during non-working seasons, such as winter, be sure it's reconnected properly and is fully charged when placed back into operation. Connections on the battery should be clean to prevent hard starting and charging issues.
4. Inspect the Undercarriage
Your equipment doesn't sit around on the jobsite. It's busy working in dirt, rock, and mud which can build up in the undercarriage. While some compact track loaders are designed for easy cleanout, it's vital to keep undercarriages clean and free of debris. Use shovels and pressure washers to clean remaining debris at the end of the workday.
You should also complete a full undercarriage inspection for excessive or uneven wear and damaged or missing components. During a routine machine inspection, check the tracks to see if any components look out of place or need repairs. In addition, inspect the rollers, idlers and drive motors for leakage.
Proper and routine undercarriage maintenance helps to prevent unnecessary downtime and reduces potential wear later on.
5. Prepare Equipment Attachments Ahead of Time
Attachments require the same attention to maintenance as the machine itself. Visual checks of the hydraulic hoses, cylinders and guards on the attachments can help determine if damage or wear has occurred. Everything that engages with the ground, should be looked at for wear and damage.
6. Supplement Your Knowledge With Trusted Resources
From content creators and influencers to industry publications and trade shows, there is a wealth of information available for inspiration. Learning from other construction business owners and industry professionals is an excellent way to stay on top of trends, while also finding new ways to maximize your current equipment lineup.
Maintaining your compact track loader is critical in your line of work. By following these maintenance tips, as well as the guidelines listed in your operation and maintenance manual, you can expand the overall life of your equipment and remove the unwanted surprise of costly downtime.