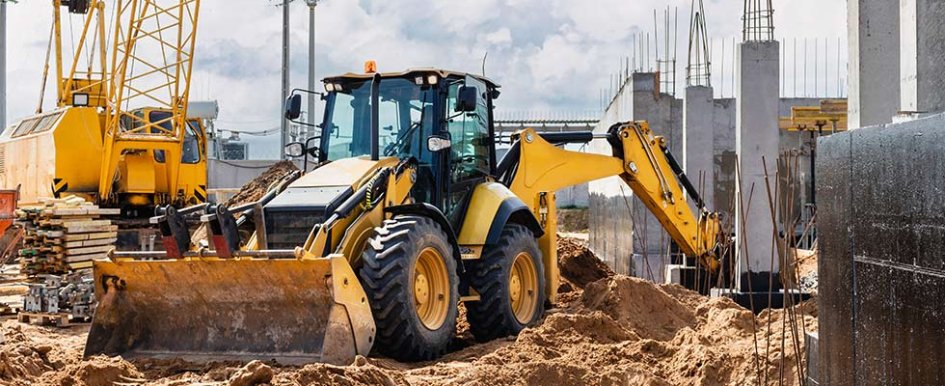 Key data to shape your decision-making
Each year brings new challenges that construction businesses must navigate to be profitable and grow. The equipment-intensive nature of the construction industry increases the impact of interest rate increases, inflationary pressures and other volatile economic and market conditions. The Equipment Leasing and Finance Association (ELFA) and its affiliate, the Equipment Leasing & Finance Foundation (the Foundation), provide timely research and business intelligence that focus on equipment acquisition and its financing. In this article we will examine key data and analysis to consider in your equipment acquisition strategy and decision-making this year. 
Equipment Investment Forecast
Equipment and software investment has maintained steady growth since the onset of the pandemic, and it had a solid jump-off point at the start of 2023 due to booming growth in the second half of 2022. Annualized growth was nearly 12% in Q3, and estimated growth was 7.2% for the year overall. However, rising interest rates, inflation and broader economic uncertainty are likely to continue to slow the pace of investment growth this year. According to the Foundation's 2023 Equipment Leasing & Finance U.S. Economic Outlook, the forecast for equipment and software investment growth is 4.2%, with sluggish GDP growth of 0.9%. 
Recession Watch
While elevated concerns of an imminent recession loomed over the past year, it has yet to come to fruition; the labor market remains strong, and consumers have held firm despite high inflation. In addition, supply chain backlogs have largely been resolved and have returned to their historical norms.
However, the strong labor market is making the Federal Reserve's efforts to lower inflation more difficult. The Fed has also been shrinking its balance sheet, and this quantitative tightening will contribute to constrained financial conditions, even if rate hikes slow or pause during the year. Tighter monetary policy will make it more difficult for businesses to expand as the higher cost of borrowing is likely to result in further reductions to capital expenditure (capex) plans. Indeed, one of the most reliable predictors of recession in previous business cycles has been the paring back in capex plans by small businesses. 
Elsewhere, the housing market is struggling, financial markets are highly volatile and the global economy is slowing. While still hoping for signs of a "soft landing," the Foundation's 2023 Economic Outlook and numerous economists forecast that the most likely outcome is a mild recession beginning later in 2023. 
Equipment Investment Activity
Despite equipment and software investment traditionally decreasing three to five times more than GDP during a recession, there is optimism that equipment investment will outperform GDP this year. A significant backlog of equipment demand in many equipment verticals, and passage of the Infrastructure Investment and Jobs Act and the CHIPS Act, should provide significant boosts to the manufacturing sector and equipment verticals.
The Foundation-Keybridge U.S. Equipment & Software Investment Momentum Monitor identifies turning points in the investment cycles of 12 key equipment investment verticals. The March release shows two verticals are expanding, two verticals are peaking, one is recovering and seven, including construction, are weakening. Investment in construction machinery grew 45% (annualized) in Q4 2022 and was 27% above its level from last year. 
The March Momentum Monitor indicates that construction machinery investment growth may have peaked and could start to decelerate into Q3 2023. 
Equipment Finance Activity
The Fed's actions to combat inflation through continuing interest rate hikes have not yet significantly impacted equipment finance activity. Nearly eight in 10 U.S. businesses use equipment leasing and financing to acquire the productive assets they need to operate and grow. More than half (55%) of equipment acquisitions are forecast to be financed with protection from equipment obsolescence, tax advantages and cash flow optimization as the top drivers for end users to finance. Favorable legislation emanating from Washington, D.C., equipment order backlogs and reshoring trends, as well as the many benefits of financing for end users, may make the looming downturn less severe for the equipment finance industry. ELFA's Monthly Leasing and Finance Index, which reports economic activity from 25 companies representing a cross section of the $1 trillion equipment finance sector, showed that cumulative new business volume in February 2023 was up 11% from February 2022, and up nearly 9% year to date from 2022.
Additional Factors to Consider
To help businesses with their equipment acquisition planning, each year ELFA forecasts the top 10 equipment acquisition trends. In addition to the trending conditions affecting economic growth, capital spending and tightening credit noted above, the following are issues to keep an eye on over the coming year.
Offsetting labor costs — To reduce dependence on labor, businesses in some industries will increase their use of automation and other labor-saving equipment.
Equipment investment — Many equipment types will thrive amid a slow-growth economy, including hybrid work-related types such as computers, software, office equipment and communications equipment, in addition to medical equipment. 
Climate financing — Explosive growth in green projects will drive demand for "climate financing" for equipment by organizations that are committed to cutting their production and emissions of greenhouse gases.
Wild cards — Businesses will keep an eye on other areas such as a potential debt-ceiling showdown in Congress and energy price increases due to Russia's war on Ukraine. 
Staying on top of the latest business intelligence is key to your business operations. The Foundation's Equipment Leasing & Finance U.S. Economic Outlook is updated quarterly, and both the Foundation and ELFA release regular statistical and topical reports throughout the year. Visit ELFA's Knowledge Hub, an online library of industry research and information for the equipment finance industry to learn more: elfaonline.org/knowledgehub.  
Editor's Note: According to the Q2 update to the Equipment Leasing & Finance 2023 Economic Outlook, the forecast for equipment & software investment growth has been lowered to 1.0%. Overall, annualized GDP growth is forecast to be 0.7%.