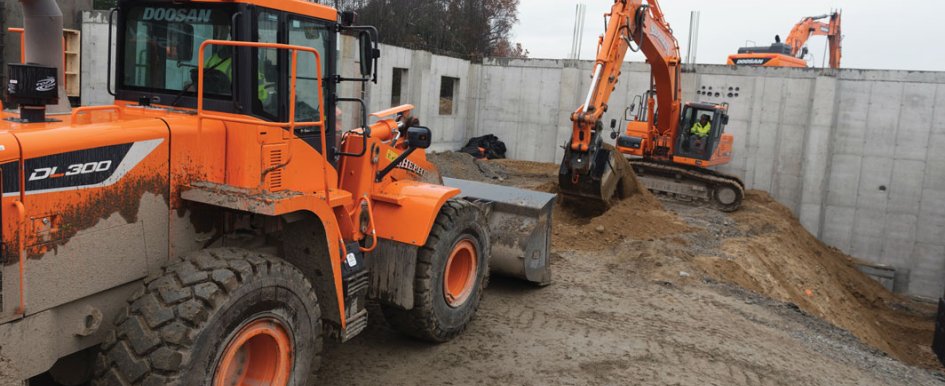 What to know about the pledge accompanying your equipment purchase
Tuesday, September 10, 2019
Nothing says more about an equipment manufacturer's product integrity than its warranty—a company's pledge to stand behind its products on your most challenging days. Warranties can be complex, with several categories to navigate, so you want to fully understand a company's commitment to correcting issues you experience with its equipment.
Equipment owners should not only understand what is covered by the standard warranty, but also (just as important) what is not covered.
For example, you may want to consider an emissions warranty or a parts warranty. But what comes with these warranties? And are warranties available when purchasing a piece of used construction equipment? If so, how do they differ from standard warranties? The following are answers to these and other commonly asked warranty questions.
1. What is included in a standard warranty?
Most standard warranties on new excavators and wheel loaders are full coverage and include 1 to 2 years of coverage, with up to 2,000 hours of use. Much like an automotive warranty, a construction equipment warranty is often packaged as having "bumper-to-bumper" or "front-to-back" protection.
2. What is not included in a standard warranty?
This is one of the most important questions to ask in any warranty discussion. Some manufacturers' warranties don't cover the cost of travel and mileage it requires for dealers to transport a machine from the jobsite to the dealership. In this case, even though you're not paying for the actual work to be performed, when the transport expense is passed through to you, it can be costly.
Additionally, many manufacturers don't include fluids and filters under their warranties. These items are typically considered consumable maintenance items that fall within the customer's responsibility and can usually be covered through the manufacturer's preventive maintenance program. 
3. What if I want more coverage or a specialized warranty?
To maximize the protection of your investment, most manufacturers offer extended warranties for additional coverage beyond a standard warranty. It's common to see options that range from full coverage to ones that cover only the powertrain or the powertrain plus hydraulics. Depending on the manufacturer, these extended warranty options can also include emissions coverage.
If you seek more than a standard or extended warranty, some manufacturers offer custom warranties. These programs provide options to customize coverage terms, including the number of years, hours, detailed inclusions and costs. It's not out of the question for a customer to create a 10-year/10,000-hour warranty with certain manufacturers and establish a price for maximum flexibility.
4. What other types of warranties are available?
Many manufacturers offer promotional warranties, which are often mistaken as standard warranties. Promotional warranties differ in several ways, such as having terms that provide longer periods of coverage and machine hour usage. The tell-tale sign that these warranties are promotional in nature is that they're offered during promotional periods after standard warranties have expired.
The scope of these warranties often provides broad protection of the powertrain plus hydraulics, including the engine, transmission, hydraulic pump, main control valve and cylinders—some of the costliest components to replace.
Most manufacturers also offer parts warranties for a period of months and hours. For example, any new part purchased from a manufacturer as an original equipment manufacturer (OEM) replacement part is covered with a 6-month or 750-hour warranty—whichever comes first. These warranties can typically be purchased and are honored even if a machine is out of warranty or has never been covered. 
5. Can my warranty be transferred to a new owner?
An industry-friendly warranty policy many manufacturers have adopted is to allow the transfer of remaining warranty coverage to a new owner for free or a minimal fee—an invaluable peace-of-mind factor for some owners.
And even if the policy has expired, this feature will likely be perceived by a potential purchaser as having added value because of the superior care and maintenance provided by the original owner. It's also a plus for an authorized dealer who stands to gain warranty service business, so it's a win-win all the way around.
6. What if I want a warranty on used equipment?
With the growing demand for used equipment from authorized dealers and large auction houses, construction business owners have more options for purchasing warranties. Large, reputable auction firms have developed their own warranty programs. 
Many manufacturers also offer warranties on used equipment purchased from their authorized dealers. Even lightly used equipment can sometimes be purchased with a full front-to-back warranty. However, unlike standard warranties that are automatically offered with a new machine, used equipment is evaluated individually. 
For example, a manufacturer may determine that a 5-year-old machine in good condition, with 5,000 hours of runtime, could command a maximum of 12 to 24 months of warranty that may also include coverage of the powertrain and hydraulics systems. This is not a difficult promise for some manufacturers to make, especially if a machine was traded in with remaining warranty.
7. What should I know about warranty payout caps?
Warranty payout caps are more common among third-party, extended-warranty companies than OEMs. These organizations, which may be undercapitalized compared to some manufacturers, will perform a depreciated value study on a machine and establish a payment limit at that depreciated value.
If customers are not aware of a payout cap, a major repair, such as an engine or transmission replacement, can significantly exhaust a warranty claim limit or exceed it, resulting in out-of-pocket expenses.
Warranty Tips From the Federal Trade Commission
Read the warranty before you buy—Look online for full warranty information or use a physical address to receive a hard copy. Understand exactly what protection the warranty gives you. If a copy of the warranty is available online, print it out when you make your purchase and keep it for your records. If you're at a dealership, ask to see warranty statements.
Consider the reputation of the company offering the warranty—Look for an address to send written communication to or a phone number to call if you have questions or problems. If you're not familiar with the company, ask your local or state consumer protection office or Better Business Bureau if it has any complaints against the company. 

Save your receipt and file it with the warranty

—You may need it to document the date of your purchase or prove that you're the original owner, in the case of a nontransferable warranty.
Perform required maintenance and inspections—Refer to the owner's manual for this information. 
Use the product according to the manufacturer's instructions—Abuse or misuse may void your warranty coverage.