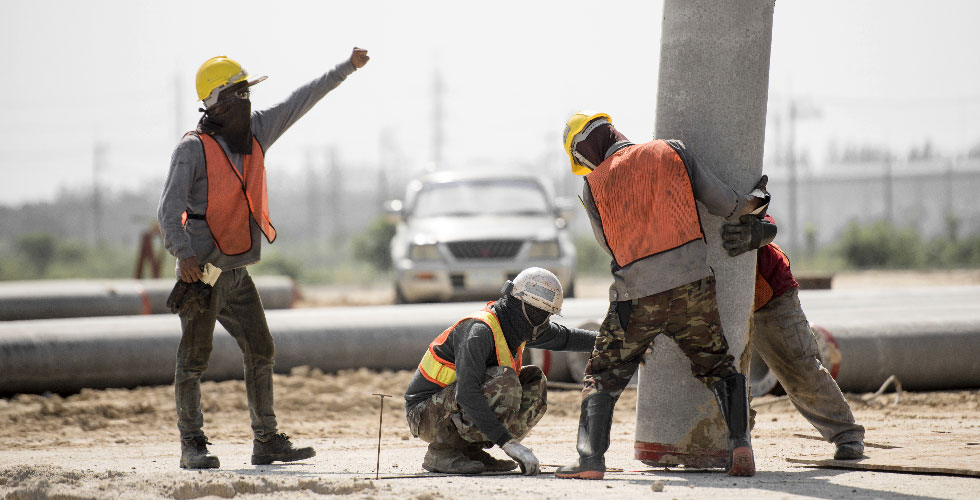 The why behind wellness & well-being
Tuesday, September 7, 2021
Occupational safety and health are important functions within the construction industry. Virtually every construction company has a professional with dedicated responsibilities for monitoring and upholding physical safety and health standards. And today, the safety maturity of the construction industry continues to evolve and grow.
Many construction companies have now recognized that the overall mental health and well-being of employees and their families were affected by the pressures of the pandemic. In addition, the industry is facing a major workforce shortage of skilled and unskilled workers.
A healthy wellness and well-being program can help to distinguish your company in the eyes of your peers and potential new employees. Moreover, an effective wellness program can help reduce workforce risk and improve worker well-being.
Construction is a demanding and stressful industry. The construction trades have many physical risks, including chronic pain from sprains and strains. This can lead to sleep deprivation and fatigue, which can contribute to presenteeism, a condition wherein an employee may be physically at work, but may not be able to fully perform their duties — and are more likely to make mistakes on the job due to stress, injury, illness or other conditions. Left unresolved, this can contribute to substance misuse that can lead to emotional and mental health concerns.
Defining Wellness
For some businesses, the definition of wellness is sometimes tied to a program or tactic, and not part of a strategy to impact positive change. The National Wellness Institute (NWI) defines wellness as "functioning optimally within the environment." A healthy environment allows people who are physically, intellectually, emotionally and socially well to achieve high-level wellness. High-level wellness includes having a purpose and desire to perform at an optimally functional level. This includes having a satisfying occupation, a thoughtful spiritual outlook and strong ties to the community.
Countering Stress, Fatigue & Presenteeism
Research throughout the last 20 years indicates that stress is the leading health risk at work. The evidence points specifically to individuals who work in jobs that are demanding of time, pose higher levels of danger, and include challenges similar to those faced in construction. Individuals in these working environments have much higher levels of stress.
A stressed employee is usually more distracted at work, which often leads to higher jobsite incidents and accidents. Stress can result in higher incidents of substance misuse, low morale, burnout, absenteeism and presenteeism.
The combination of these factors can leave a company to fight to fulfill lost time and lost work with fewer employees. For any construction company, occurrence of these problems can potentially result in a person's loss of future work, potential reduced work hours and/or termination.
Many individual contractors, as well as the construction industry as a whole, would benefit greatly by instating a comprehensive wellness strategy for their workforce.
Wellness, when done well, promotes significant opportunities to keep your employees functioning optimally.
Running a Wellness Program
Who should run the wellness program? There are too many variables to be considered to say that there is a one-size-fits-all answer to this age-old question. Kristina Ewing, wellness and benefits manager at Andersen Construction, agreed that the answer to this question is more of a "both/and" rather than an "either/or" proposition, in that effective wellness and well-being initiatives require broad support from both human resources/employee benefits and risk management/safety, as well as operational leadership. "In our experience, wellness and benefits have been best managed as a stand-alone with support from all departments," Ewing said.
"Through various initiatives and education," Ewing said, the company has, "made significant impacts in making our employees feel valued and supported in their well-being journey that may not have happened if this was tied to another department."
Integrating With Safety & Health Programs
With rising concerns about mental health and well-being, many contractors are considering expanding their wellness programs. Landwehr Construction, Inc. began this process before the pandemic. Kylie Vatthauer, the company's integrated health and safety coordinator, shared insights on how to secure support from top leadership for wellness and well-being initiatives.
"Show your passion, share facts and statistics and solicit ideas and feedback," Vatthauer said.
"Understanding the current literature regarding worker well-being, including productivity and retention, as well as calculating the dollars per man-hour spent on injuries and absences, solidified the need for wellness and well-being initiatives for our leadership team," Vatthauer said.
"Collective passion for the overall well-being of the employees shows leadership and management that this isn't just 'checking the box' to say there is a well-being program, but a real opportunity to make an impact on the company's culture," she added.
Driving Engagement
Vatthauer asserts that direct communication with field employees is essential when starting the planning process for a new well-being program to promote buy-in and participation. "It is easy to come up with an idea in the office, but to truly find out the likelihood of acceptance, it is necessary to get out into the field to try it," Vatthauer said. She also encourages utilizing volunteers for
pilot programs to ensure they will be well-received to implement effective well-being programs.
Ewing shared the importance of maintaining and sustaining employee engagement in ongoing wellness promotions. Ewing shared an example that has revitalized support for the wellness program by expanding the involvement of spouses and domestic partners as one of the keys to our success.
Moreover, Ewing said, "Spouses and domestic partners are now officially part of our wellness and benefits onboarding process, and they're invited to learn about the programs alongside the employee from the beginning and given the opportunity to earn their own wellness incentive."
Identifying Outcomes & Measuring Effectiveness
Elizabeth Haynie, health and wellness benefits manager at The Beck Group, shared the importance of setting goals and identifying desired outcomes for wellness and well-being activities. One of Haynie's goals for her workforce is reducing the prevalence of metabolic syndrome (a precursor condition to diabetes) by helping individuals to stay healthy or supporting them in making healthy changes. Haynie wishes to see an increase in preventative care visits, which would show individuals are engaged in their health and competing recommended screenings.
According to Haynie, "Seeking increased utilization in behavioral health visits may sound strange, but such an increase would indicate that individuals are reaching out to the resources available and seeking the support they need."
"We review population-level health results and claim data via our employee benefits broker to determine if well-being efforts and healthcare initiatives are making the desired impact," Haynie said.
"Utilization metrics tell us how programs, rewards and resources are being used. Employee benefit claim and utilization data is used to craft education and outreach campaigns and to identify gaps in care," she added.
The business case for wellness is built on human capital risk management. Workers are the key asset for construction companies. Wellness programs can reduce human risk while optimizing performance and providing a positive financial return on investment. Wellness and well-being are a sound business practice and can improve the competitive position of contractors. 
Wellness & Wellbeing Self-Assessment Tool
What proactive physical health and mental wellbeing promotions does your company offer? Download the Self-Assessment Tool at nwi.informz.net/NWI/pages/NWI_Wellness_Inventory.