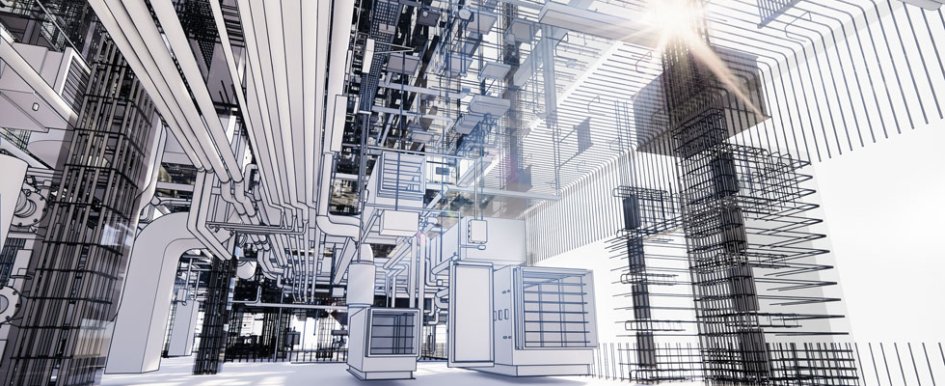 Study shows how contractors up & down the supply chain stand to gain the most from a further commitment to tech
Thursday, October 1, 2020
The latest research from Dodge Data & Analytics on building information modeling (BIM) focuses on mechanical, electrical and plumbing (MEP), and heating, ventilation and air conditioning (HVAC) contractors. It reveals that these contractors have embraced BIM and are seeing extraordinary value from its use. However, it also demonstrates that a major challenge for many of these contractors is a lack of commitment to BIM use by other key parties involved in a project.
The research findings—published with the support of the Mechanical Contractors Association of America (MCAA) and Pinnacle Infotech, along with Autodesk, the Air Movement and Control Association (AMCA) and Innovative Construction Technology, as the "Business Value of BIM for Mechanical and HVAC Construction SmartMarket Report"—demonstrate that BIM users among mechanical contractors have high levels of BIM implementation, with 95% reporting that they are responsible for producing the model on at least some of their projects, and about two-thirds (67%) using internal resources to do so on 50% or more of their projects. This high degree of BIM use shows that MEP and HVAC contractors are among the most committed users of BIM.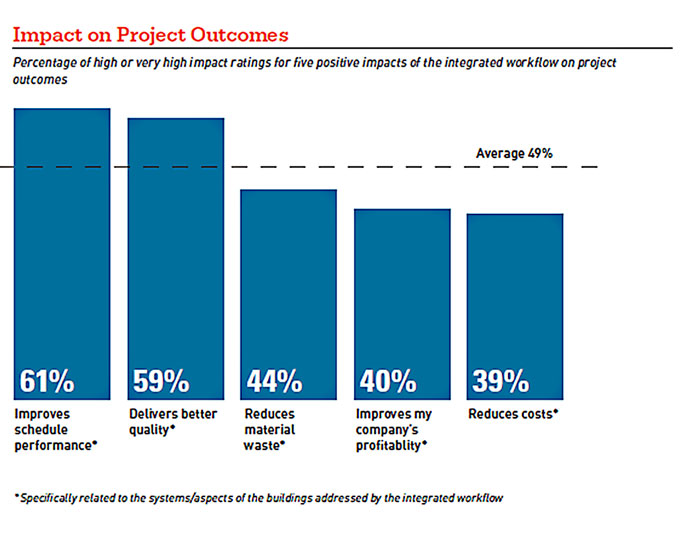 The study also provides support for why BIM use is so prevalent among mechanical contractors. It looks at the benefits they receive in two ways: the overall benefits to projects, processes and business performance that they experience from engaging in BIM and the benefits they specifically derive due to use of model-driven prefabrication. Both sets of findings are highly positive.
For the overall benefits, contractors were asked to identify the top three company- and project-related benefits they have experienced, and the factors that emerge at the top are increased labor productivity, increased profitability, improved fabrication process and better utilization of resources. These are critical benefits that directly accrue to the company's bottom line and are difficult to achieve otherwise.
For the benefits of model-driven prefabrication, contractors were asked to indicate whether they experienced a series of improvements to their projects when using BIM to prefabricate as compared to site construction, and the majority of contractors (over 70%) agreed that using model-driven prefabrication improved labor costs, quality, schedule performance, worker safety, site logistics costs and reduced material waste and the need to purchase extra pipes and fittings.
However, despite this wide recognition of the benefits of using BIM and the broad implementation, many contractors are also still not yet using BIM on the majority of their projects. Therefore, the study also explored the top obstacles to wider BIM use, and two clear issues emerge:
The most significant obstacle is with having enough BIM-skilled employees, with contractors most frequently selecting training needs for employees and lack of available manpower to create BIM models among their top challenges.
The second cluster of issues are related to a lack of commitment to BIM across the full project team, including lack of support for BIM from other trade contractors, other project stakeholders not using BIM and poor-quality BIM use by other stakeholders. Some also place lack of support for BIM from general contractors among their top challenges in using BIM more frequently.
The findings of this study provide more support to the importance not just of using BIM, but having it be part of an integrated digital workflow across the project team. Another Dodge study, published with support from Autodesk in the "Connecting Design and Construction SmartMarket Brief," demonstrates the material value that teams gain from being part of an integrated workflow that includes BIM.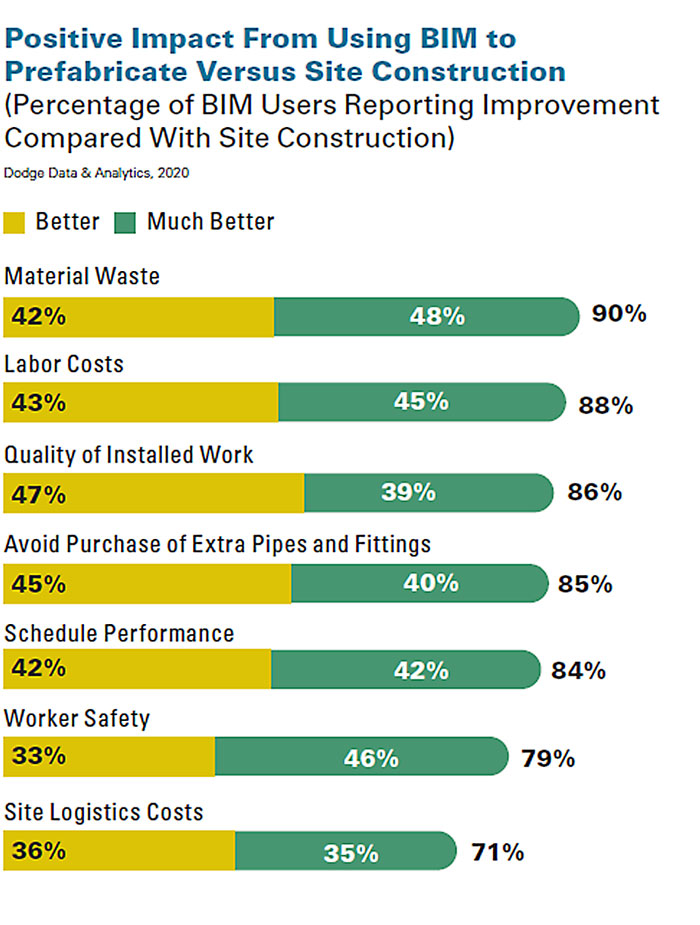 For example, general contractors/construction managers (GCs/CMs) who use BIM on 50% or more of their projects were asked what benefits they receive when engineers and trades also engage with BIM. All of the GCs/CMs (100%) report that they experience improved on-site coordination of materials, 73% report improved overall quality/performance in the final building, and 64% report improved overall control/compliance with the project budget and schedule. Thus, getting the entire team on BIM helps more contractors do better on the three key project performance indicators—quality, budget and schedule.
The study also examines the benefits of having an integrated workflow for structural and MEP systems, which is based on sharing model information throughout design, detailing, fabrication and installation. Over half of GCs/CMs and structural and MEP engineers who have worked on projects with an integrated workflow report that it enables better communication during design, detailing and fabrication (74%), produces better coordinated designs in less time (60%), produces better coordinated shop drawings in less time (58%), reduces errors in field installation (58%), reduces duplication of tasks (53%) and provides more accurate trade contractor estimates (53%).
Not surprisingly, these process improvements also result in positive impacts on project outcomes, with 61% reporting that they see improved schedule performance and 59% better quality in the systems of the building addressed by the integrated workflow.
The two studies make a powerful argument for the use of BIM on projects, but more importantly, they also demonstrate the value of BIM as a tool to connect the entire project team together, and how the increased ability to share data throughout the entire design and construction life cycle can improve projects, including the most central aspects on which most projects are judged: quality, budget and schedule.