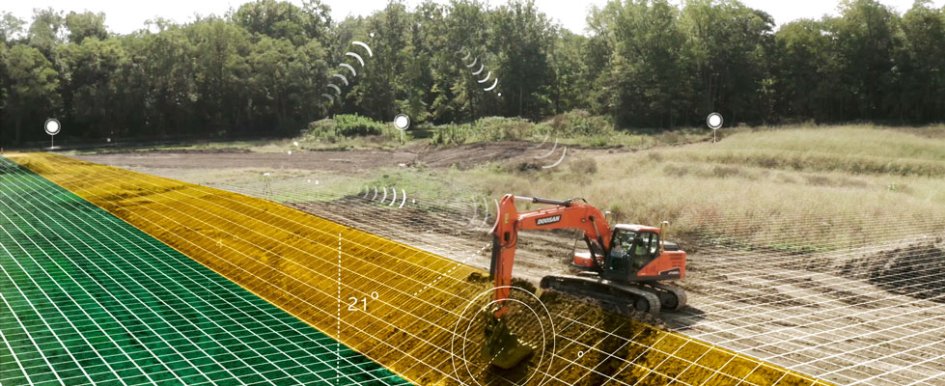 What you need to know to make sure your operators make the grade
Tuesday, September 15, 2020
Have you considered a grade control system for use with your excavating equipment? If not, what's holding you back? The system can increase your productivity, reduce your material expenses and create a safer jobsite. Grade control systems for use with excavators are not new. You may have some experience with these accessories on your machines. If so, you've likely seen the benefits firsthand. If not, the following explores things to consider.
Dig with Confidence
Your operators can work more efficiently with a little technology help from a grade control system. They will know they are delivering a product to grade to match a design file provided to them.
Among the most common applications for these systems with excavators is digging a utility trench at a uniform grade over short distances. They are also beneficial in excavating footings and producing a finished slope. With a system installed on the excavator, the operator can accurately dig, place a pipe and add fill material.
With a grade control system, you can also eliminate the need for an employee to check the grade, freeing them to do other work at your jobsite while your excavator operator maintains an accurate grade. And it can be safer to have fewer employees working outside of equipment on a construction jobsite. Another system benefit is avoiding overdigging. When this happens, you are required to add material back in your trench. And that means adding more Class 5 base material before the footing can be done.
2D or 3D grading
You can choose between two grade control systems—2D or 3D—depending on the type of work that you're doing. Two-dimensional grade control systems allow your excavator operator to work off a single plane—whether it be flat, single or dual slope. Your operator knows the grade is correct from point A to point B to dig a straight-line trench. You can expect a consistent grade on a vertical plane.
Three-dimensional grade control systems allow you or your excavator operator to add variable distances, such as a curved line or a curved trench. The excavator can be moved on your jobsite and still dig on grade. The 3D guidance system is especially beneficial for operators working on complex designs, like larger-scale drainage projects.
Technology
You can choose from several tech companies that have developed the technology for grade control. One such company is Trimble. Its GC900 Grade Control System is available for excavators and can be particularly useful in the 25- to 35-metric-ton excavator size class, based on the type of work these machines perform on a regular basis.
Once you decide to add a grade control system to your excavator, you will need to work with your local dealer and a technology expert from the company that developed the system. They can help you properly install the components on your excavator, provide training and ensure it's working correctly before you transport your machine to the jobsite. Components of grade control systems include:
Two receivers (masts) situated on the back of the excavator above the counterweight
Mainframe sensor
Boom tilt sensor
Arm tilt sensor
Bucket link sensor
Angle tilt sensor
Monitor (inside the cab)
Once installed, these components are likely to stay on that machine for the its useful life. In addition, a monitor is installed in the excavator cab that provides vital information to the operator.
Grade control systems use information gathered from global navigation satellite systems, GPS, laser, sonic or total station technology. These information sources help your operator accurately position the excavator bucket in real time as the bucket, boom and arm move.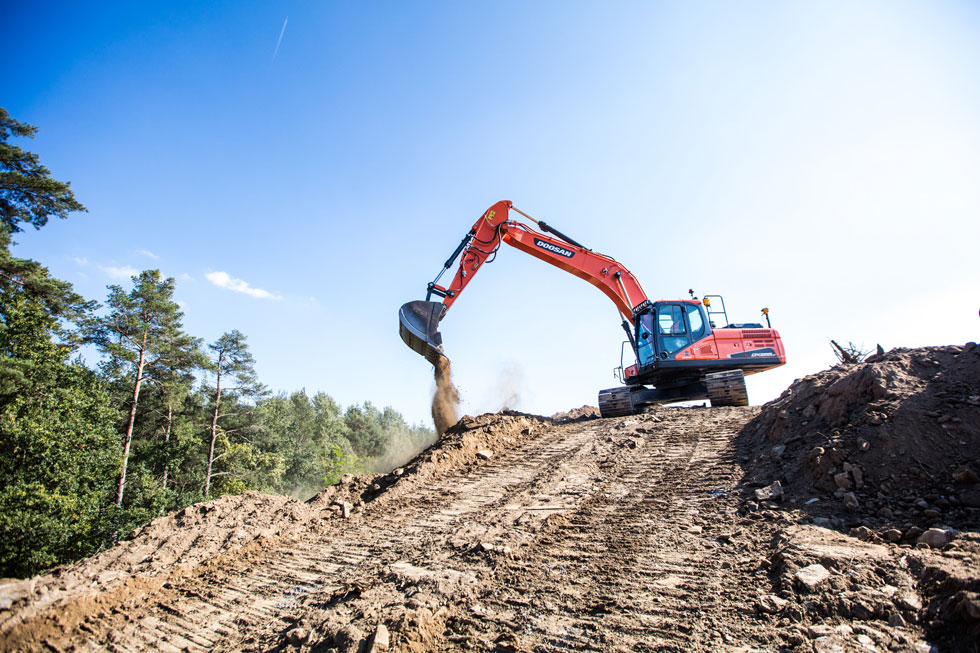 Detailed Information
Once the system is installed on your excavator, your operators have a wealth of information available to increase their proficiency. The system provides real-time information to your operators to ensure the project is being done correctly.
Your operators are still in control of the excavator. Using the second monitor installed in the cab, your operator can see the location of the bucket and the programmed dig depth requirements. The system gives an indication of how far above or below grade you're working, based on the tip of the bucket.
If you aren't routinely on your jobsites, you can still monitor your excavator operator and the machine's grade control system. Some grade control system manufacturers provide their customers with website access, making this information available to remote fleet managers or owners who are not at the jobsite.
Autonomy Is the Future
Although some grade control systems allow an extra benefit that controls the work, it is still routinely left up to the operator to properly follow the programmed coordinates. What you can be sure is coming within the next 5 years is more machine automation.
Some heavy construction equipment manufacturers are already developing this technology. They have showcased some of their successes at live events where viewers saw excavators working autonomously. Instructions were provided wirelessly from an on-site workstation to the excavator.
Until this sought-after autonomous jobsite is available, you can still benefit immediately from adding a 2D or 3D grade control system to your excavator. Reach out to your local heavy construction equipment dealer to inquire about a system for your machine.