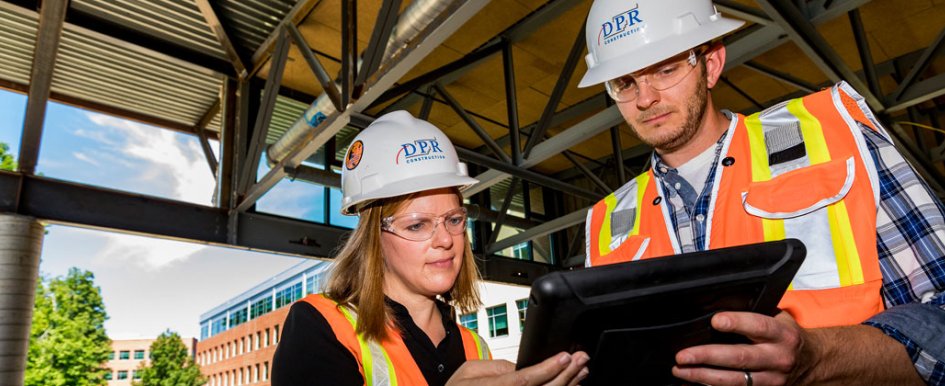 Lisa Lingerfelt on project management & personal growth
Friday, September 7, 2018
Are leaders born, or are they made? Is it nature, or is it nurture? Decades of research concludes that it is a mix of both, and construction management professional Lisa Lingerfelt is a testament to this conclusion. Lingerfelt, DPR Construction's Mid-Atlantic business unit leader, recently chatted with CBO about her reasons for entering the industry, history with DPR Construction, accomplishments as a project manager, experiences as a woman in the industry, and what keeps her headed to work every day.
CBO: What brought about your interest in construction and project management?
LL: None of my family members worked in the construction industry, although many people assume as much. I went to college for engineering because of my love for math and science. Freshman year, we were exposed to several different disciplines of engineering, and I chose civil.
During my sophomore year, I learned more about construction management. I did a co-op the summer after my sophomore year with Danis Environmental, a heavy construction firm. My love for construction really began during my co-op experience. I think internships are invaluable in a young person's life—they are truly the only way to experience the real world.
After earning my bachelor's degree, I earned a master's in construction management. I love that every day is different; construction management involves a lot of problem-solving, and it is very hands-on. Seeing a construction project from inception to completion is extremely satisfying.
CBO: Tell us about DPR Construction, the positions you have held there throughout the years.
LL: DPR is an international commercial contracting and construction management company with locations in 27 cities across the United States; Amsterdam, Netherlands; Seoul, South Korea; and Singapore. The firm has been ranked as a top 50 U.S. general contractor to work for every year throughout the past 2 decades.
I was interested in DPR because of its culture and technical focus, which are the same things that keep me there to this day. No matter how challenging my day is, I truly enjoy coming to work every day. DPR is a differentiator in the industry, and I love being a part of that.
I've held many different roles including project engineer—4 years; project manager (PM)—5 years; project executive—4 years; business unit leader—3 years. I have learned so much in each role, but project executive might be my favorite because I like working close to the projects. As a business unit leader, I have to balance sales, people and financial results. A big passion of mine is our people, which has been my favorite facet of my current position. The success of the company all comes down to our talent. Finding great people and investing in them is important.
CBO: What role has the company played in your growth?
LL: DPR doesn't hold you back because of your age or your gender, and it doesn't really require that you be in a certain role for a certain number of years before you can advance. They reward the employees who have proven themselves, and provide employees who produce good results with new opportunities. DPR understands that motivation and growth happen when you are outside your comfort zone and being challenged.
CBO: Give us some highlights from your time as a PM. What have you learned and how does it affect your work now?
LL: My first assignment as a PM was a $60-million job. It was The University of Virginia lab building project, which was also probably the most memorable project I've worked on. I grew a lot during that project—our team finished it on time, with no punch-list items and under budget. We overcame a lot of difficulties together, and handing over the keys to that project with no punch list was a wonderful feeling.
Being a PM taught me a lot about the people side of the business. I focused a lot on building relationships externally with design partners and clients, as well as mentoring and building our team internally. This leadership experience and growth gave me the foundation I needed to be a business unit leader. Running a region is similar to running a project, just on a much larger scale. You have to let go and empower, encourage and trust others, which can be hard to learn.
CBO: What advice can you share with up-and-coming PMs?
LL: At DPR, we say, "Ask forgiveness, not permission." If you know something is in the best interest of the project, push to make it happen. Also, always remember to lead by example, and never burn a bridge.
CBO: In your opinion, why don't more women consider construction as a career path, and why should they?
LL: I think there is still a perception that construction is not an industry for women. I also think a lot of women might not know much about construction as a career path. However, there are a lot more women in construction and engineering classes now than when I was in school, so I do believe things are changing. It is a fun, rewarding and challenging career path that has opportunities in many sectors, including estimating, IT, building information modeling (BIM), sustainability, mechanical and electrical coordination, and field engineering—far more options than most realize. Every day is unique. I love the combination of being a builder and a problem-solver, along with the personal interactions.
CBO: You started a new position as a PM after returning from maternity leave. How did your new role as a mother affect your role as PM?
LL: Motherhood gave me a new perspective on balance. I learned that work-life balance means something different to each person, and as a leader, you need to understand that about your employees and support it. Construction is a demanding industry, which makes finding the right work-life balance even more difficult, and I think it keeps some women from sticking around long term.
CBO: As a successful woman in construction, what advice do you have for others regarding gender relations in the field?
LL: As a woman, and as someone who has generally looked young for my age, I have encountered some people who have second-guessed my abilities. Instead of being defensive, I roll with it and let my abilities speak for themselves. My advice to other women in the industry is to find your voice and speak up for what you know is the right path forward. With experience will come self-confidence, and you'll eventually find that speaking up will become easier. Remember that you must earn respect; you cannot demand it.
Final Thoughts
According to the latest Bureau of Labor Statistics's Current Population Survey, only 9.1 percent of the construction industry is made up of women. On average, U.S. women earn 81.1 percent of the amount their male counterparts do. But, in construction, that disparity is much improved—95.7 percent—proof that many women might be overlooking a rewarding career option.
DPR supports Lingerfelt and other women in construction through its blog "Celebrating Women Who Build." Efforts like this and other programs, coupled with the impressive waves being made by other intrepid women like Lingerfelt, are helping to put construction careers on the radar for more women, and paving the way for a
different brand of leadership.