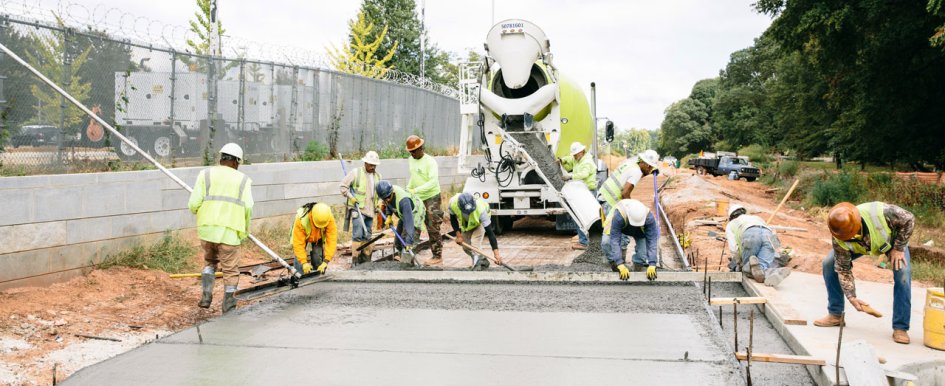 How one of the country's largest urban redevelopment projects is paving the way for change
Wednesday, August 9, 2017
The Atlanta BeltLine is the most comprehensive transportation and economic development effort ever undertaken in the city of Atlanta, Georgia, and among the largest urban redevelopment programs currently underway in the United States.
The sustainable redevelopment project is transforming the city by connecting 45 in-town neighborhoods with modern streetcars (an expansion of the Atlanta Streetcar), a 33-mile, multiuse trail network and 2,000 acres of parks—all based on railroad corridors that formerly surrounded the city. The project will open in phases and, once completed, will provide first and last mile connectivity for regional transportation initiatives and pave the way for 21st-century economic growth and sustainability.
As of last year, the Atlanta BeltLine encompasses four open trails, two trails under construction, seven parks, intensive planning for modern streetcar expansion, more than $3 billion in private economic redevelopment, hundreds of affordable workforce homes, free fitness classes, a linear arboretum and urban farm and the largest temporary public art exhibition in the South.
First conceived as a 1999 master's thesis by Georgia Tech student Ryan Gravel, the Atlanta BeltLine evolved from an idea to a grassroots campaign to a robust, new vision of an Atlanta dedicated to an integrated approach to transportation, land use, greenspace and sustainable growth.
Alongside the 22-mile transit system and 33-mile trail network, the plan for the Atlanta BeltLine includes the introduction of 1,300 acres of new greenspace and 700 acres of restored greenspace, public art, historic preservation, 28,000 new and 5,600 affordable housing units, 30,000 permanent and 48,000 one-year construction jobs and up to $20 billion in total projected economic development. 
Atlanta BeltLine Inc., the Atlanta BeltLine Partnership and the City of Atlanta are integral to the implementation of the project. The project, headed by Atlanta BeltLine Inc. (ABI), was formed in 2006 and is projected to be complete by 2030 (a 25-year timeline). ABI is responsible for the planning, design, construction and engineering of the entire Atlanta BeltLine program. Funding for the project comes from a combination of federal, state, local and private sources.
The procurement process includes a request for qualifications (RFQ) for design and engineering services. An invitation to bid (ITB) is issued for construction. Both processes include a Disadvantaged Business Enterprise goal (DBE), determined by the funding source. ABI has more than one dozen departments that handle all facets of the program: design, program management, economic development/jobs, transportation, housing, public art, community engagement, planning, communications, government affairs, real estate, legal and finance.
Given the lengthy project timeline, ABI also has a number of contractors that handle any number of projects and tasks. These include construction, photography, design of trail and transit, art, research and more. For contracts, the ABI project manager serves as the contract administrator/internal contract manager.
The program has had its fair share of struggles over the years, with some related to garnering grassroots support, land acquisition and funding. Currently, ABI is focused on equity and affordability, ensuring that they build the Atlanta BeltLine for everyone, throughout all parts of the city. Some of the project's successes to date include:
Four open trails and 8.7 miles, which will expand to five trails and 12.7 miles by the end of this year
1.7 million visitors to the Eastside Trail alone in 2016
Eight open parks and 202 acres
Housing around the loop (With commitment of $15 million over the next 3 years to create more affordable housing)
Trees Atlanta Arboretum—Consisting of acres of native grasses, wildflowers and large trees surrounding the trail
Art on the Atlanta BeltLine—The largest outdoor, public temporary art exhibition in the South, now in its eighth year
$3.7 billion generated in private redevelopment from $447 million invested (an 8-to-1 ROI)
Urban farm providing fresh food to neighborhoods typically underserved by such products
Robust community engagement structure to ensure public input and involvement
The Atlanta BeltLine has received dozens of awards for its approach to one of the most ambitious urban redevelopment and mobility projects in the country.
Most recently, Atlanta BeltLine Inc. and the Atlanta BeltLine Partnership received the Olmsted Award from the American Society of Landscape Architects, which recognizes programs outside the profession of landscape architecture for environmental leadership, vision and stewardship. The award supports and reinforces ABI's organizational values of integrity, innovation, inspiration, stewardship and collaboration.