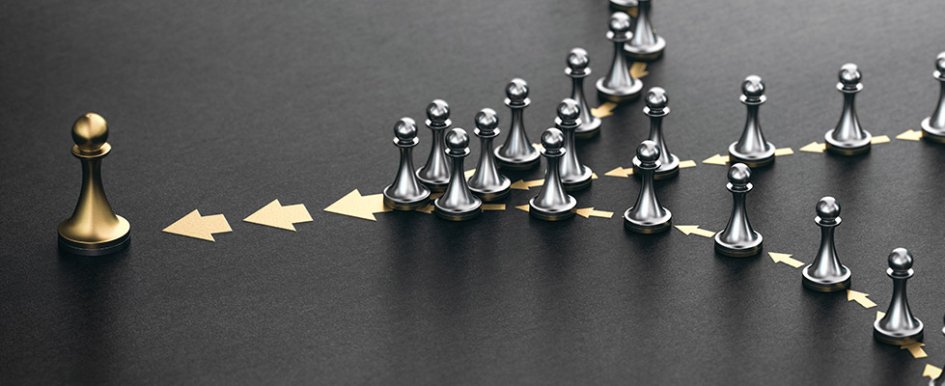 Thursday, August 24, 2023
The "think small" and "hire cheap" philosophies permeate many small- and medium-size construction companies where the owner is still involved in all aspects of the business. As companies evolve, oftentimes the tendency is to hire the lowest cost solution with only today in mind, versus keeping what you will need when your company doubles in size front of mind. I often describe this as "letting your wallet control your future." Remember, if your company grows at 15% to 20% per year, it will only take around four years to double in size. Successful business owners hire professionals who are experienced, can run projects from start to finish, need little supervision, have the potential to become leaders and key players in their expanding company and are paid top dollar. 
Highly successful construction companies are led by innovative entrepreneurs who focus on the big picture: expanding capacity, developing loyal customers, securing higher-margin work, implementing systems, building top talent, and continuously improving and achieving best-in-class results. These visionary leaders delegate project management, field supervision, crew scheduling and estimating. They make it their priority to stay focused on leadership, building their customer base, mentoring managers and holding them accountable to produce results. 
Stop Doing Work
At general contracting firms with $8 million to $20 million in annual revenue, the owner needs to stop doing the work. The same is true for subcontractors earning $5 million to $10 million in annual revenue with 20 to 30 field crew workers. "Work" can be defined as estimating, project management, field supervision and accounting. At these levels, the owner should have built a strong management team, consisting of a senior project manager, general field supervisor, chief estimator and a financial manager who can run both the projects and the company without much oversight or hands-on supervision.
Managers who hire professionals, however, must still dedicate time to managing their managers by holding weekly managerial meetings, reviewing important estimates, helping develop a winning bidding/sales strategy and watching the numbers closely. 
Hire or Promote a Second-in-Command 
Once a professional team in onboarded, the owner must focus on promoting or hiring a strong "No. 2." The No. 2 will be the top construction operations manager, responsible for running all operations — including project management and field production — and will report directly to the owner, as do the chief estimator, finance accounting manager and sales team. Project managers will report to No. 2., while field supervisors and crew foremen will report directly to their project managers or general superintendent. Figure 1 offers a visual of this chain of command. 
The decision to promote someone to No. 2 is tough. Select carefully based on the candidate's ability to coach, generate customer confidence, make the right decisions and earn employee respect. Also, make sure your No. 2 is someone with whom you want to build a business.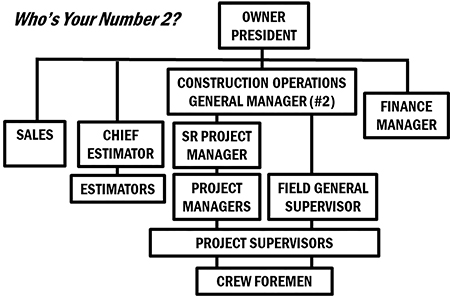 Hire Big = Get Big Results
I once met the owner of a full-service retail construction company who was hands-on estimating and managing every project entirely. He was stuck — maxed out at the level of what he could do himself. Finally, he hired a weak project manager and an estimating trainee. These hires helped him move from $3 million in sales to around $5 million in over three years. Then he got stuck again. 
We often discussed how expensive strong managers were and whether I thought he should take the risk. He was turning down opportunities to negotiate with great customers and build many more high-profit projects, but his workload was more than he could handle. Finally, he found a perfect person to become his No. 2 and take over all his construction operations. He hired him at 50% more than he had ever paid for a project manager. Today, his company averages more than $20 million in annual sales, has increased its net profit margin by 6%, and his current backlog is well over $30 million of negotiated high-margin work. Why? He spends most of his time cultivating clients versus doing the "work" and hoping customers call with low-priced jobs to bid.
Don't be afraid to hire an experienced professional who costs more money than you want to invest. They will take most of your problems away as they build systems, structure and a team of professionals who produce results without your constant supervision. The math is simple and convincing: a $50,000 more per year salary only takes $500,000 of additional revenue at a 10% markup to cover (or $250,000 additional revenue at 20% markup). Don't you think you could generate double or triple those numbers if you weren't doing the "work" and had time to focus on customers, strategy, systems, profit improvement and mentoring?
No Decision = Nothing Good Happens
I met with an owner to help him improve his bottom line. As I dug deeper, I discovered the project managers were not following standard company systems. For example, they billed most of their projects four to five weeks late, performed change orders without prior approval, their subcontracts were riddled with holes, and they didn't visit jobs on a regular basis to review the schedule. To make matters worse, their estimator was hard to communicate with, wasn't expanding his subcontractor and supplier list, and only got one or two bids per trade. He missed bid deadlines, forgot items in his estimates and was unwilling to change.
So, I met with the owner to discuss the problems and review some suggestions for improvement. To improve project management issues, we implemented several new systems and a mentorship program. One project manager quit immediately and was quickly replaced. The other project manager significantly improved and continues to work there.  
I demanded he replace his estimator with a good communicator who would meet deadlines, build a strong subcontractor list, attend customer proposal meetings and develop a better estimating template. Unfortunately, the owner postponed replacing the estimator because he didn't want to deal with the issue. The next year, sales and margins were bad. The takeaway? Indecision can suffocate your business. 
As a company leader, when you're doing the "work," you're not building talent or growing your customer base. You're also too busy to manage your managers and spend too much time helping weak employees do their work. The sooner you start moving toward getting a strong person to help take charge, the faster you can reach your vision of what you want your company to become.