Why construction firms of all sizes need to leverage new systems and technology
Editor's Note: This is the first article of a three-part series that will examine important productivity drivers representing the construction industry's future.
The commitment in today's construction market to waste reduction has made the word "efficiency" a prevailing mantra across construction organizations. Firms recognize that maintaining pace with the competition is no longer good enough. They need production assets that leverage technology with a seamless integration and a consistent, standardized approach. These products not only provide short-term gains, but also create a demonstrable platform for long-term sustainability.
Lean construction, prefabrication/modularization and building information modeling (BIM) represent current concepts available to contractors and a glimpse of the industry's future. While technologies will vary, there is no question that future firms will soon resemble manufacturers more than traditional construction companies. Controlling the assemblies, mitigating risks and reducing inefficiencies will all converge in the "perfect storm" of productivity improvement. Figure 1 above illustrates the various productivity drivers at work.
One common misconception is the belief that only large, sophisticated contractors can benefit from these news tools and processes. In all cases, the advantages depend on levels and gradations determined by a company's size. While implementation of any system requires investment and commitment, contractors can still anticipate an appropriate return on that investment. Put another way, contractors need to innovate and avoid the pitfalls associated with "small thinking."
Despite what contractors believe, the return provided by these systems will not happen immediately. There are no "silver bullets" in any industry, and the construction industry is no different. The value is clearly there, but the largest hurdle lies in a firm's general reluctance to adopt a new paradigm. Incorporation of a lean culture is not unlike dieting and getting healthy—on the surface, it's the right thing to do, but the inertia associated with inaction becomes the greatest barrier to change. 
Lean
By its strictest definition, Lean is the continuous elimination of waste driven by customer satisfaction. Combined with Six Sigma—another methodology for improving effectiveness and efficiency— Lean aims to drive out waste of all forms, including but not limited to the following:
Defects—construction not initially completed to specifications
Overproduction—construction that is faster and more than required
Waiting—time lost when people, materials or equipment are unavailable
Non-utilized talent—wasted potential when the people doing the work are not consulted for improvements
Transportation—poor handling of materials and equipment around a site
Inventory—excess materials
Motion—movement of personnel and equipment that does not add value
Extra processing—doing more than the specified requirements to transform the raw materials into the finished product
With these examples of construction industry waste, experts have long viewed the construction industry as simply an extension of the manufacturing process—making Lean methodologies applicable to any trade.
As one examines the connectivity between such management philosophies as Lean, Total Quality Management, Six Sigma, etc., it is easy to see many of the same figures leaving their indelible mark. Regardless of the packaging, it is important to recognize that the processes and tools for driving out waste, poor quality and inefficiency provide results. Elimination of labor waste greatly impacts contractors and their customers.
While perceptions of Lean may vary, the process translates directly to bottom-line growth. For contractors who achieve as low a net income as 2 to 3 percent, a 5 to 10 percent improvement in labor productivity has the ability to double the bottom line. While businesses appear far too concerned about top line growth, productivity improvements impact the more important aspect of the income statement. Figure 2 shows that a combined 77 percent of respondents determined some level of productivity enhancement as a result of their Lean initiatives.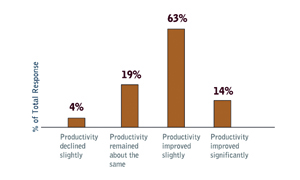 Figure 2—2012 Productivity Survey, Lean and Productivity Improvement
The tools themselves aren't the challenge; instead, it's the behaviors associated with the status quo. For instance, short interval planning tools—or "Last Planners" in Lean terminology—are important proactive devices to help field managers allocate resources and set measureable goals. The benefit is clear: Better planning eliminates emergencies and reduces costs associated with overtime, quick shipping, rework, etc. However, adoption of a new planning system across a contingent of managers and supervisors is not easy. Without strict accountability metrics from senior management, the planning tools simply become another sheet of paper. 
Skepticism of new doctrines such as Lean does not originate from disbelief in the tools or process, but rather in the inability of an organization to change simple human behavior. Superintendents and managers need to see how new tools and processes will reduce costs over the long term while changing their habits in the short term. Just as a car needs an oil change on a long journey, businesses need to incorporate new systems to be successful over a period of time. It is incumbent on owners of construction firms in this new era to create a sustainable model that allows their personnel to construct projects as efficiently as possible.