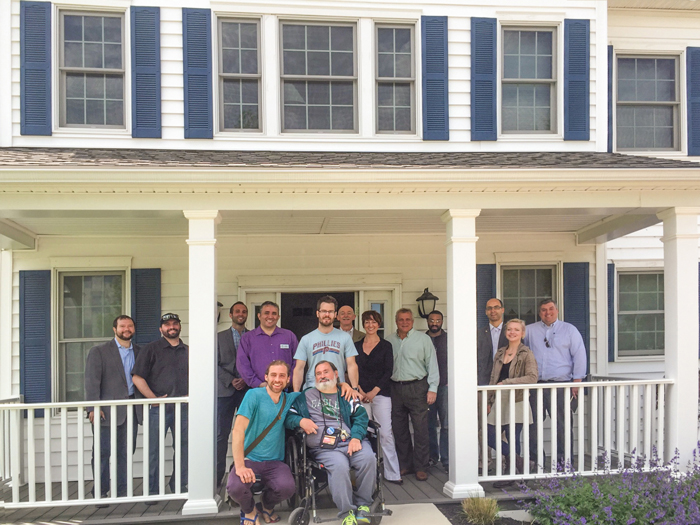 When good leaders mentor, good companies grow
Thursday, January 31, 2019
It has been said that a person's professional life can be divided into three distinct stages:
The learning stage—The early part of a career when everything is new
The earning stage—When the focus is placed on making money
The returning stage—When giving back to team members and the profession as whole becomes a major part of one's purpose and passion
As such, during the returning stage, giving back through mentorship becomes the most valuable component of modern leadership and the best way to advance your company.
A Case Study
A few weeks back, I was sitting at a restaurant in the Los Angeles International Airport. While eavesdropping isn't necessarily my thing, I couldn't help but overhear the conversation between two individuals seated next to me. Specifically, the frequent use of the word "mentor."
"I've been blessed with the opportunity to build a lot of buildings; but right now, when I'm asked, I tell people that I build teams that build buildings," one of them said. As the other individual left, I explained my interest in the topic of mentoring to the remaining gentleman, told him I had overheard him mention it a few times throughout his conversation and asked if he would share his thoughts on the topic.
He introduced himself as Gene Archibek, senior project manager at Andersen Construction in Oregon, and I couldn't believe my luck. For the past 2 years, I have had the privilege to facilitate and lead the Construction Financial Management Association's (CFMA) formal mentoring program—a national leadership development program the association uses to help identify and cultivate future leaders—and the fact that I was chatting with a leader in the construction industry was an added bonus to our chance encounter.
Archibek explained that his interest in having mentors and mentoring others is integral to his approach to work, life and learning. "I've had three strong formal mentors and seven or eight other informal ones. Collectively, they've gotten me to where I am today," he said, adding, "We're not going to improve as an industry [as fast as we can or should] without others doing the same," which is why he currently mentors seven individuals.
Archibek's plane boarded shortly after we began talking, forcing our conversation to an abrupt stop, but I asked if I could follow up with him in a few weeks, and he encouraged me to do so. In the meantime, I began to think about the two vastly different, but equally important, pieces of his statement.
As an individual, he would not be where he is today without mentoring; and as a professional in the construction industry, he does not think the industry will advance in a meaningful way without mentoring. This inspired me to seek input and perspective from the individuals I work alongside in the CFMA.
Two of the three colleagues I spoke with are mentors. They included David Wightman, CPCU, senior vice president and West Region practice leader at global advisory, broking and solutions company Willis Towers Watson in Houston, Texas; and Erika Urbani, chief financial officer and vice president of finance at R.D. Olson Construction in Irvine, California.
In addition, I was fortunate enough to have input from Urbani's mentee, Rhonda Huismann, who serves as Crowe's office managing partner in Grand Rapids, Michigan. Archibek was also included in this pool. My goal was to explore how being a part of the mentoring process not only helped them as leaders, but also their team members and their companies.
Exploring mentorship through the eyes of these four construction industry professionals, I discovered the most important reasons companies should embrace mentoring. The following offers their advice on how the creating the right mentor/mentee relationships can advance your teams and your company.
Knowledge Transfer
Team meetings, training events, intranets, newsletters and a host of other forms of communication are essential to keeping businesses moving forward, connecting team members and driving growth. While these all provide great value, there are few methods better than mentoring to improve knowledge transfer within a company or among professionals.
"There is so much information and institutional knowledge being held so closely to people's chests that as they retire or leave the industry, those perspectives and personal archives of learning go with them," Archibek said. "If we're going to instill the values, beliefs and work ethics of our corporations and teams, how are we going to do it without mentoring?"
Network Expansion
One of the key components to modern leadership—regardless of your place along the learn, earn and return continuum—is the ability to continually expand your network and the networks of others. Committed mentors, as well as mentees, play an active role in expanding each other's networks.
Wightman said, "Another area that is important to the mentor/mentee relationship, and ultimately, the company, is encouraging mentee participation in face-to-face client meetings, senior leadership meetings (when appropriate), and industry networks and associations, such as CFMA or Associated General Contractors (AGC).
In doing so, mentees have an immediate "friend" to help them meet and interact with clients, industry leaders and professionals. Those initial introductions can be powerful, bringing validity to the emerging leader as they borrow and absorb industry intellect and insight shared in these settings."
Bottom Line Improvement
According to PeopleKeep Inc., some studies predict that, on average, every time a business replaces a salaried employee, it costs the company the equivalent of 6 to 9 months of that employee's salary. For example, a company with an employee salaried at $40,000 a year could incur $20,000 to $30,000 in recruiting and training expenses for that employee. Mentoring could potentially offset this expense.
"Mentoring fulfills our need to get young leaders through the learning curve faster," said Urbani. And it's not just about training. "Today, we're hiring people from the fire to the frying pan, and with mentoring, we're able to significantly mitigate the risk associated. Through mentoring, we're instantly creating an opportunity to instill knowledge on company culture, practices, processes and systems management information."
Leadership & Growth
Leadership is not universally defined and should be situationally adaptable. A good mentor helps the mentee develop their own style and provides the resources for that style maturation," said Wightman. "For example, we frequently see emerging leaders making tough decisions as they separate themselves from the pack. It's here that mentor reassurance is invaluable. They need someone who they can have complete confidence in and whose opinion they value."
However, the impact of an inspired mentor/mentee relationship extends far beyond the walls of any company. True leaders focus on the growth of their mentees in not only across their professional careers, but also many other spheres of life.
"I honestly feel I have achieved more toward my goals and identifying who I want to be as a leader, advisor, wife, mother and, overall, as a person in the past year than I had in many years," said Huismann. "I was challenged to look at things in a different perspective and to really weigh what was most important to me and where I felt I could add the most value in all of my roles, without having any bias from an organizational view. That's what my mentor brought to me," she said.
Application
The performance management platform 7Geese reports that employee engagement is hovering at around 33 percent, so, it's easy to see how mentoring can help employee retention and engagement, reduce costs associated with training, and create a connected culture.
For Urbani's firm, mentoring advanced the development of emerging leaders. Archibek astutely pointed out the value of the intangible pieces to corporate knowledge. Wightman's insight on how mentors can be conduits for expanding personal and professional networks should not be understated. What rising stars want most, and what our companies should be providing, are opportunities for professional and personal growth, something Huismann captured in her sentiments.
Implementing a successful mentoring program within your company, or supporting your employees as they pursue external programs, is not the secret to solving this industry's challenges, particularly as they relate to employee retention, hiring and leadership development. However, it will go a long way in helping position your company as a channel to professional and personal development.
In Conclusion
There are several options for companies to engage in formal and informal mentoring programs. Associations, consultants and a host of other options exist. However, the most important thing to remember is that advancing the interests of our next generation of leaders is the best way to retain talent, inspire our teams and drive growth.