How one supply industry leader characterizes the importance of safety, education & humility
The advent of new technology and business processes to the construction industry is creating a tidal wave of change to the way AEC's workforce has typically looked. This includes an increased number of women finding success in leadership roles.
One such pioneer is Margaret Price, CEO and owner of Ridgefield Supply Company, located in Ridgefield, Connecticut. Price has 20 years of experience driving sales growth in the lumber and building material industry. In addition to sitting on many boards within the lumber industry, Price is active in the Ridgefield community and is the recipient of the 2005 Young Retailer of the Year from the National Hardware Association. 
Below, find Price's advice for young people entering the skilled trades, as well as more information about her company's strategy below.
CBO: Describe your experience in the industry and your role with Ridgefield Supply Company.
MP: I am a third-generation owner of Ridgefield Supply. In 1933, my grandfather moved to Connecticut to take over the company as general manager and owner. My father, Louis H. Price, bought the company in 1975. I acquired it in 2011, but I've been working with the company since 2000. I have worked in all aspects of the business throughout my tenure at Ridgefield Supply, from forklift operator to the material counter. Ridgefield Supply is a retail lumber yard selling to architects, contractors and developers, both in residential and commercial construction. We also have a hardware store located in the center of town alongside the supply company. When I acquired the company, I largely acquired my grandfather's facility, so in May 2014, we began a 3-½-year project to completely rebuild the facility from top to bottom (Price, right, in front of the old warehouse, pictured below). We now have a state-of-the-art lumber yard, a dynamic sales team and a show room that allows us to work with a variety of clients. When rebuilding the facility, one of our main areas of focus was on making sure that all of the product was under cover. We had to be prepared to store it correctly. We also have a heated warehouse to keep some of the materials at the necessary temperature for storage. We also placed a major emphasis on making the facility a very safe place to work for our employees. We have 48 employees currently.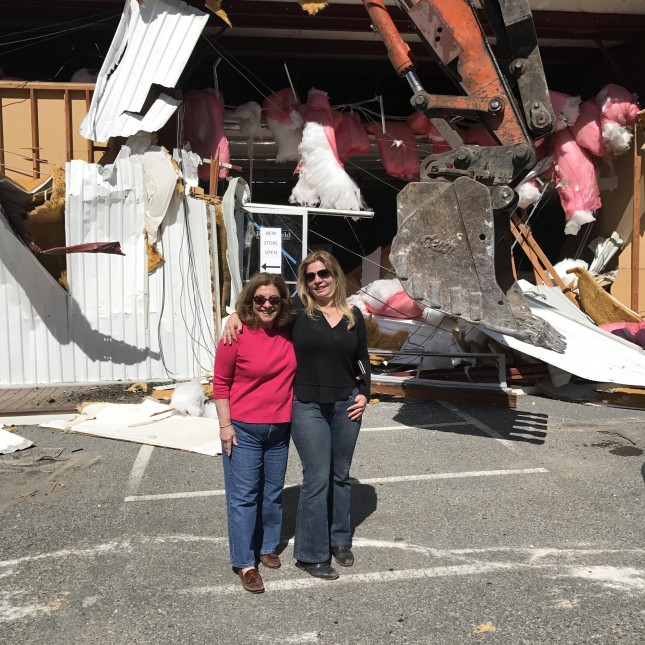 CBO: How have you seen the roles for females in the industry change over the course of your career?
MP: I came into the industry at an interesting time—things were booming back then. We also were going through a generational change, which in turn let to more women entering the construction and supply industries. I think we are seeing more women taking on leadership roles today in the construction arena, but that is still largely unheard of on the supply side of the industry. My father was tougher on me than he would have been on a son because he wanted me to be prepared for anything. He taught me the importance of relationships and networking, and to not be afraid of connecting with employees and potential contacts after hours. Most importantly, he taught me to learn from people. One of the biggest tenets we focus on at Ridgefield Supply is continual education. The only way you can learn is to listen. We moved into our new, 24,000-square-foot store and office space 3 weeks ago, and we are starting to build an education and training center on-site. We use a couple different educational programs, some from associations and vendors, and have a few programs we have created in-house. It's important that our employees know a lot about the product they are working with daily. Pictured below is part of the company's new education center.

CBO: What is your top advice to young women entering the skilled trades?
MP: Don't be afraid to find a mentor. And that mentor doesn't necessarily have to be a woman just because you are one. Don't be afraid to ask people for help. I not only had my father, but many other wonderful teachers in the industry, many of whom are still mentoring me today. You should never stop learning, and you should never stop asking for advice.
CBO: Can you describe one or two of the biggest lessons you've learned that have helped you succeed as a woman in the construction/lumber industry?
MP: I touched on education—that's a big one for me. Always, always be learning. But another thing is to understand that in any industry, to be successful, you have to choose to live it, eat it and sleep it. You have to have a passion for what you are doing. Learn to be humble, be liberated and don't be afraid to take chances. I've learned I always have to be open to change. I'm always looking to take this business to the next level, and that means working in different environments and unexpected circumstances often.
For more information about Ridgefield Supply Company, click here.