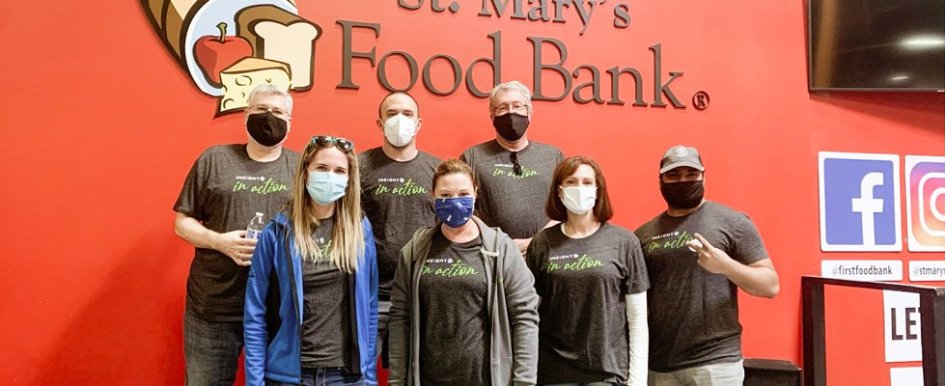 How to create a corporate social responsibility program & make a positive impact
Helping others is human nature. During the first months of the COVID-19 pandemic, one-third of United States households were still donating money to charity. Additionally, almost half made an effort to shop locally or order takeout, in order to support neighborhood businesses.
Business owners can encourage this philanthropic spirit among their workforce through corporate fundraising activities. Many do so already, holding charity events or making donations. However, these initiatives are often organized sporadically, and their success is not always communicated with clients, colleagues
or suppliers.
There is a real opportunity here for business leaders to drive greater engagement and enhance credibility by introducing a charitable giving program. Done right, a strategic corporate social responsibility (CSR) program can not only advance the employee experience and strengthen community partnerships, but also makes a positive impact on the world by supporting truly worthwhile causes.
But how can construction businesses elevate the occasional fundraiser into a strategic program that helps differentiate your brand in a crowded marketplace? Consider the following five key elements as you begin building your program.
1. Choose causes that align with company values
There are more than 1.5 million registered nonprofit organizations in the U.S. alone, all of which are looking for support. How do you choose which causes to back?
Start with your company's core values and develop criteria that maps to those beliefs. For example, the recent launch of InEight's charitable giving program, InEight in Action, was based on a three-pillar initiative to provide access to care, food, and science, technology, engineering, art and math (STEAM).
The decision to invest in STEAM projects was directly influenced by the company's business proposition and the desire for more young people to explore career opportunities in the construction software industry. This has led to the company's support of initiatives such as a new Makerspace Studio, where the Boys & Girls Clubs of Greater Scottsdale, Arizona, can interact with new technologies like green screens, 3D printers and drones.
However, other pillars in the company's charitable giving program are based purely on human compassion and reflect its employees' desire to help others. This desire has come to the fore during the COVID-19 pandemic — within weeks of the first lockdown, the company mobilized support for a global food bank drive, allowing each of its locations to support a local food bank through employee donations and company match.
2. Get leadership buy-in from the outset
One reason for aligning charitable giving programs with company values is to support nonprofits that employees can get behind. The more quickly your staff embraces coordinated initiatives, the more successful they will be.
Getting buy-in across the company starts with senior leadership; they can drive adoption from the top down and allocate budget for corporate donations.
Often the best way to get C-suite or board-level backing is to gain the support of advocates with a passion for community projects, or those who have highly developed soft skills. Once your advocates understand the organizational value of strategic giving, they become your ally for securing the support of other stakeholders.
3. Encourage employees to own each initiative
Like the old proverb says, "Give a man a fish and you feed him for a day. Teach a man to fish and you feed him for a lifetime." This saying is also true of CSR programs.
Giving employees a voice will encourage more people to suggest corporate fundraising initiatives. It will also help teams to unite — physically and virtually — behind chosen causes, driving greater results while strengthening your employee experience.
Although the criteria for giving will likely be set at senior level, encourage your employees to put the case forward for charities they want to support who meet those credentials.
Some suggestions will fall neatly into your value pillars. Others may not, but they will mean something to the people in your business. It is important to remain flexible and open minded in a way that will emphasize your company culture and build community relationships.
4. Set realistic expectations
Coordinating corporate fundraising initiatives can inspire employees. However, it is important to manage their expectations about the budget and resources available.
In reality, most businesses will not have the capacity to issue five-figure checks throughout the year, but a lot can still be achieved with smaller donations. You could consider schemes to make your budget stretch further — such as the company matching funds raised by employees.
You can also implement charity initiatives in place of existing business costs, for example, donating money to your chosen charities in lieu of customer gifts.
Support does not have to be financial, either. Team members can share their professional skills through virtual networking programs or volunteer their time at a local nonprofit. When COVID-19
restrictions begin to ease, you could encourage this type of giving at organizational level, by launching an all-company volunteering day or giving people dedicated annual leave to spend working with local causes.
5. Create momentum through positive feedback
One of the areas where many charitable giving programs fall short is sharing success. For a program to truly build brand value, your employees, customers, partners and suppliers need to see how well it is working — and want to invest further in it.
There are many ways to communicate achievements with key stakeholders. The first is employee feedback; consider filming video testimonials from team members and sharing or promoting those in support of the program via social media.
The most effective way to ensure your charitable giving program is strategically run and expertly marketed is to appoint someone to oversee all activities. By assigning a dedicated representative, you can rest assured that someone is taking charge of key partnerships and initiatives, and reporting their success back to colleagues, customers and senior management.
Building Brand Value
If the events of COVID-19 have highlighted anything, it's that people want to support others — but often, they do not know where to start. Launching a charitable giving program gives your workforce a cohesive framework to rally round, while showing employees, partners, suppliers and customers what your company stands for.
An organized program does not have to replace existing fundraising initiatives; your business can continue to support longstanding causes and honor existing partnerships. However, you can supplement these activities with a strategic program that reflects your company's beliefs, building internal and external brand value in the process.