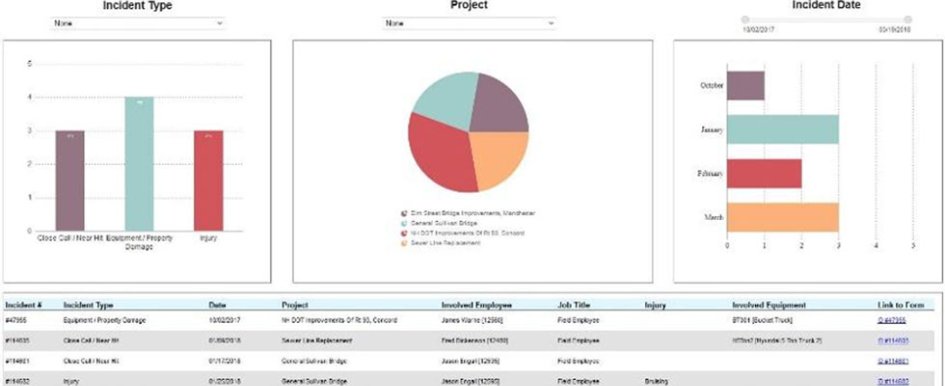 3 highlights from the 2020 Dodge Construction Safety Management Survey
Friday, October 16th, 2020
Dodge Data & Analytics' recent Safety Management in the Construction Industry 2020 SmartMarket report provides a comprehensive look at ongoing efforts by industry contractors to improve jobsite safety. The following article explores three highlights related to technology and the potential safety benefits of replacing paper-based processes for data capture and analysis with a system for electronic forms and reporting.
1. Electronic Data Capture Is Increasing But Remains Underutilized for Safety
Three years ago, close to 60% of contractors surveyed by Dodge relied on paper forms or spreadsheets to collect data in the field. Only 42% used software, but the tables are turning. Three years from now, more than 80% say they will be using software.
Specifically, the numbers and trend were very similar for tracking safety performance data. This will be a positive step toward collecting better safety data with less effort and in getting the information in a more timely manner. Those surveyed ranked the following capabilities, in order, as their top requirements to improve data gathering and analysis:
Getting accurate data from the field
Ability to do trend analysis
Getting comparable, structured data across all projects
Getting data promptly
Analyzing different types of data
Storing data in an easily managed way
Creating custom reports
Paper forms are a barrier to all of these use cases. Still, when asked to list the major benefits of improved data collection and analysis, only 36% of contractors listed improved construction safety.
Completing projects under budget, increasing jobsite productivity, achieving greater profitability and staying on schedule all ranked higher. These results indicate that contractors are focusing electronic data capture and analysis efforts more on productivity tracking than on safety. They haven't fully realized the connection between better data and improved safety management.
Contractors that have taken paper out of their jobsite safety processes, however, have seen improvements in safety performance similar to the improvements in operational performance achieved when they made the transition to using electronic tools for field tracking, project scheduling and equipment maintenance.
2. Toolbox Talks Are No.1 & an Electronic Process Enhances Them
The Dodge report says 73% of companies rely on supervisors and foremen as the primary conductors of jobsite safety training. They also rank toolbox talks as by far their most effective way to communicate safety messages to jobsites. This is an area where an electronic forms and reporting software system adds significant value. Toolbox talks and safety meetings require content.
At many construction companies relying on a typical paper-based process, that content is printed in an office, and the physical documents must then be transported to various jobsites and employees. A construction company often has many jobsites spread out over a large geographic area. This introduces a lot of cost, lag time and administrative effort.
With an electronic forms and reporting software system (see Images 1 and 2 for examples of each), supervisors and foremen can get the materials they need easily and immediately, increasing the timeliness, frequency and quality of the presentations. The electronic format also opens up the potential for video clips to be used as an effective learning tool.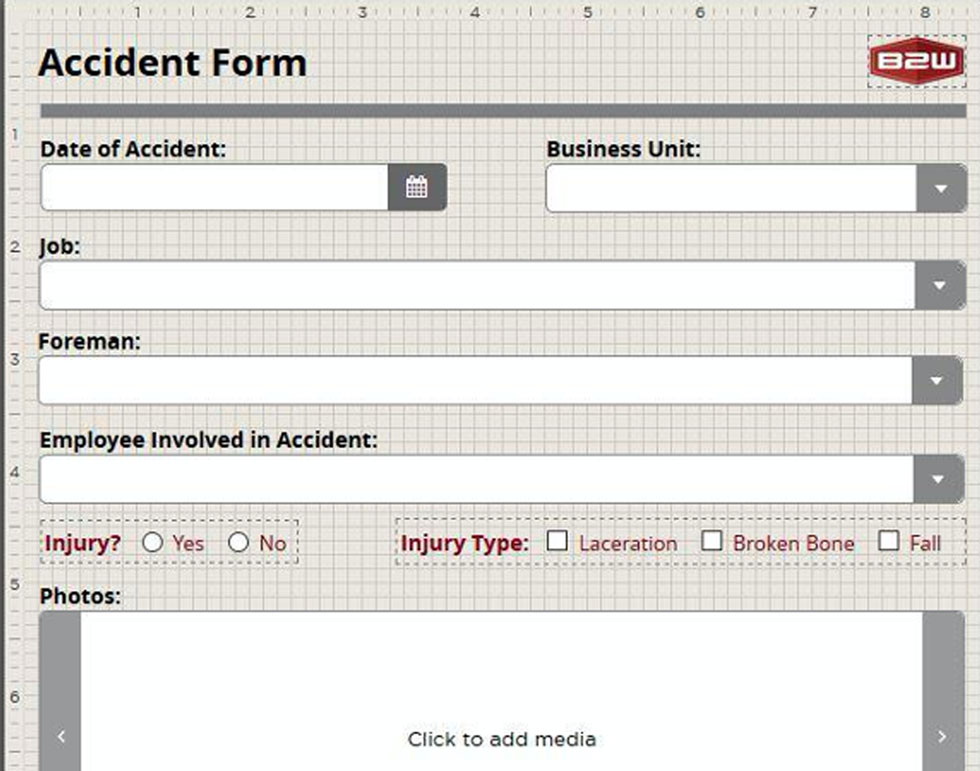 3. Technology Drives Safety, But Don't Forget Forms
The Dodge survey assessed current and potential impacts of "technology" to improve jobsite safety. Contractors weighed in on how much nine technologies ranging from drones and wearable devices to automated equipment and augmented reality could improve jobsite safety. Three interesting facts jumped out from this data:
Only wearable devices, at 63%, were seen as having an exceptionally high potential to improve jobsite safety in the next 3 years.
Almost 70% of the contractors surveyed were not currently using any of the nine safety technologies that they were asked to weigh in on.
Electronic data capture and reporting was not included as a technology option in the survey.
An electronic forms and reporting system may not seem as "high tech" as wearable devices and augmented reality. The truth is, however, replacing paper forms and adding more advanced reporting and analysis capabilities can be an important step towards improving construction safety management.
The Dodge survey also confirmed that safety isn't a top-down effort that can be forced by executives or a safety department. Engaging, empowering and getting input from employees on the jobsite are essential to world-class safety programs. Electronic forms and reporting help in all three areas, making it easier for employees and supervisors on the job to receive information, report incidents right away, and work together to identify and avoid on-site hazards.
"Filling out paper forms is cumbersome, and the lag time in getting the data back was a liability," according to Mike Nelson, safety coordinator at Minger Construction. "Having safety data stored electronically in one database also makes it easier to generate reports. Instead of just collecting the information, we can actually use it to identify trends and improve our performance."