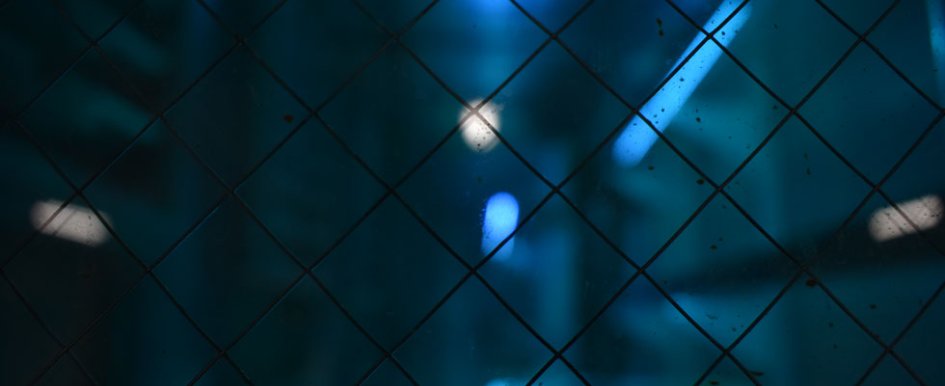 Managing the challenges of health-care construction: Tight timeframes, ambitious task lists & 24/7 facilities
Large health-care projects require a combination of extensive construction expertise and expert project management to ensure a timely, smooth finish.
Often, fast-paced timelines combine with an expansive team of tradespeople, requiring up-front control and planning from the get-go to ensure tasks are completed accurately and on-schedule.
Here's how our team accepted the challenge of the "tall order" project at Suburban Hospital in Bethesda, Maryland, and hit the ground running to not just meet, but exceed, the initial project team goals.
Management & Experience Are Key
Clark Construction came to us in need of assistance to execute the construction of a new, 5-story addition to the existing hospital facility, which would include 14 new operating rooms, two cardiac catherization labs, two specialty operating rooms, 108 new single-patient rooms, and a bioisolation wing, which was later used for COVID-19 patients. Additionally, the project required a remodel of the hospital's existing dining space and conference rooms, with further modernizations to selected areas.
Our team brought a background in health care to the project, which was essential in navigating the key challenges, from working around a 24/7 fully operational facility to the fast-paced timetable and juggling of an extremely large group of tradespeople and vendors. Speed of delivery with uncompromised execution and quality is a tagline for health-care construction.
Effective project management started this project off on the right foot and ensured that it remained on course through all subsequent phases. From the outset, our team took the helm with clearly defined roles and responsibilities for each member involved. Establishing ourselves as the BIM lead, we leveraged our planning and project management tools to coordinate schedules to fit the condensed timeframe and ensure everything was completed on time.
Management also played a key role here in that, a hospital being fully operational on a 24/7 basis there are no "off hours" for shutdowns and each one had to be meticulously detailed to a minimum duration, submitted and approved and then executed knowing that patients well-being and sometimes lives are at risk. The site itself has a relatively small footprint in a high-end residential neighborhood with limited lay-down space.
The team had to carefully schedule material deliveries on "The Project Delivery Board," with brief windows of an hour or two to unload trucks before the next scheduled delivery would arrive. Due to the continual improvement and complexity of the health-care industry, the scope of work is subjected to an onslaught of changes due to revised needs, new technologies and treatment methods adding scope to the project. Our team had to work hard to fit these into the existing time constraints, as adding extra time was not an option.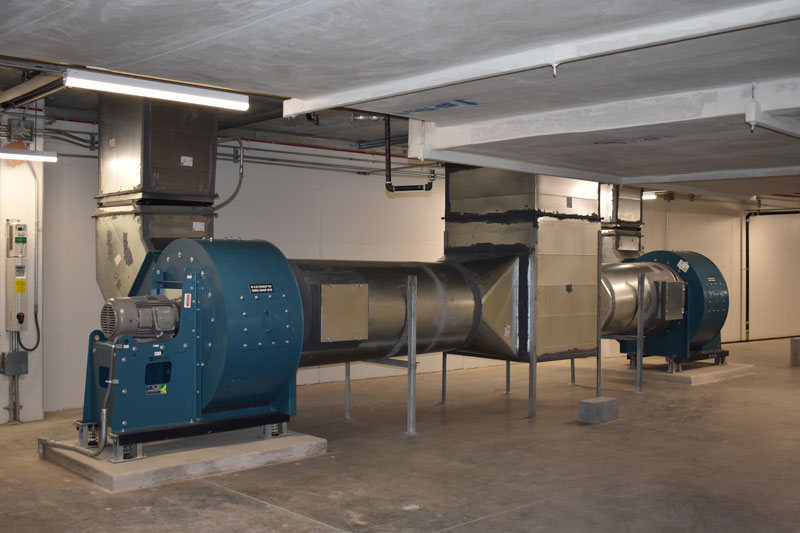 When the Project Supersedes the Typical, So Must Your Approach
Several elements of the Suburban Hospital project, from the minimal storage space, massive on-site staff, and ambitious task list, as well as the additional safety measures that come with working on the campus of a hospital facility, were outside the typical bounds of an everyday construction project. These factors required us to take a creative approach and think outside the box in composing our solution.
The rough-in stage of the building took 6 months to complete, and at any given time during the project, there were about 200 mechanical, plumbing and subcontractor tradespeople on the jobsite together. This included over 100 plumbers and steam fitters, sheet mechanical workers and mechanical contractors. The sheer amount of personnel involved on the jobsite far exceeded the industry norm of 50 to 70 tradespeople at a time. Our team was required to use containment bubbles and wear added personal protective equipment as required by specific locations throughout the facility campus as well throughout the job.
Another element of the project involved connecting a new chilled water system for the new addition to the existing one in the main hospital. The system works year-round, even in the winter, and in order to make the connection, our team was required to shut down the existing system and restart it without affecting daily operations. This required a fairly extensive solution, with temporary piping and equipment, and top levels of expertise, as the system is used to cool key instruments like MRI machines that release dangerous gas if they get too hot. The solution our team devised to effectively meet Suburban Hospital's needs involved a number of equipment systems and parts, including: 
A super-efficient magnetic bearing chiller
A heat pump chiller
Nine custom air handling units—six of which included UV light systems mounted downstream from the cooling coils to keep the coils continuously clean and prevent biological and bacterial growth for optimal hospital air quality and cleanliness
Two cooling towers 
Three boilers
460 VAVs 
A high-pressure to low-pressure steam station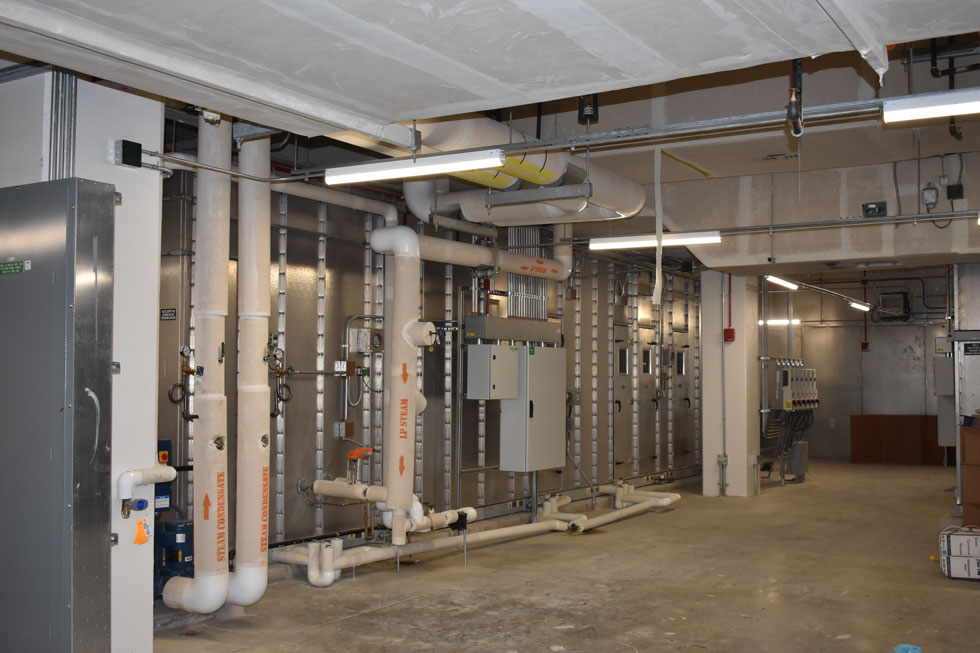 Top Quality & Efficiency Starts with Your Team
A quality team makes all the difference in a complex project with a tight timeframe. Hospital projects typically entail condensed schedules, large task lists, and the challenges that come with working within a facility that is operational 24/7. The success of the Suburban Hospital project is directly attributable to the hard work of both our team and the entire network of tradespeople and vendors, from planning to implementation to commissioning at completion.