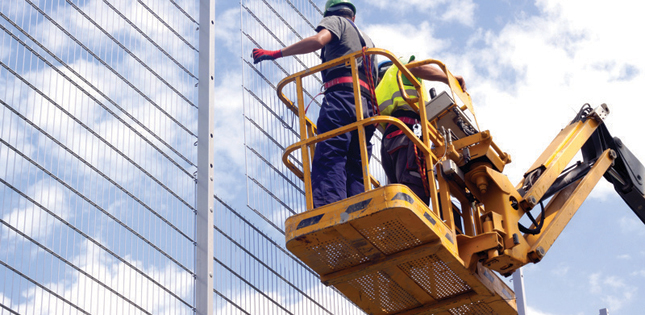 Understand this vital component of jobsite safety.
Wednesday, November 20, 2013
In 2011, the leading cause of worker fatalities on construction sites were falls, accounting for 251 deaths. Fatal falls are often the result of a lack of proper safety gear or the misunderstanding or misuse of equipment. The effectiveness of fall protection equipment, no matter how durable or reliable, is compromised when workers don't use it correctly.
To ensure the safety of their at-height teams, construction companies must get serious about fall protection equipment and learn what systems and components are ideal for each job. Safety gear is not one-size-fits-all, nor does one product fit all applications.
You should be familiar with the following four functional categories of fall protection equipment:
Fall arrest – If any risk that a worker may fall from an elevated position exists, a fall arrest system is required. Fall arrest systems come into service only when an actual fall occurs; in other words, the device is designed to arrest a fall in progress. A typical fall arrest system is composed of a full-body harness with a shock-absorbing lanyard or retractable lifeline, an anchor point and a means of rescue.

Positioning – A positioning system holds the worker in place while keeping his or her hands free to work. Remember that a positioning system is not specifically designed to arrest a fall and, therefore, does not replace a fall arrest system.
Suspension – Suspension equipment lowers and supports the worker while providing a hands-free work environment. A suspension system's components are not designed to arrest a free fall, so using a backup fall arrest system in conjunction with a suspension system is crucial.
Rescue/Retrieval – In the event of a fall, retrieval equipment is needed to rescue or remove a worker and bring him or her to a safe level. This equipment could allow for either self-rescue or peer-rescue, depending on the particular situation. Such devices include tripods, davit arms, winches and comprehensive rescue systems.
Having the right fall protection equipment for the right application—even when paired with a written fall protection plan—still isn't enough to keep workers safe on the job. Even the most comprehensive plan will fail if workers are not adequately trained to execute the program and use the equipment properly.
Training: A Vital Tool for a Safer Workplace
Formal training is crucial for anyone who performs work at heights. Without such training, workers may not fully comprehend the severe consequences of a fall, including serious injury or death.
Until workers see that fall protection equipment can be comfortable and easy-to-use, they may avoid using it altogether. Others might be embarrassed to ask about the proper way to use equipment and, therefore, use it incorrectly, which will decrease the effectiveness, comfort level and usability of the equipment.
All employers in the construction industry should provide training programs tailored to their specific job tasks and environment. Training sessions can cover a variety of pertinent topics, including the following:
Identifying, eliminating and controlling potential fall hazards
Inspecting, using and maintaining fall protection equipment on a regular basis
Executing the tactics within a fall protection plan
Compliance with applicable industry standards
Who Should Provide Training?
Many fall protection regulations specify the involvement of a "competent person" as defined by OSHA regulations 29 CFR 1926.32(f). OSHA defines a competent person as "one who is capable of identifying existing and predictable hazards in the surroundings or working conditions which are unsanitary, hazardous or dangerous to employees and who has authorization to take prompt corrective measures to eliminate them." To become a competent person, a worker must undergo specific training and show adequate knowledge through extensive experience.
Competent persons should be identified within the company to oversee the fall protection plan, conduct fall protection training and ensure all employees are prepared before the work begins.
Types of Training
Since workers typically learn the most by watching first then doing, conduct a training program with an equal amount of classroom and hands-on instruction. The key to any successful training program is to provide learning that approximates work conditions, so workers can easily apply what they've learned.
Classroom Training – Most classes combine lecture-style training, including slides and video, with group discussions to apply theory to practical applications. You should provide training manuals to workers for reference both during and following the course. Important topics to address include fall energy and how to accurately calculate fall clearance. You can also present equipment demonstrations and tutorial videos.
Hands-On Training – Hands-on training allows workers to be corrected in a controlled environment. No substitute exists for putting on a harness and having it adjusted properly, connecting to an anchor, experiencing how it feels and seeing firsthand what needs to be inspected before use. Workers can also conduct mock trials of a fall and rescue procedure to become familiar with their plan. Hands-on learning can occur on or off the worksite. Training in and around the workers' normal environment ensures that the issues discussed in the classroom are applicable to your employees.
Assessments – Training courses are typically competency-based, with each course having a specific unit of competency as indicated by the learning objectives and lesson plan. With these types of programs, workers should complete writing assessments and/or hands-on exercises to show knowledge retention of the information and the ability to apply it in a work-like environment.