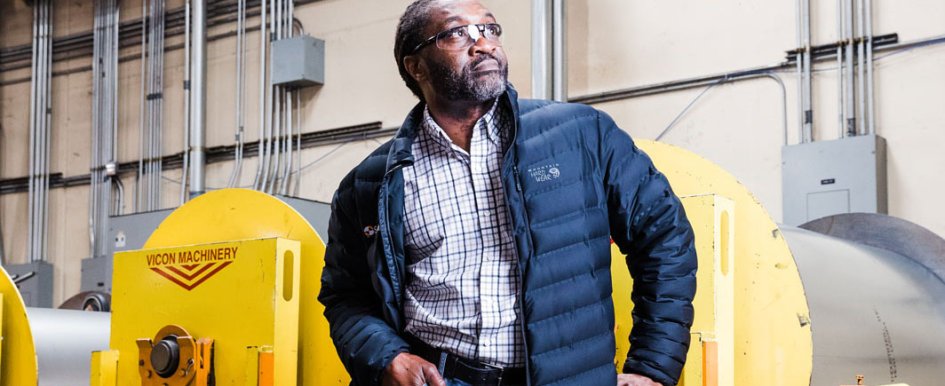 What lean contractor Southland Industries' Superintendent Henry Nutt III & the most recent SmartMarket Brief reveal about construction safety
With the ever-increasing focus on safety in the construction industry, it is important to consider safety from a broad perspective—including everything from specific practices adopted on-site to companywide process and cultural changes that impact the way projects are approached. A recent set of studies by Dodge Data & Analytics, published in the Contractor Use of Safety Best Practices SmartMarket Brief, revealed several ways for contractors to better address safety, both on their projects and within their companies.
To gain an on-the-ground perspective, insights on the findings are shared by sheet metal general superintendent at Southland Industries, Henry Nutt III, a thought leader in the industry on the subjects of safety and lean construction. Below, he provides his perspectives on three top findings in the study: the limited use of noise reduction practices, best practices for mentoring subcontractors on safety and health, and the relationship between lean and safety.
1. Noise Reduction Practices
One of the most striking findings in the brief is the opportunity for contractors to increase their use of practices that assist with noise reduction. According to the National Institute for Occupational Safety and Health (NIOSH), construction workers are at higher risk for hearing loss than those in most other professions in the United States. And yet, several practices featured in the study are not widely adopted. Even the most common practice—the use of hearing protection—is used "all of the time" by less than half (43%) of general and specialty-trade contractors.
The opportunity for wider use of other practices is even greater. Low-noise equipment is used on the majority of projects by less than half (42%) of contractors, and only 6% report that they use that equipment all the time. While most contractors (87%) report that their company does advanced planning to reduce noise exposure on-site before construction starts, the majority of them think their company could do better. And the findings are similar for purchasing quieter equipment. Only 45% are isolating loud equipment from the work area more than half the time, and just 35% place loud equipment behind barriers as frequently.
Nutt believes that, right now, the main way for the industry to address this lack of safety practice implementation is to increase awareness. "I think we accept things the way they are because they've been that way for so long," he said. Nutt believes that understanding the long-term effects loud equipment can have on the human body will be helpful for the industry long-term. When asked where awareness training should come from, he calls for the industry, including associations and other organizations, to embrace the issue.
However, Nutt also said, "First and foremost, as contractors, we must start with ourselves, look within and understand the ramifications of the choices we make in order to be in business and how that impacts our employees' livelihoods. [This includes] listening to our own people and recognizing what hazards may be created by our work." He believes the data is available, and that acting on that data should be a collective effort. "It is a matter of assigning people to do the homework and bring back the information to myself and my colleagues, as superintendents and construction managers, so that we can communicate to our people and our project team to help them offset some of the issues that we're finding."
2. Subcontractor Mentoring
The safety climate of a project is influenced by the entire team on-site. The active mentoring of subcontractors plays a crucial role in improving safety climate because it establishes the expectations about safety upfront, and it provides the opportunity for larger companies to share the benefits of their safety resources with smaller companies.
This is particularly important, given the consistent findings in other safety research conducted by Dodge Data & Analytics as well, which consistently demonstrates that large companies are more likely to employ good safety management practices than smaller ones. Unfortunately, though, the findings published in the current brief show that while 95% of large companies mentor their subcontractors, only 58% do so most of the time. In addition, large and small companies do not regard many of the means of providing mentorship to be of equal importance.
Large contractors believe that what small contractors need most to improve their safety and health performance is assistance in conducting job hazard analyses, followed by the provision of safety equipment. What small contractors regard as most important to improve their performance, on the other hand, are printed materials related to site-specific safety and health hazards, as well as toolbox training resources.
As someone working for a large mechanical contractor, Nutt is in the position of both seeing how general contractors (GCs) mentor their subs and engaging in that activity himself. As a lean contractor, Southland sees the mentoring process as based on more than just individual safety practices. Nutt said, "It really comes down to trade partners understanding our culture and our philosophy, as well as how we expect it to become theirs on our project." According to Nutt, it's like developing a partnership with the companies they work with, and those relationships inform the selection of companies on other projects. Reviewing companies, their history, their safety record and their past ability to embrace Southland's culture and strategies takes precedence over the simple question of price, Nutt says.
He also stresses the importance of how GCs mentor their subs, as it sets the tone for the project, which he regards as crucial to their own efforts to enhance the project's safety climate. Interestingly, Nutt says that an early indicator of the GC's leadership on a project lies in how clean the site is. He said, "A clean job is indicative of the attitude people have about safety because they are investing in someone making sure things stay clean … [GCs] make sure that policy is adhered to and people put the things away they are responsible for."
He believes a site's cleanliness is also indicative of a larger communication strategy. "They create a camaraderie by doing things that bring out the best in people and highlight small things that go well on projects. It creates a culture that becomes a community. In that community, there are rules about how you want to be treated, how you interact with others and how you deal with conflict—all of which typically depend on the GC setting the tone." He points out that his firm tries to create that leadership regardless, but it works better if the GC has already laid the groundwork.
He also offers some insight into the value that small companies place on materials they can use for immediate training, such as printed materials related to site-specific safety and health hazards and toolbox training resources. He says these materials could be particularly useful to reinforce workers' understanding of risk. He says effective training includes the experiences of people who take shortcuts (risks) and the life-altering consequences that follow.
The distribution of these materials and training, he says, reinforces awareness of hazards, and the investment in these materials demonstrates that the company believes in safety. Thus, the worker recognizes "that the company they work for supports them going through the process of mitigating a hazard." This realization can positively influence the kind of split-second decisions made in the field that have major safety implications. It is as much about reinforcing the safety climate of the project as it is about informing workers of the hazards they face.
3. Lean Construction Practices
The SmartMarket Brief also contains findings that suggest a relationship between lean construction and a different approach to improving safety. First, it demonstrates that familiarity with lean construction is widespread, but implementation is still relatively low. Only 29% of the contractors surveyed are not familiar with lean, but only 21% have actually implemented a lean approach at their company. Contractors with a higher familiarity with lean practices are also much more likely to recognize the importance of supervisors' and foremen's leadership skills and enhanced safety on projects.
Finally, it demonstrates that the industry sees this connection—over three quarters believe that training for foremen, project managers and superintendents on lean principles would be valuable. This is a higher percentage than those who described themselves as familiar with or implementing lean, furthering the reputation the construction industry has for lagging in the adoption of new technologies and techniques. However, the study does not explore why there is such a strong connection between lean and safety.
As a national board member of the Lean Construction Institute, Lean Construction Institute-approved instructor, member of the task force for Sheet Metal and Air Conditioning Contractors' National Association (SMACNA) and Associated General Contractors, Nutt provides perspective on the roots of that connection. He thinks an important aspect of lean building is having respect for people, a concept that he said, "is simple enough, but it's not necessarily something that has been done in the construction world, specifically."
He describes how the adoption of lean principles "creates an environment where there is a dialogue about the work you are about to embark on" across the entire project team. Lean principles create a team effort across the project, he insists, based on the tenets of respect for people and value for the customer. Nutt describes this change as a mindset that says, "This is not just about my company making money; this is about our project making money." When people buy into this, there's a visual, transformative effect. "You have a job with people who are actually smiling and happy," Nutt said.
Nutt said, describing his role in supporting this effort, "My job as a superintendent and a lean practitioner is to not only talk about how to be more productive, but also to understand other issues, like our attitude toward how we do our work, treating people as a trade partner versus a subcontractor." It is the communication and the creation of a team environment that ultimately helps reinforce the safety climate on-site.