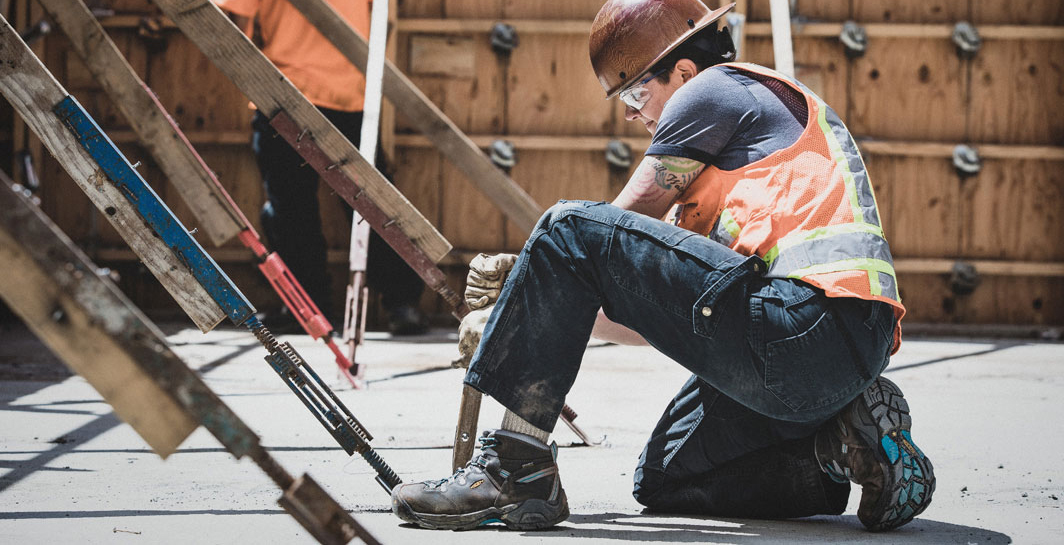 Understanding the importance of PPE built for her
A new dawn is breaking for the construction industry. More and more women are entering the skilled trades, challenging jobsites and safety manufacturers to more closely consider their equipment needs.
According to the Institute for Women's Policy Research, the number of women working in construction trades in 2018 was the highest it's been in 20 years. As the number of women in the trades increases, so does the need for women-specific personal protective equipment (PPE) and the safety footwear that fits their needs.
Since the Industrial Revolution, the most readily available personal protective equipment (PPE) on the market has intrinsically been designed and produced around a man's build and body structure.
This means that women, who are a growing segment of the construction job market, are often faced with a scarcity in safety gear selections, leaving them with choices that may be ill-fitting, unsafe and uncomfortable. Furthermore, the equipment is most likely unable to properly protect the worker from any potential hazards.
Men's and women's sizes and silhouettes are common across almost all other footwear industries, but are less so in the construction industry. Some women have been known to wear men's work boots, instead of those made for women, because of the boot's style, toughness and durability.
However, just like with any other tool, if what you're using isn't correct for the job—the job won't get done properly. 
According to the Occupational Safety and Health Administration (OSHA), women in positions such as the construction trades, have experienced improperly fitting PPE, which could compromise their personal safety. For example, footwear that doesn't fit correctly can lead to slips, trips and falls.
While surface conditions are to blame for a high percentage of these workplace-related injuries, the same can be said for subpar footwear. Of all footwear-related injuries, only 23% of workers involved were wearing appropriate safety footwear.
These incidents are the number one cause of accidental injury in the workplace. According to Environment, Health and Safety (EHS), they account for over 85% of all workers' compensation claims every year, averaging more than $20,000 for each incident. Beyond that, they account for an alarming number of deaths and hospital visits, totaling upwards of $70 billion annually.
Ill-fitting safety boots may also increase chances for blisters and discomfort on the job resulting in a subpar performance and for the worker's body to move differently to compensate. This can lead to further discomfort and injuries overtime. To combat this, PPE must fit correctly, based on female body measurement data and come in a wide variety of sizes specifically for women.
Because a woman's foot is smaller, her bones and tendons are shaped differently. Also, the way a woman carries herself is different than a man. This creates an important need for safety footwear to fits the varying mechanics and structural differences between genders.
Manufacturers within the construction industry, like KEEN Utility, are making strides forward to bring the safety products for women that don't sacrifice fit for function. Today's tradeswomen can purchase a work boot with all the same great features men's boots provide, but trust that they are designed specifically around a woman's foot. Whether in construction, manufacturing or utilities, women work in the same conditions as men and need the same level of quality and durable safety footwear.
These styles were not only designed around the known structural differences of the foot, but also incorporate feedback from women across multiple trades to better understand what they want in fit, comfort and what they need in terms of safety. Through ongoing focus groups and partnerships with organizations and nonprofits who support women in the trades, industry safety brands are continually learning and understanding how to better support tradeswomen with the best safety work footwear possible.