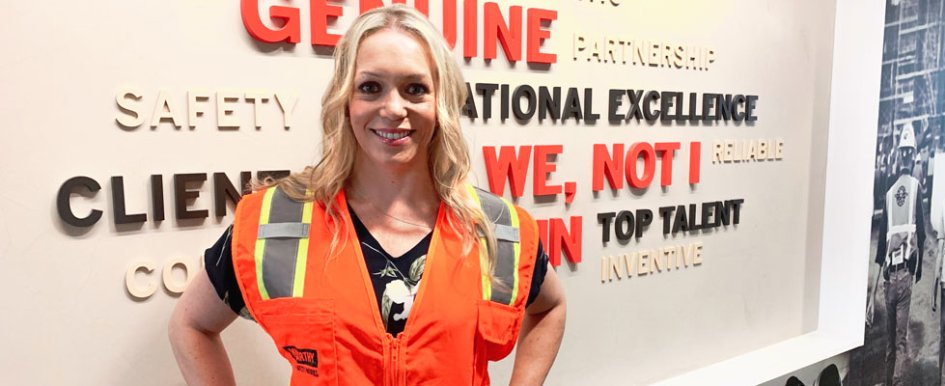 Inside the contractor's custom female safety vest initiative
Wednesday, May 13th, 2020
Over the past 10 years, there has been a steady increase in the number of women employed in the construction industry, according to the National Association of Women in Construction (NAWIC). Unfortunately, while there has been growth in the number of female construction workers, the industry has failed to keep up and evolve with its current workforce. With more women entering construction, the number of female workers at jobsites is increasing, which has led to a higher demand for safer, more inclusive protocols for all.
A study by equipment rental company BigRentz found that women are at a higher risk for workplace injury due to poorly fitted equipment than their male coworkers. Because proper personal protective equipment (PPE) can minimize construction accidents, McCarthy Building Companies Inc. began the women's safety vest initiative, acting on the company's commitment to diversity and inclusion and the thought that jobsite safety equipment should be provided accordingly.
The main issue regarding women's safety on the jobsite is that most PPE has historically been designed for men. A woman's body shape is much different than a man's. Due to this fact, most personal protective equipment doesn't fit women properly, which can result in injuries, especially for women in the field.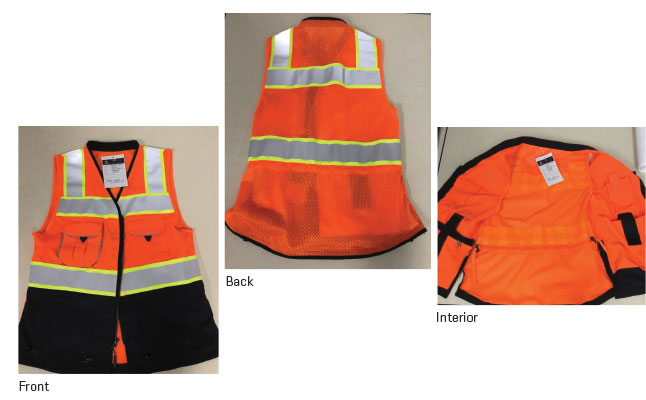 The Backstory 
Having worked in the construction industry for over 20 years, I knew firsthand the struggle women experience with typical male safety vests. The standard vests provided, boasting wide shoulders and narrow hips, are often either too big or not big enough for most women who need to use them. This extra material can be extremely dangerous for women on the jobsite, as the vest can get caught on construction materials, such as rebar.
For example, petite women, having no other options, have to wear oversized vests, engulfing them within the shoulders, waist and overall length. Other women are not even able to zip up the safety vest provided to them, as their naturally wider hips make it a difficult fit. This leaves many women walking around the jobsite with their safety vests unzipped, allowing the loose fabric to get caught on various construction materials in the field.
To date, there are several companies that provide personal protective equipment specifically for women, such as safety lanyards, gloves, glasses and vests. Unfortunately, many women in the construction industry do not have access to this custom female safety equipment. Because of the increase of women entering the industry, these manufacturers have not been able to keep up. Traditionally, the demand for these articles has been low, so the inventory is not able to accommodate all the new female employees on a jobsite. Additionally, custom protective equipment for women also tends to be expensive. inside mccarthy building co.'s inclusivity efforts & women's safety vest initiative  
The Research
As I began researching other companies who manufacture women's safety vests for McCarthy, I found that many of these vests were made of low-quality fabric and were too flimsy for women working on a construction site. Some vests were made with minimal pockets, making it difficult for women to carry all their necessary tools with them. I also found that websites were often showcasing women's construction apparel in shades of pink, rather than the standard orange or lime green used for men's vests.
Using all of the safety requirements and research I found on women's construction apparel, the McCarthy team partnered with safety apparel manufacturer ML Kishigo to make essential modifications to popular construction vests.
The McCarthy women's safety vest provides women with all the necessities required on any construction jobsite, such as proper fit with narrow shoulders, four-inch side slits and an adjustable waist band for personalized fit. These safety vests also have plenty pockets to carry tools, iPads or other tablets to perform the job required and provide the professional look all women deserve. Additionally, we developed two different types of customized women's vests, providing McCarthy's female employees with choices depending on their specific preferences.
ML Kishigo partnered to bring to life McCarthy's visions of customized safety vests. ML Kishigo listened to the needs of female employees and accommodated so many requests and ideas McCarthy brought to the table.
The process to develop the women's safety vests took approximately 5 months from initial meeting to the receipt of the first order, but it was well worth the effort. The partnership enabled our team to present the two versions of the safety vests to all of McCarthy's women employees in Southern California in February. Our female employees were able to try the options on and select their choice of vest.
The Lesson
It's important for manufacturers to seek out feedback from construction companies when working on new products for women. I encourage other construction companies to reach out to the manufacturers with requests like ours to make women's work environment more inclusive.
It's also important for the leadership at every construction company to take inclusivity and diversity seriously. This includes doing everything possible to make the jobsite a positive working environment for each and every worker—no matter who they are.
The McCarthy leadership team has made it a focus to provide its employees with the support and opportunities to make the company better and more inclusive on a daily basis. What can you do in your own company to build a more welcoming environment for your incoming employees?