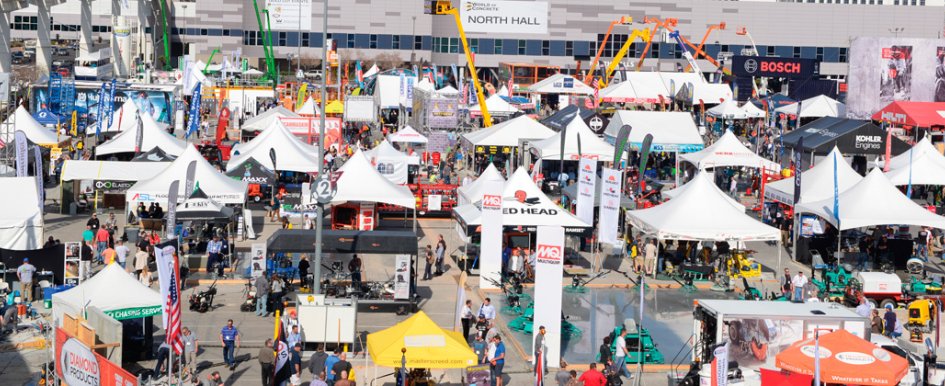 Positive industry growth and new technology will drive attendance & engagement at this year's trade show
Wednesday, January 13, 2016
With a construction market that is forecasted by FMI to grow 7 percent in 2016, the annual World of Concrete (WOC) trade show is shaping up to be one of the biggest yet. Held in Las Vegas, Nevada, the trade show will take place Feb. 2-5. Jackie James, show director, said the event is the largest in 7 years, with more than 1,300 exhibitors and over 700,000 square feet of indoor and outdoor space.
"In addition to our existing targeted areas of the show floor, we are introducing a new precast area, which will focus on precast products, technologies and equipment, including coring machines, pipe, manhole and septic tank equipment and more," James said.
WOC officials expect more than 55,000 professional registrants and many more international attendees, James said. With sustained growth in the industry, attendees should come feeling positive about 2016 and ready to preview and test new 
products, business practices and more.
Exhibitors at the show see several big trends that will affect attendee engagement and booth visits. Bronwyn Gillespie, advertising manager for Allmand Brothers, said low oil prices and high inventory of products in the market could have a 
negative impact on overall engagement. Allmand plans to counteract those trends with its new indirect fire heaters with "iQ control" and a glare-free light offering.
On the other hand, Precision Hayes International sees a growing global construction market as a good sign. "We expect the upward trend to continue, which supports our involvement with these shows," said Paul Hohensee, marketing and new product development leader for the company. "Better quality corrosion resistance and more finely tuned installation of these systems is something we plan to focus on."
For Precision Hayes, this will be the second year as an exhibitor at the show.
"Several of our new products will be unveiled at the show—the [designs] of which are driven by building code requirements and infrastructure improvements, both of which have seen several updates in the past year," Hohensee said.
Indeed, infrastructure should be a hot topic at the show, especially with 2016 being an election year. Wayne Newitts, marketing director at Dexter + Chaney, said he expects the presidential race to have a positive effect on the industry.
"Because of the election year, we should see continued growth and investment in our overall civil infrastructure, so we can expect increased involvement with our civil contractors who come to the shows," Newitts said.
The new 5-year transportation bill's passing is a change that will certainly affect heavy equipment purchases in 2016, according to Aaron Kleingartner, sales and marketing development manager at Doosan. "Construction spending is at its highest level since 2008, according to 
figures provided by the U.S. Census Bureau," said Kleingartner. "This is a good sign for equipment manufacturers.
This year, at the show, Doosan will introduce its new high-lift DL220-5 wheel loader and its Doosan DX140W-5 wheel excavator with a power tilting coupler.
One of the most-cited trends expected at this year's show is an increased understanding of technology and the need for different technological innovations.
"Five years ago, cloud computing was a scary term, but it has now reached the tipping point at which it has become an expected and desirable aspect of our world," Newitts said. "The changing of the guard that is currently happening in the construction industry is only facilitating this complete 180 we are seeing with adoption of 
new technology."
Dexter + Chaney brings a new product to the table that it hopes will appeal to the new generation of construction leaders: Workflow, a part of the company's Spectrum software package that revolutionizes how construction workforces 
organize their day-to-day processes.
According to Emily LaChapelle, GPS Insight's trade show coordinator, the same is true for GPS tracking.
"Whether attendees are at the beginning stages of implementing a fleet management system and are voicing the crucial features of the product, or they are displeased with their current system, the days of moseying the trade show floor have passed," LaChapelle said. "We are seeing a more educated attendee who has an agenda."
In addition to three products, GPS Insight Standard, GPS Insight Pro and the company's new asset tracking offering, the ST-1100 tracking device, GPS Insight is taking on WOC on the heels of a new partnership with Dossier Systems.
Like Precision Hayes, changes to building requirements is something Minnich Manufacturing expects will affect attendee interest in its product lineup this year. Todd Jurjevic, director of sales at Minnich, said the new requirement in pinning temporary barrier walls influenced the products Minnich will be showcasing heavily. One such product started out as a special design for a contractor, which Minnich then rebuilt to be a standard offering.
"For temp barrier walls in concrete, we designed a drill that will go down through the top of the wall, which allows workers to stay on the non-traffic side of the wall," Jurievic said.
3M Fall Protection will be exhibiting an entirely new line of fall protection for tools.
"Everyone just frankly expects to drop tools, but by bringing some focus, we think we can create awareness and help our customers be safer with their tools as well as themselves," said Jeff Martin, global product director of soft goods at 3M.
For both Martin and Eric Adamson, 3M global product director, the biggest emphasis will be on rescue.
"We want to bring up the conversation about fall protection and the importance of having a rescue plan," Adamson said.
According to Adamson, the best type of rescue is self-rescue, and 3M has the 
products to enable that. A safety harness called the DBI-SALA ExoFit STRATA will also be on display at WOC. The harness features reflective material and a sealed bag device that is fully functional in any temperature or 
jobsite environment.
With the impending skills shortage, 
continued education is all the more important for your workforce—and WOC 2016 is set up to provide just that. Eighteen industry association cosponsors and education partner associations will teach attendees about new techniques and innovations, James said.
"Attendees who come prepared to learn and celebrate all the things that concrete means in our everyday lives will come away with a renewed interest in their jobs and the future of their businesses," James said.
In the spirit of education, World of Concrete has raised more than $5 
million over the past 10 years through an 
auction that benefits the establishment and development of the Concrete Industry Management (CIM) program. Both exhibitors and attendees participate in the auction, which will be held Wednesday, Feb. 3, each year.
Make sure to stop by the Construction Business Owner booth, Booth C4333, while you are in Las Vegas. Pick up a 
magazine and let our team know what you are learning while at World of Concrete 2016. Connect with us on social media for live updates from the show floor, and make sure to hashtag your tweets with #CBOWOCTalk. Enjoy the show!
Can't Miss at WOC 2016
31 3-hour seminars, including 8 new to WOC 2016
50 90-minute seminars, including 29 new
8 4-hour certification seminars and examinations offered by industry associations
4 hands-on training events, from surveying to a new concrete fundamentals course
27 association and industry training courses from leading service professionals