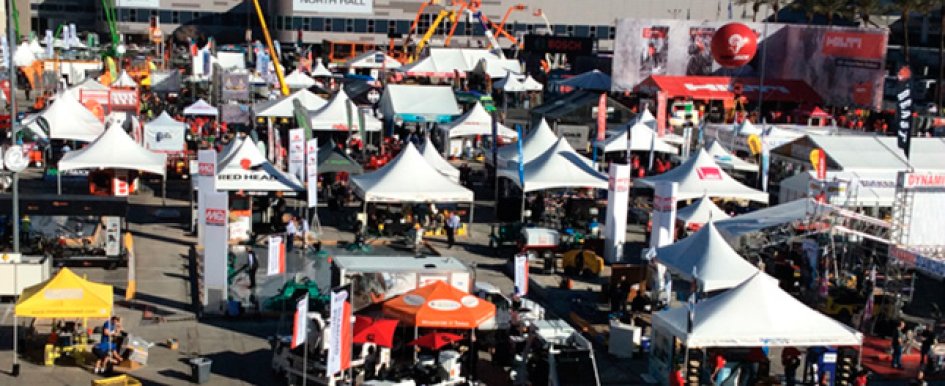 Emerging themes from the industry's largest annual concrete convention
Wednesday, February 25, 2015
The 40th Annual World of Concrete (WOC), held in Las Vegas, Nevada, featured seminars from top industry professionals, award shows, a fundraising auction and on-site exhibitors who showcased their products throughout the week.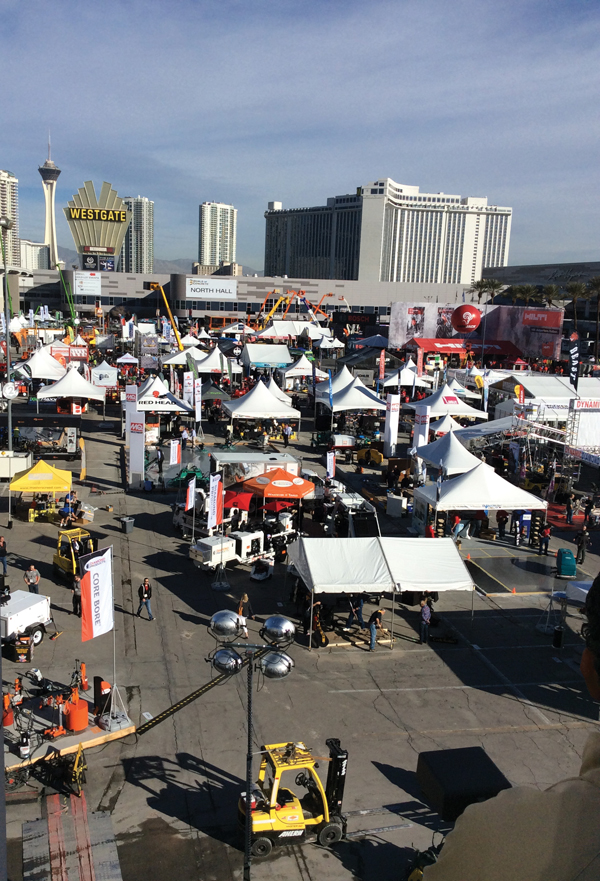 An impressive 55,779 professionals registered for World of Concrete 2015, which was a significant increase from 48,000 in 2014. More than 1,459 companies held exhibits at the Las Vegas convention center this year. Tom Cindric, vice president of Informa Exhibitions for U.S. construction and real estate, saw the increase in numbers as an overall indicator of growth in the construction industry.
"We are very pleased with the results of the show in all categories, from the increase in the number of exhibitors (up 200 companies), to the increase in attendees (up 15 percent), to the increase in the number of seminars taken (up 23 percent). These increases indicate not only the value that World of Concrete brings to the concrete and masonry industries, but also that the industry is getting stronger and poised for much success in 2015," said Cindric.
Exhibitors stretched across 675,000 net square feet of space, which was an increase of more than 100,000 net square feet from the 2014 show. The trade show was the largest in size and number of attendees in six years, according to a recent WOC press release.
Big topics of discussion throughout the show included new software and tech options, equipment updates, new concrete polishing and finishing techniques and Tier 4 emission standards. Attendees were interested in how to accomplish more work in less time, while maintaining a high standard of quality. Exhibitors tailored their products to fit these needs, whether by the redesign of DPF tanks to fit Tier 4, or by combining a rotary system with a polishing blade to finish concrete flooring quicker and easier.
Attendees were also interested in educational opportunities. "With the industry ramping up again, education became a key asset at WOC this year. Attendees took more classes than they have in the last six years, sharpening their skills for what's to come," said Jackie James, WOC show director.
A current challenge for construction business owners is adapting to new software options, such as cloud computing systems. While software exhibitors at WOC differed in program specifications, one central idea was prevalent—streamlined connectivity between the office and the field.
Innovations in software and equipment require training for the employees that will use them. Exhibitors at WOC mentioned training as one of the largest areas for growth in the immediate future. At Caterpillar Inc., for example, additions to LCD displays and slope assist technology benefit contractors by reducing the need to find a workforce with a great deal of experience and skill.
However, a crew still must be trained to use the equipment to operate it safely and with minimal maintenance issues. One way the team at CAT is circumventing this issue is through an app for the company's new backhoe, the 415F2. The Backhoe Loader App provides machine maintenance tips and a 24/7 resource for machine operators.
Software solutions such as the products offered by Dexter Chaney, InSite and Viewpoint focus on creating one centralized location for contractors to share data with subcontractors, superintendents and foremen. By storing the data in a mobile format, your workforce has immediate access to all of the necessary data for each construction site.
Steve Warfle, InSite product manager, mentioned a survey his company releases each year, a common response was, "We love your product, please help us understand how to use it." Using this information, the company began implementing virtual courses to walk customers through the different segments of the product. With a number of new products available, customers make purchases with the expectation of a user-friendly interface. Many of the products and services exhibited at WOC were focused on making a specific job less work-intensive and easier for inexperienced workers to complete.
Exhibitors were in agreement that the majority of the attendees came interested in the products and ready to discuss implementation into their specific businesses, rather than just attending to browse.
See more of our coverage of the convention here and here.
World of Concrete 2016 will be held Feb. 2-5. Seminars will be held Feb. 1-5. For more information on exhibits, events and registration, visit worldofconcrete.com.