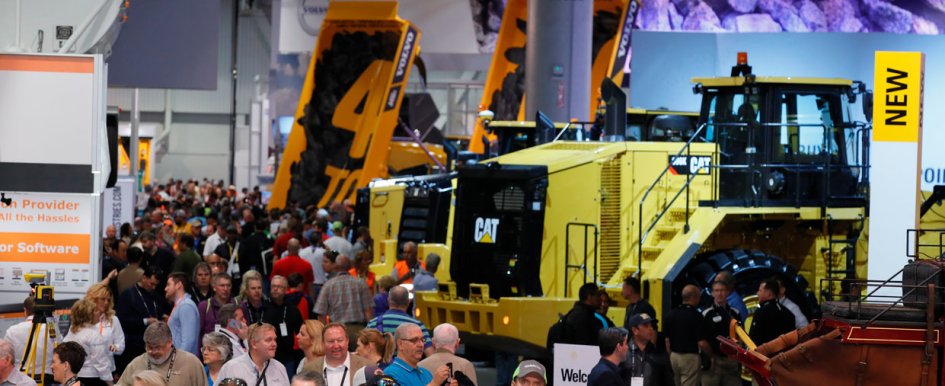 Record-breaking show demonstrates industry commitment to progress
The latest installment of CONEXPO-CON/AGG and IFPE took place in Las Vegas, Nevada, March 7-11. The trade show, which showcases the latest innovations in construction equipment and technology solutions, hosted nearly 128,000 attendees, with 26,000 international attendees from 150 countries. The show housed a record 2.8 million-plus net square feet of exhibits featuring 2,800-plus exhibitors from the leading United States and global manufacturers, including everything from multinational giants to small firms with specialized products.
Exhibitors saw strong traffic throughout the show and gathered insights from attendees. "Overall, contractors all seem positive about the economy and increase in work, while technology is becoming more and more important as they look to maximize productivity," said Jason Gerig, ISOCLEAN business development manager at Chevron. At the show, Chevron showcased ISOCLEAN, a solution to fight particle contamination. Chevron offers both lubricants and services independently.
Takeuchi experienced a similar, positive increase in booth attendance and audience engagement. Clay Eubanks, president of Takeuchi-US, said the company saw an almost 15-percent increase in overall booth traffic, compared to CONEXPO 2014.
"We also noticed a larger number of senior-level attendees come through the booth, so there were more decision makers present," Eubanks said. Takeuchi unveiled several new solutions at the show, including the Takeuchi TB216H, the first hybrid, dual-powered compact excavator in the company's lineup, which features both an electric motor and a diesel engine with its own pump group to power the machine's hydraulics.
The show's theme, "Imagine What's Next," truly took center stage, showcasing forward-looking construction and infrastructure innovations, including the unveiling of the world's first 3-D-printed excavator and the new "Tech Experience" pavilion. "Keeping pace with technology is critical for our industries' success, and the 3-D-printed excavator featuring fluid power innovations is a perfect example of the show's future-forward commitment to explore innovations happening now and the exciting possibilities ahead," said Robert Mortensen, IFPE 2017 chair and president of HUSCO International. "From the new Tech Experience, which highlighted the vital connection between technology and construction to the culmination of AEM's Infrastructure Vision 2050 Challenge, this year's show demonstrated the rapid innovation in our industry," said Rich Goldsbury, 2017 CONEXPO-CON/AGG chair and president and CEO of Doosan Bobcat North America & Oceania.
Exhibitors in every area of the industry embraced the tech focus. JLG, a manufacturer of lift equipment, incorporated the trend into its show setup. "Technology was a hot topic within our exhibit, where we showcased many advanced technologies you will see on JLG access equipment in the coming years. We also developed a visionary worksite of the future and gave visitors the chance to experience our virtual training," said Jennifer Stiansen, JLG director of marketing, Americas.
Attendees purchased a record-breaking 52,000 tickets for education sessions at the show, a 26-percent increase from the 2014 show. The Tech Talks forum at the Tech Experience gave attendees a chance to hear from global innovators and technology leaders to discuss what lies ahead. The forum's content-rich presentations aimed to inspire and inform attendees. "Our CEO Jake Macholtz participated in the series, giving a presentation titled 'Adopt or Die: Kiewit's Winning Technology Strategy,'" said Tad Bungener, executive vice president of marketing at InEight. InEight provides technology solutions that connect owners, operators and contractors to people, information and projects.
Tech solutions provider Autodesk hosted three different educational seminars at the show: "The Future of Making Things in Construction," "BIM for Construction," and "Harness the Power of Technology." Autodesk also provided interactive demonstrations of tools, such as the company's BIM 360 platform for vertical construction projects and AutoCAD Civil 3-D and InfraWorks 360 for horizontal construction, at its two booths throughout the week. Autodesk's Construction Sales Enablement Manager Matt DePaolis said attendees were able to try out results of partnerships with industry hardware solutions providers at the two booths. "Several of our hardware partners, like DAQRI, Topcon and 3D-R, demonstrated how our cloud-based software tools put data at the center of the project to connect all of these devices and all teammates across the entire project," DePaolis said.
To continue following the these tech trends and keep up with the latest industry innovations, mark your calendars for CONEXPO-CON/AGG 2020, which will take place March 10-14.