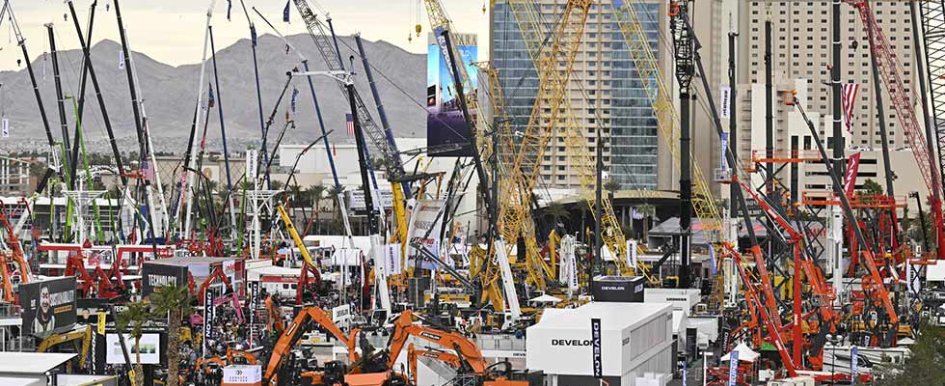 Top takeaways from North America's largest trade show
CONEXPO-CON/AGG 2023, the largest trade show in North America, took place March 14-18 in Las Vegas, Nevada. This year's installment exceeded expectations with a record-breaking 139,000 registered attendees (a 6% increase from 2020), more than 3 million net square feet of exhibits (10.5% larger than 2020) and 2,400 exhibitors from 36 countries — with 603 new exhibitors. 
With thousands of exhibits sprawled across the desert, attendees had ample opportunities to see, hear and experience innovative new tech, machinery and products. David Press, government sales executive at GPS Insight, described the magnitude of the event: "It was 26 miles to walk the whole show!"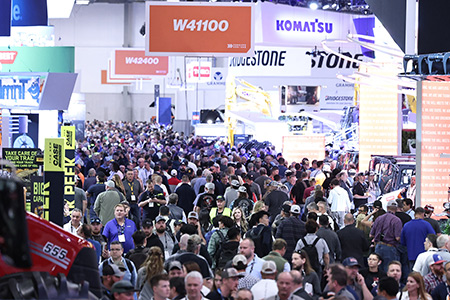 After the COVID-19 pandemic rocked the world and altered some exhibitors' CONEXPO 2020 plans, people were eager to gather again. Troy Dahlin, vice president of heavy construction U.S./Canada at Leica Geosystems, part of Hexagon, used the word "reconnect" to describe the 2023 show. "Over the last three years we've not had an opportunity to see a large number of customers — or even coworkers — in the same place at the same time. That human connection of talking with and learning from each other is the backbone of forming partnerships and relationships that lead to success."
Russell Young, chief business development officer at Tenna, also highlighted the social experiences. "This year we had a huge and heavily trafficked booth, speaking spots at CONEXPO and the Association of Equipment Management Professionals (AEMP) among others, happy customers stopping by constantly, happy partners driving introductions to our booth, and we hosted multiple happy hours and parties."
The pandemic drastically altered the way many businesses operate, from remote work to automation to re-imagined business strategies. Skyjack Vice President of Marketing Malcolm Early says, "COVID-19 and the associated times presented our industry with some big challenges. The only thing that was certain was uncertainty. The largest lesson came from the effect on supply chains and the need for flexibility above all else."
Skyjack, a provider of access and material handling equipment, held a press conference about its increase in global capacity.  "At Skyjack, we saw that we had to look to shorter supply chain structures and that meant increased manufacturing capacity, 'in the market for the market,'" explains Early. "Therefore, 2022 was a year where we increased manufacturing capacity with plants in China, Mexico and Europe."
Pandemic outcomes had unexpected benefits for Tenna as well. Young explains: "Surprisingly, the pandemic has had a positive effect. Modernizing equipment management went from a 'nice to have' to a 'need to have.' Paper and white-board driven management became much harder under new COVID-19 related conditions. Also, during the height of the pandemic, an increased reliance on and comfort with digital simplifications — such as QR codes and smart phone applications to replace paper systems — contributed to making Tenna an easier and more reliable investment to consider. In other words, the pandemic contributed to better ease of use and acceptance of technology to solve problems, and we reap the benefits of that progress."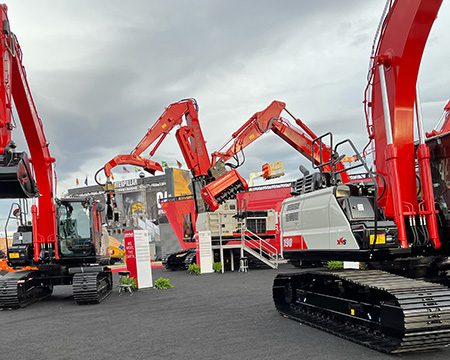 As the construction industry looks toward the future, significant areas for growth have been pinpointed. Growing concerns about climate change and carbon emissions have increased sustainability measures. From electrification, hydrogen combustion engines and remanufacturing efforts, sustainability was on full display at the show. According to Early, "Sustainability is at the forefront of the conversation lately. With changing regulations and perceptions, sustainability has become a top-of-mind concern. The theme of sustainability is helping to shape many of the coming developments in the industry."
The labor shortage has taken a toll on the construction industry, and it weighed on attendees' minds. Young emphasized the topic's urgency: "Labor came up a few dozen times. 'How do we do more with fewer workers?' 'How do we attract more folks into our industry?'" 
Dahlin also heard people talking about labor more than any other topic: "It's been a pain point for years and it's not going away. The lack of available bodies in this industry — and many others — will continue to be a thorn in our side for quite a while."
As the industry grapples with labor issues, awareness of worker safety is gaining ground. The Centers for Disease Control and Prevention (CDC) reported that construction has one of the highest suicide rates, which is four times higher than the general population. Accordingly, mental health awareness has become a target issue. Young states: "Mental health is the responsibility of everyone. While I was volunteering at the AEMP booth at CONEXPO — as well as attending the satellite National Utility Contractors Association (NUCA) event earlier in the week — we talked about the stunning mental health data in our industry. Yes, we all look at the problems our specific companies solve in our industry every day, but it is also clear that we need to help our industry become cohesive to solve the big problems."
Young continues, "There is opportunity for our industry to be more cohesive: construction, original equipment manufacturers (OEM), tech and org all working to tackle these issues together for the benefit of everyone. The big moves in our industry that we are all tackling together, including mental health; renewable solutions; technology advances; diversity, equity and inclusion (DEI); etc., all take excellence in change management. We should not keep these best practices as secret sauce at each of our companies, but should share as broadly as possible so we can all get better together."
Dahlin adds: "Worker safety and retention are moving to the forefront of jobsite realities, to even include mental health. As it should be."
The construction industry continues to embrace new technology. Press explains, "The telematics industry continues to grow and become more specialized for the construction industry." He continues, "I see the most growth for fleet-enabled onboard cameras or AI cameras. There are so many possibilities with this technology, and it just keeps getting better."
Tech offers intriguing possibilities for automation, integration and workflow efficiency. Dahlin says, "As the industry grows and changes, so do the areas that are ripe for growth. Right now, we're looking at definitive expansion in the areas of project and asset safety and utilizing reality capture to make real-time decisions. At the core of both areas is the continuing need for technology to continue to grow into the role of providing simple, total solutions to what customers need at any given time."
He explains that issues involving workflow efficiency was the most common pain point brought to him by CONEXPO attendees: "What is desperately needed in order to improve workflow and save time and money is continuity between technology tools to create one seamless workflow. It's that simple."
Young didn't mince words when he touched on tech's growing importance for the industry, stating, "I am biased here, but the data and investment already tell the story that technology is the biggest advancement for construction in recent years. Equipment and labor only get you so far on their own — both hardware and software technology investments are now clearly separating the winners from the losers in our industry."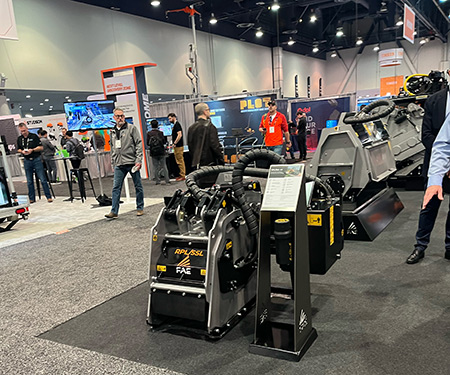 As you plan to tackle construction challenges, monitor trends and adopt new tech, look ahead to March 3-7, 2026, when CONEXPO-CON/AGG 2026 will be held in Las Vegas, Nevada. 
CONEXPO-CON/AGG 2023 TREND WATCH 
5 strategic shifts gaining momentum in today's construction industry
1. Rise of the Machines
Multiple major manufacturers are bringing artificial intelligence (AI) and automation to the table with recent releases and updates, including: Bobcat's RogueX, a completely cab-less compact track loader designed for remote and autonomous operation; Teleo's technology built to retrofit existing heavy equipment into supervised autonomous machines (think robo-bulldozers and dump trucks); advancements to Honda's all-electric prototype, the Honda Autonomous Work Vehicle, leveraging the company's emerging advanced autonomous technology to create a rugged off-road work vehicle that is designed to support construction-related activities and enhance workforce productivity; and Develon's expanding Concept-X2 project, which combines information and communications technology and AI technologies on the jobsite, and features autonomous equipment that sends analyzed data to achieve accurate and fast work.
2. Fossil Fuel Freedom
As a wave of new energy alternatives becomes available, contractors have many new options, including electric vehicles, hydrogen cell technology and fossil-free steel production, along with hybrid pairings. Emerging leaders in hydrogen-powered construction include Volvo CE, Case, John Deere, Sany, Hyundai, Caterpillar, Develon, BOMAG and Bobcat, all of which have introduced one or more all-electric, battery-electric, and several hybrid equipment options to the market. Caterpillar featured four battery-electric machines as well as a series of prototype batteries for off-road equipment ranging from 48-600 volts. Volvo CE announced its EC230 electric excavator pilot, its Zeux autonomous concept wheel loader, and its HX04 prototype hydrogen articulated hauler. Volvo CE also brought the first construction machine made from fossil-free steel, produced by Swedish steel manufacturer SSAB that uses a completely new technology with fossil-free electricity and hydrogen. The result is a significantly lower climate impact in SSAB's production process — an at least 90% reduction in CO2 emissions.
3. Substantial Sustainability
As the industry embraces more sustainable technologies, products and practices, big names are backing the effort. From electric- and hydrogen-powered construction equipment, to more recyclable materials and waste reduction opportunities, sustainable strategies are now part of the bigger picture. Wirtgen Group and John Deere, a partnership now sporting the motto "Smart. Safe. Sustainable.," announced its intention to bring 20 electric models to market by 2026. Skyjack boasted its new SJ120 E, a zero-emissions mast lift. Terex, first to market with an all-electric utility truck reports approximately 60% of its current product offering is already electric or hybrid. Kubota showcased its V3307 Micro-Hybrid engine for installing in the company's existing equipment to help save on fuel. Volvo CE shared its goal to reduce its carbon impact and achieve net-zero value chain emissions by 2040. And CONEXPO-CON/AGG partnered with the Arbor Day Foundation and committed to planting more than 139,000 trees, one for every show registrant in a forest of greatest need.
4. Minds on America 
Fueled by the country's continued focus on advancing the Infrastructure Investment and Jobs Act, manufacturers are stepping up their resources. Many major names announced intentions to amplify investments in roadbuilding product lines. And, in what seems to be an influx of focus from more international manufacturers, reinvestment or expansion in the North American territory has become a goal. There were several announcements from key manufacturers who have set intentions to bring more investment to manufacturing for the American market. Liebherr announced a U.S. expansion aimed at doubling capacity and innovation. In addition, Develon shared its intention to double the company's efforts in the U.S., noting that a
North American presence is key.
5. Strategic Safety
With a detailed focus on operator comfort and safety, many manufacturers are digging in on ergonomics, comfort, wellness and safety. Hyundai is driving a "comfort intelligence" strategy, touting a new identity and slogan focused on human-centered technology, "Building a comfortable tomorrow." In addition, Terex is supporting a zero-harm safety culture, pinpointing that technology is now the cornerstone in jobsite safety,  crowning AI as the future of construction safety.