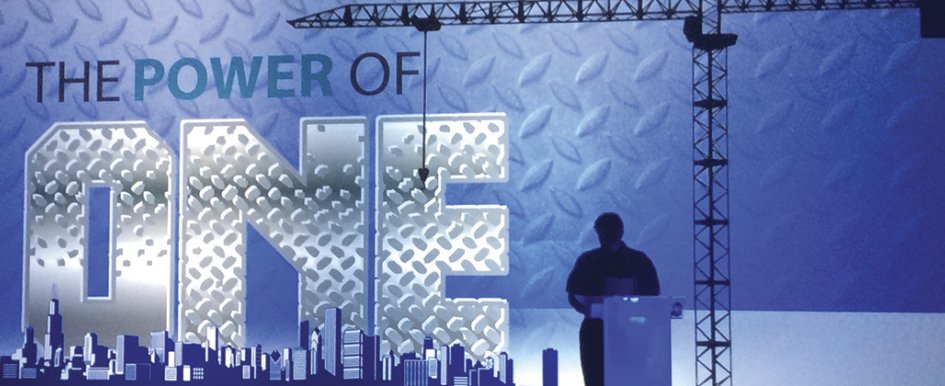 2015 conference boasts record attendance and teaches the power of one
The Construction Financial Management Association's (CFMA) 2015 Annual Conference & Exhibition was held at the Sheraton Chicago Hotel & Towers in Chicago, Illinois, June 27 through July 1, 2015, delivering record-breaking attendance and a sold-out exhibit hall. This year's conference was packed with educational opportunities, offering three general sessions, more than 60 educational sessions, 6 dawn peer groups, and a multitude of social and networking experiences.
"Content is king at CFMA and providing outstanding educational programs is the centerpiece of our conference," said CFMA president and CEO Stuart Binstock. Intermediate and advanced courses addressed a broad range of topics, including cash management, ethics, leadership, technology, employee development and document management.
CFMA is a nonprofit organization serving the educational needs of construction financial professionals whose members include general contractors, specialty contractors, developers, construction managers, architects, engineers and material and equipment suppliers. Associate members include professionals in the accounting, insurance, surety, software, legal and banking industries, as well as other specialists.
The conference focused on an impactful theme this year—The Power of One—that was woven into the sessions and presentations. Brad Robinson, CCIFP and national chairman, shared the tales of one member experience, one story, one connection, one class, one opportunity and how these unique individual experiences make a powerful difference in the future.
In his speech, Robinson told the story of little moments and how each one changed the lives and situations of many people—not only those involved, but all who witnessed it. He stated that everything one thing you do relates directly to the success of your company's bottom line. For Robinson, the power of one is about the investment we make in others and the singular moments that change the trajectory of what happens next. Robinson challenged his audience to slow down, observe, engage and act, hoping that his words might be the catalyst to face day-to-day opportunities and find the power of one.
This year held the highest attendance for any CFMA conference in the history of the organization. At more than 800 registrants, the conference hosted over 125 non-members and one-third of the conference total were first-time attendees.
CFMA's small-, medium- and large-firm roundtable discussions gave members an opportunity to share best practices, which collectively spurred over 450 members to participate in open dialogue. In the accounting and finance track, "Revenue Recognition" and "Applying Six Sigma Principles to Streamline Your Accounting Process" were two of the highest attended sessions. In the leadership track, "How to Create an Organization of Highly Engaged Employees" and "Your Leadership Role as a CFM" were also very popular. General session speakers Connie Podesta, James Benham and Anirban Basu delivered enlightening perspectives addressing relationships, technology and the economy, respectively.

The CFMA 2015-2016 Board of Directors shares updates in a meeting with CFMA chapter representatives.
Jennifer Nick is a senior internal auditor with Comfort Systems USA, a company that provides commercial HVAC, mechanical and electrical contracting. Nick's employer suggested she join the organization to gain total immersion into the construction industry. "'Measuring the Performance of Your Equipment Fleet' was my favorite session," Nick said. "Speaker Mike Vortser had a fantastic presentation and we will definitely find value from it moving forward."
Ruth Stockdale, who paid out-of-pocket for attendance, said she spent a substantial amount of time making new contacts this year. "The social and networking aspect of this organization is strong and it's easy to break in. CFMA has a deliberate intent to welcome people." According to Binstock, networking is an equally important component of the annual conference. "Networking encompasses informal meetings with peers, as well as networking with our exhibitors," Binstock said.
The exhibit hall was teeming with activity throughout the entire conference. "Our members were happy with the diversity of exhibitors and the exhibitors were happy with the attendance and enthusiasm of our members," said Binstock.
Binstock said, from an attendance and content perspective, following up to CFMA's most successful conference ever will be challenging in 2016. "Our conference planning task force is dedicated to providing the best content we can find," Binstock said. The 2016 conference will be held in San Antonio, Texas. Visit cfma.org to learn more.