106-year-old Sunset Coffee Building gets an industrial rehabilitation
Friday, February 12, 2016
In Houston, Texas, a city known for its teardown mentality, the long-vacant Sunset Coffee Building situated on the banks of the Buffalo Bayou would have typically met the wrecking ball long ago. Despite its location in a 100-year-old flood plain, where new construction is usually out of the question, the Buffalo Bayou Partnership (BBP) purchased the 19th-century industrial building in 2003 as part of its master plan to transform a 10-mile stretch of neglected waterway into a thriving recreational area.
A variety of financing sources, including a $500,000 federal grant, nearly $1 million from the downtown Tax Increment Reinvestment Zone, an investment from a public-private partnership and private donations raised by BBP were combined to revive the 12,700-square-foot former coffee-roasting facility into a cultural center. The center features a rooftop terrace for events, an outdoor plaza, a canoe and kayak rental facility and an office space.
As with most historical structures undergoing adaptive reuse, multiple creative solutions were developed by the project team to address unforeseen conditions discovered during construction. When the century-old brick façade was removed, mortar turned to dust and most of the original structural clay tile backup wall showed extensive damage. Tiles that could be salvaged were repaired and reinforced with concrete and non-shrink grout. The original concrete structure of the three-story building remained unaltered, but was extensively reinforced with new structural steel. The existing ground floor slab was intended to be reused, but voids were discovered beneath the slab that required a completely new concrete floor be installed.
To make the project even more complex, the building's location—an area notorious for annual flooding—required a reinforced foundation capable of withstanding a flood surge of up to 8 feet. After initial construction began, the drilled pier foundation design in the construction documents proved unachievable. Over time, the natural profile of Buffalo Bayou was built up with debris consisting of poor soil, pieces of discarded concrete and brick. Consequently, the existing embankment provided poor soil conditions and a challenging structural design problem, all during construction. Ultimately, a third-party engineer was engaged to design a foundation footing system consisting of deep spread footings and a 2 ½-feet thick concrete foundation, which ties into the existing retaining walls.
The building's ground floor, expected to house canoe and kayak rentals, was constructed with several flood protection measures in mind. Eight-inch, grouted concrete masonry units provide strength, and rollup doors with perforated slats allow water to pass freely through the lower level of the building. Whenever possible, infrastructure, such as electrical wiring, power outlets and switches, was installed above "flood level," or 4 feet from the floor.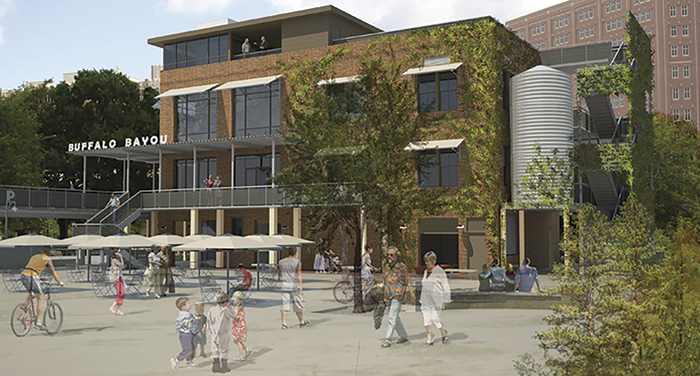 During construction in May 2015, torrential rain provided the reinforced steel structure with its first test when the bayou's waters pushed beyond its banks flooding the ground level with 4 feet of water and debris. The structure endured, as it has many times over the past 106 years, and the weather event caused no significant damage, except for the need to pressure wash to clear away mud and sediment.
To keep the project moving forward, in spite of the unforeseen conditions and weather delays, constant interaction between the design team was paramount. General contractor Linbeck Group implemented a Last Planner System, consisting of 2-week-look-ahead schedules, daily huddle meetings and pull schedule meetings to confirm dates with vendors and identify constraints and areas for improvement. Most important in this cycle of planning, project superintendents and project managers can track results and adjust when appropriate to create reliable workflow.
In terms of design, a major focus was maintaining the industrial character and essence of the original building. While many elements of the coffee-roasting facility were beyond repair, some pieces were salvaged, including original windows with the glass still intact. The new rooftop, complete with a garden deck for events, features a parapet wall designed using a combination of existing 100-year-old terra-cotta caps blended with matching replacement pieces. The building's original concrete columns and beams and a portion of structural clay tiles were left exposed as interior finishes. Replica windows and custom exterior face brick were matched to existing materials for authenticity.
While some argued the building was too ordinary and not worth the expense of rehabilitating, its location in the former bustling wharf area and the original site where the Allen brothers founded the town of Houston makes the project a historic win for the city.
"The important thing is that we've protected it from any other kind of development," said Anne Olson, BBP president. "Whoever purchased that building would have torn it down in a second.'
When merchant W.D. Cleveland built the Sunset Coffee Building, his coffee roasting operation was located at the site of Houston's first port and thriving commercial hub. Despite unforeseen conditions, the Sunset Coffee Building's $5.5-million transformation stands as a reminder to future generations of the city's entrepreneurial spirit.
Linbeck Group is working with Fretz Construction on the restoration and construction project, scheduled to be completed this month. Architecture firms Lake Flato, BNIM and SWA Group designed the building and landscape renovations.
Correction: The print version of this article, which ran in February 2016, listed the building as 109 years old. The building was actually completed in 1910, making it 106 years old.