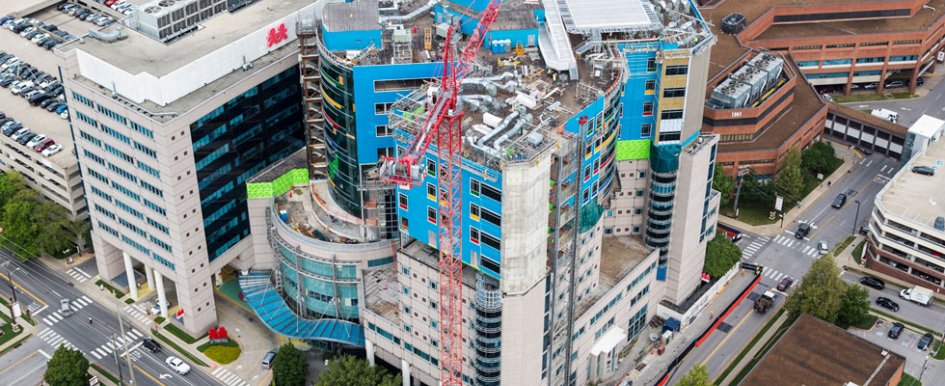 What you can learn from the contractor's tactics for managing hospital expansions
Vertical expansions are impressive feats of construction and engineering that have become increasingly common in the industry. As building owners look for ways to add space without dramatically enlarging a building's current footprint, vertical expansions often are the most logical choice, despite the logistical hurdles that are frequently involved.
Although vertical expansions aren't exclusive to hospitals, the structures are great candidates for this type of augmentation, given that they usually have near-identical layouts from floor to floor.
By adding additional levels, hospitals can maintain existing workflows and keep their patients within a short distance of lifesaving services. In fact, many hospitals are now designed with the intention of future vertical expansion.
Construction of any kind is a complex process, but a vertical expansion on top of an operating hospital is increasingly more complex than a traditional greenfield project. As you might expect, there is a significant amount of planning needed on the front end in order to minimize any impact to the hospital's patients, providers and workflow.
For any project, good communication is integral to success. This is especially true for vertical expansions. Turner Construction Company walks its clients through every step of the project with the help of 3D rendering technology.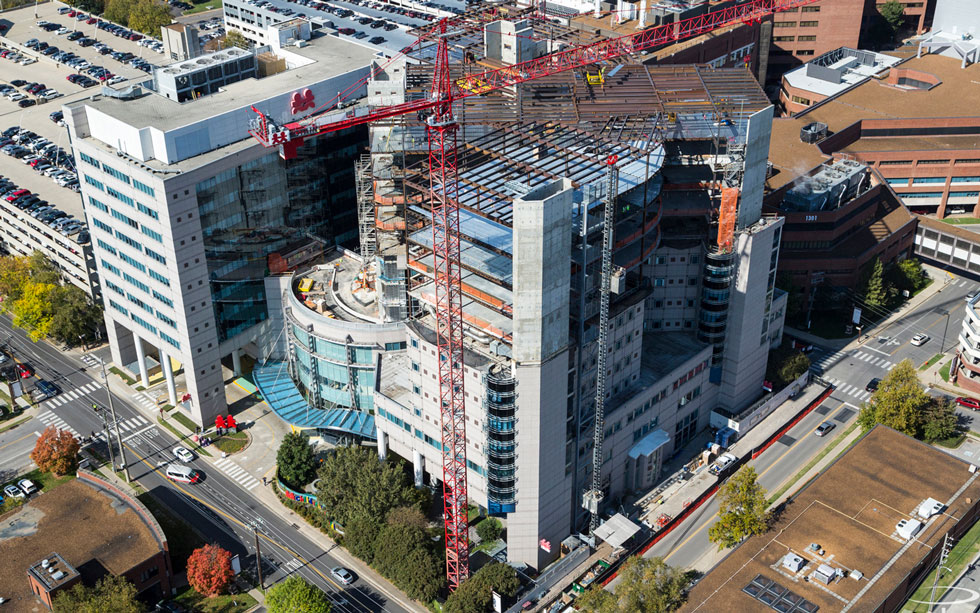 This strategy has made a significant difference on one current project. It was determined that the physicians' parking lot was the only place to locate a crane with the radius to reach the entire construction area. The alternative would be to use multiple cranes, which would cause even more disruption.
The company realized that taking over the physicians' parking lot, even on a temporary basis, could be a hard sell. But, by showing the hospital administrators a 3D depiction of how the process would work and what the alternatives would look like, they agreed that it was the best option available.
It is imperative that both the contractor and design team perform their due diligence during the discovery phase to uncover and incorporate existing conditions, including with the structure and utilities. Ensuring that your structure tie-in point elevations are accurately documented, utility sizing is appropriate and that utility tie-in points are accurately identified are critical to the launch of any vertical expansion project.
Turner utilizes 3D rendering and virtual reality as significant resources during this process. Various technologies, including BIM, virtual reality and laser scanning, can help take real-time images of the existing conditions and convert them to drawing files to help better inform the planning, design and construction team.
It's important to do a deep dive into an expansion's effect on a facility and its workflows, then develop a detailed logistics plan to minimize that impact to both the hospital's daily operations and, more importantly, its patients.
Steps should be taken to minimize noise so as to not disturb a patient's stay. If a portion of the project will create a high level of noise, coordination with hospital management should take place beforehand to make sure it's being done at the least intrusive time.
As a result, a construction company's schedule on these projects should be more flexible to accommodate these kinds of unexpected changes. Additional measures may include utilizing high, Sound-Transmission-Class-rated, temporary barriers and/or white noise in sensitive locations to minimize the noise of certain activities.
Frequently, because much of the space around an existing building is already in use, there may be a limited amount of laydown area to accommodate materials. In those cases, construction companies can coordinate with suppliers to schedule just-in-time delivery, where materials are delivered only as needed, eliminating the need to store them for a long period of time. Prefabrication or modular construction may also be utilized to reduce material laydown requirements as well.
When working in an occupied facility, both the patient experience and patient safety are of the utmost concern. It is often standard practice to isolate the construction environment and its tradesmen from the operating facility, in an effort to avoid the disruption of workers entering and exiting a hospital all day. Limiting access to the facility can prove to be difficult. However, there are many avenues to do so if planned appropriately early on in the project.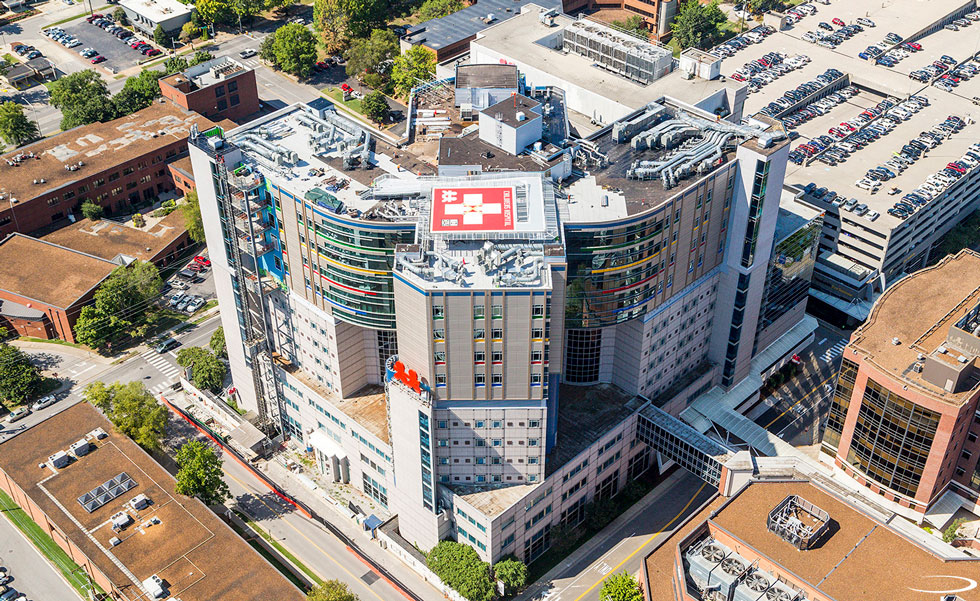 On a current project, Turner designed and built a scaffolding system that allows the tradesmen to enter the project from the ground, then enter a bulk hoist on the second floor that vertically transports them six floors to the project site—eliminating the interface and intrusion of tradesmen inside the operating facility.
One of the most critical parts of the process is when the facility's roof is initially opened up in multiple locations to tie in to the existing structure. To ensure that these roof openings don't admit wind, rain and other debris, the contractor must be proactive in planning those activities and have the appropriate measures in place to mitigate the chance of water intrusion into the facility.
Often, temporary measures, like an enclosure over the columns or beams, will be built in place to allow the contractor to open and close those tie-in points as needed and maintain the integrity of the envelope. Construction companies will also often have a crew of roofers on-site every day. As soon as a cut in the roof is made to extend a column or to tie in to an existing utility system, the roofing crew patches it immediately.
In a health-care facility, it is also important that the proper infection prevention measures be implemented in an effort to keep the existing structure weatherproof and insulated from noise, dust and debris.
One way to do this is by creating an anteroom between the construction site and the existing patient area. This not only isolates the public from the construction site, but also ensures that the space under construction may maintain negative pressure to avoid dust and debris being transmitted into the occupied space.
The most effective way to build these anterooms is through the use of modular quick-connect wall partitions to tie the construction space and occupied space together without creating additional debris. Throughout the construction process, remote air quality monitoring systems are used to protect patients from any dust and debris that could cause infection.
Although each vertical expansion poses its own set of challenges, by enlisting a skilled team, you'll be more than capable of taking them on. The result will be a facility that is better equipped to serve the needs of its patients—now and far into the future.