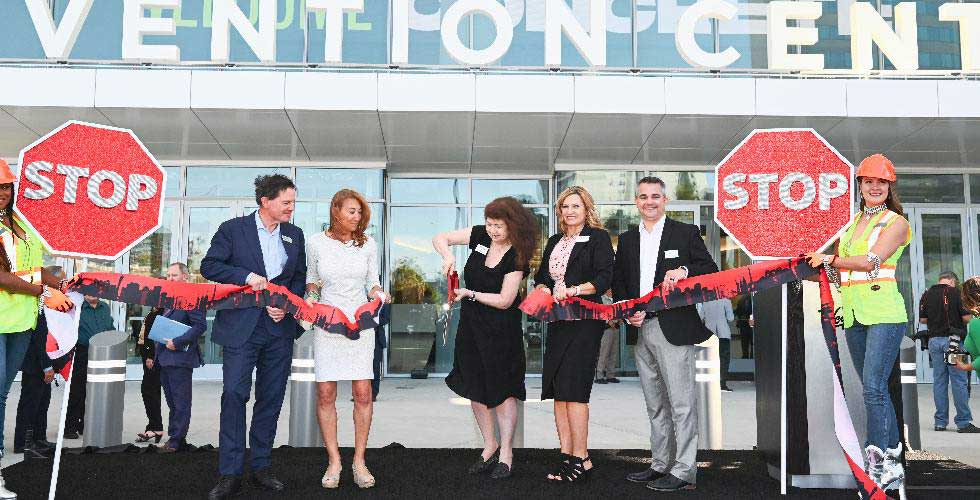 Trade show reunites industry players & signals return to pre-pandemic pace
World of Concrete (WOC) 2021, an international event for the commercial concrete and masonry construction industries, was held in Las Vegas, Nevada, June 7-10, 2021, and, in many ways, marked the official return of trade shows at the Las Vegas Convention Center (LVCC).
WOC 2020 was one of the last shows to be held before the COVID-19 pandemic put events on pause for the bulk of the year. But, with vaccines now widely available, it appears things are returning to some level of pre-pandemic normalcy.
Las Vegas pandemic precautions ended on June 1, 2021, just a week prior to the start of the show, allowing businesses and events to open back up to full capacity.
The 2021 installment of WOC was its 46th and the first show to return to Las Vegas post-pandemic, signifying a relaunch of a string of events being held in the city that's been considered a top trade show destination for 26 years.
According to show runners, in attendance this year were tens of thousands of industry professionals, and more than 650 exhibitors, spread across over 300,000 square feet of exhibit space, which included LVCC's new $1 billion,
1.4 million square foot West Hall.
"[WOC] is grateful for the support of all the participating exhibitors and attendees who braved the heat of a June event and paved the way for an even larger and stronger return in January 2022," said Jackie James, group director, WOC. "We would like to thank them along with our cosponsoring associations and media partners who supported this endeavor throughout a very challenging 15 months leading up to this important industry event."
Aside from the 102-degree temperatures throughout the week, one of the hottest topics of conversation was the focus on technology, a trend continued forward from last year's show. With a push from the pandemic, over the course of the last year, technology has begun to play a much larger role in construction. This has helped to guide the conversation forward — from its previous state of simply promoting the adoption of technology and digital resources for jobsites and contractors — to supporting ways in which contractors can optimize these digital offerings to create a more efficient and streamlined approach to construction.
Many manufacturers showcased bold strides into the future of construction jobsites. For example, power tool manufacturer Hilti highlighted its first steps into human augmentation with the launch of both the Exo-01 and Jaibot.
This technology has the potential to provide an interesting glimpse into the future of an industry facing a number of problems, not the least of which is an ongoing lack of skilled labor. Robotics, automated tools and human augmentation are poised to be answers to those challenges and more.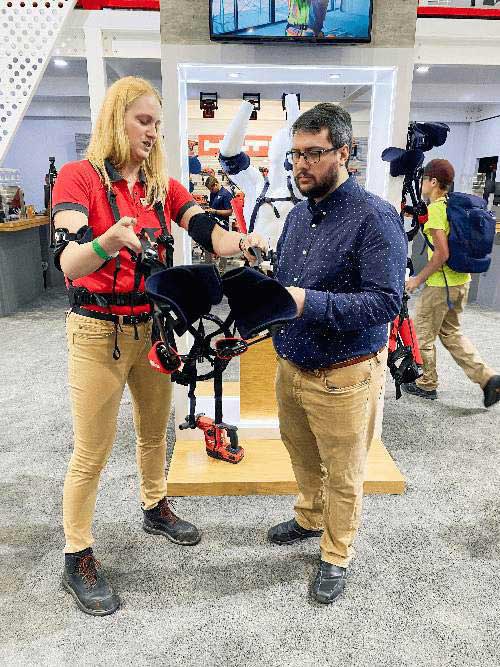 The West Hall served as a showroom floor for vehicles and heavy equipment for the week, including Kenworth Trucks Inc., Doosan Bobcat, Kubota Corporation, Ford Commercial Vehicles and more. Meanwhile, the North Hall hosted a bevy of technological advancements and software solutions for the modern contractor. Several companies, including Hexagon/Leica Geosystems and Quartz demonstrated all-in-one solutions designed to ease the challenges of managing a jobsite through the use of sophisticated imaging, building information modeling (BIM) and digital twin software integration.
As exciting as product launches and the ever-forward march of technology in our industry may be, the return to normalcy was the big story of the week. And due to the nation's recent surge in vaccinations and other safety precautions, it seems that the event was a return to form for Las Vegas and the trade show industry as whole. At print time, there have been no reported cases of COVID-19 traced to the convention. Indeed, coronavirus cases seem to be on a downward trend in Nevada, according to data from ourworldindata.org and the Nevada Health Response COVID-19 tracker, with cases down to an average of 369 over 14 days in July 2021 — a major drop from an average of 1,192 in July 2020. Cases were down to an average of 134 during the week of the show.
Comments from the show floor suggested that while attendance may have been less than in previous events, those who did attend seemed to be more committed and interested in networking and purchasing. After a year or Zoom calls and digital presentations, it would seem the industry was glad for the opportunity to tune in for more in-person interaction.
"WOC 2021 was a lively — and hot — entry back into in-person events and we were happy to be back there together as a team. There was an energy you could just feel as you walked through the booths, and people were excited to get their hands on the latest and greatest in the concrete industry," said Brittany Buchanan, social media brand manager at Bosch Power Tools North America.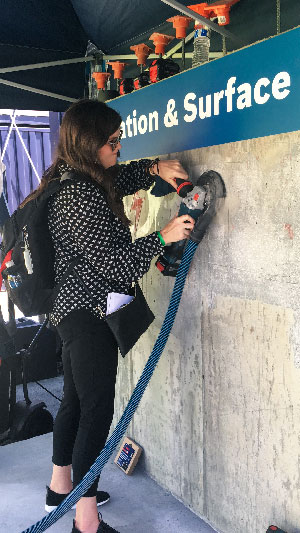 The Bosch outdoor booth met attendees with demonstrations and interactive trials of its new range of ProFactor cordless tools. "While this year's attendance was lower, the audience was really engaged and excited to be there," said Buchanan. "We found that although there were fewer people, those that were at the event during the busy construction season in June were extremely engaged."
"We are thrilled to be returning to the live event format, especially in the home of the exhibitions industry in the United States, Las Vegas," said Nan Walsh, president, North America at Informa Markets, the event's organizers and show owners. "There is an unparalleled magic about in-person connection — from sharing laughs with old friends, creating new ones, learning from industry experts, and seeing and feeling the latest products and innovations. We are so happy to be the first large-scale trade show to return to the show floor in the U.S., and the first to use the Las Vegas Convention Center's incredible new West Hall, and through that partnership I believe we are signaling a return to business and connection that is needed now more than ever."
WOC 2022 will be held at the LVCC Jan. 18-20, 2022, with educational events beginning Jan. 17, 2022. Visit worldofconcrete.com for information.