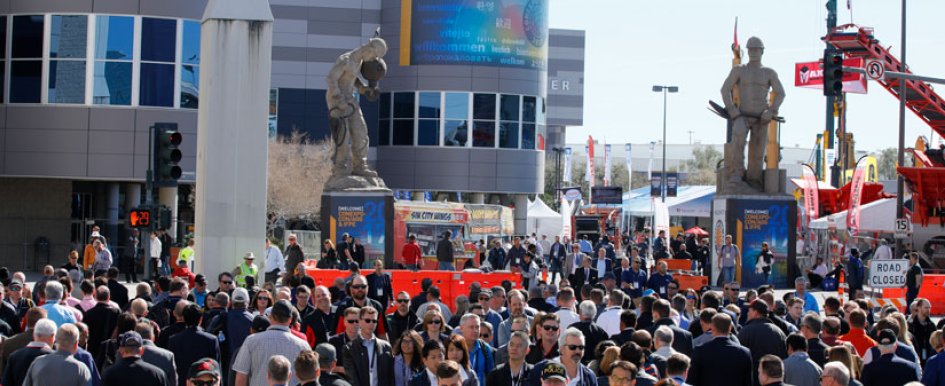 How contractors can get the most out of 2020's biggest trade show
Wednesday, January 15, 2020
One does not simply walk into CONEXPO-CON/AGG. America's largest trade show unfolds March 10-14, with 2,800 exhibits popping up in Las Vegas, Nevada, in a space the size of 50 football fields at the Las Vegas Convention Center.
And if you're one of the thousands of contractors heading to the show this year, you don't want to arrive without a game plan.
CONEXPO will showcase the future of construction in many forms, including new equipment, industry trends and educational sessions—150 talks in all.
It's truly an avalanche of updates no one person can take in. But with a little forethought and planning, you can craft a CONEXPO experience that meets your business goals and helps you discover new ones.
There's an App for That
A smarter CONEXPO begins on your phone. Download the event's mobile app to get oriented with the show's massive exhibition areas before you even arrive. The app features 3D maps of the indoor and outdoor show areas, as well as a full schedule for the show, letting you create your own custom schedule and share it with contacts. You can log into live chats during education sessions to chat with fellow participants in real time, too.
Keep Your Eye on the Prize
With a schedule mapped out ahead of time, you'll know precisely where and when to find every exhibit and session at the convention center. Think about your business' needs ahead of the 2020 construction season. What equipment, attachments, services or strategies are you in the market for? Pour over the schedule and identify which exhibits will promote solutions that most align with your needs.
A bit of advice from CONEXPO's organizers: Visit exhibitors on the outdoor lots in the mornings (before the weather heats up), then hit up indoor exhibitions in the afternoons. If you can, avoid showing up unannounced, and "let exhibitors that you plan on visiting know you're coming at least a week before. They may plan something special for you."
Before you visit various equipment exhibitors during CONEXPO, jot down some questions related to upcoming equipment purchases. Bring along something to write on when you visit the exhibitors—even just a notes app on your phone. More and more exhibitors today are going digital in their booths, leaving fewer printed materials on hand.
If you'd like printed materials on a product or service, be sure to ask during your exhibit visits. Many manufacturers can easily send literature to you. Some may even email a PDF to you before you leave Las Vegas.
Before leaving an exhibit, ask the company rep about a local dealer in your area. That representative should be able to look up a local dealer who can further help you with a price quote, demonstration or additional answers.
Stay a Bit Spontaneous
Once you know what your business needs out of CONEXPO and you've mapped out your must-see booths, leave a little free time in that schedule. With thousands of exhibits available, you never know when you'll stumble upon a presentation or vendor that meets your needs, so take time to explore smaller buildings and tents. It's not just exhibits, either.
CONEXPO's Tech Experience will bring a full slate of speakers addressing sustainability, smart cities and infrastructure for self-driving cars. And don't forget about the seminars, which highlight industry trends across 10 tracks with topics like equipment management, talent recruitment and tech solutions.
Social Networking in Person
Everyone's at CONEXPO, it seems. More than 130,000 attended the show's last event in 2017, including construction executives, equipment operators, fleet managers and engineers, which makes the show ripe for networking. Nearly 90% of survey respondents told CONEXPO they were "extremely or very satisfied" with networking opportunities at the show.
As such, you would be remiss to pass up the chance to make new contacts—whether at the show or on the town—who can bolster your business. And check out the designated networking space at N250 in the North Hall.
CONEXPO-CON/AGG 2017 Stats
128,000 attendees, with 26,000 international attendees from 150 countries
2.8 million-plus net square feet of exhibits, featuring more than 2,800 exhibitors from the leading U.S. and
global manufacturers
52,000 tickets sold for education sessions
For more information, visit www.constructionbusinessowner.com/conexpo-conagg-2017.