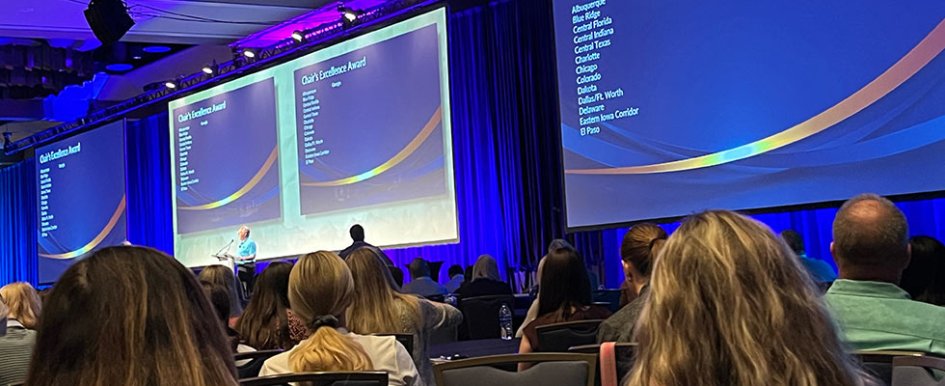 New leadership & continuing market opportunities set the stage at this year's conference
Tuesday, September 5, 2023
Five days before the start of this year's Construction Financial Management Association (CFMA) 2023 Annual Conference & Exhibition, the association welcomed its new president, Neil Shah. This new appointment and a host of learning and peer-to-peer networking opportunities made for an action-packed event, held July 15-19 at the Gaylord Rockies Resort & Convention Center in Aurora, Colorado. 
Each year, the conference offers attendees the opportunity to attend educational sessions, roundtable discussions and tech forums, as well as networking events. This year's record-breaking event featured 49 sessions, 12 mini-conferences, three general sessions and more than 75 vendors. The exhibition hall provided attendees the chance to visit with vendors and learn more about product at exhibitors' booths. 
CFMA currently reaches 8,800 members and 99 chapters. These are substantial increases from five years ago. The association is also engaged in a number of initiatives and resource offerings, including an emerging leaders program, diversity, equity and inclusion (DEI) and Rising Stars discussions with committee leaders, the "Hey CFMA" video series on YouTube, which offers micro-learning opportunities, CFMA's Guide to State Tax Laws 2023, and the Association of Equipment Management Professionals (AEMP) and CFMA's Heavy Equipment Comparator report. 
Award recipients at this year's conference included Aaron Dunn, CPA, CCIFP, who received the CCIFP of the Year award; Jen Haub, CPA, CCIFP, the Debra Hahn Memorial Chapter Award winner; and Jennifer Tindal, CPA, CCIFP, recipient of the Joe Quigley Memorial Chapter Award. 
On July 10, Shah stepped into the role of CFMA's president and CEO. Outgoing President and CEO Stuart Binstock introduced Shah during a general session, and Binstock's and Shah's achievements were recognized. Cal Beyer, vice president of workforce risk and worker well-being at Holmes Murphy (and CBO Editorial Advisory Board member), said, "The 2023 conference was a chance to celebrate the accomplishments of the association under the 12-year leadership helm of retiring CEO and President Stuart Binstock and welcome incoming Neil Shah. The future of the association has never looked brighter!"
This year's theme, A Mountain of Opportunities, extended to the plethora of informational sessions available to attendees. Beyer explained: "The expanded roundtable sessions this year offered even greater opportunity for peer-to-peer networking and exchange. I heard so many positive examples from contractors in various sectors how immediately useful and impactful these roundtable sessions were for them."
The educational sessions covered topics from risk management, cybersecurity, contract tips and technology. In the course "Real-World Cybersecurity in Construction," Kimberly Hullfish, director of accounting and compliance at C. Abbonizio Contractors Inc., shared reasons why construction companies are high targets for hackers — including the potential to access major companies through contractors' computers. Hullfish outlined ways to reduce banking fraud, the role of artificial intelligence (AI) in current financial scams, and the importance of familiarizing yourself with cyber insurance. Not all cybercrime is covered by cyber insurance policies; for example, equipment hacks may fall under inland marine insurance, and employee involvement may fall under theft insurance. 
"Contract Tips, Traps & the Horrible, Gaping Abyss" was presented by Rhonda Huismann (partner at Crowe LLP) and Eliot Wagonheim (principal at Wagonheim Law and founder of WagonheimU, Wagonheim Law/First Rule Contract Training). The course covered ways to read, write and abide by construction contracts. Waghonheim and Huismann gave tips to bridge the gap between what an attorney finds important and what the construction professional can communicate. From best practices to key provisions to clauses, this course left participants prepared to strengthen their contracts. 
Beyer's own session, "Protect Your People & Profits From Workplace Misconduct," may seem familiar to CBO readers. "This year I spoke on a topic I wrote an article for CBO on workplace misconduct from bullying, harassment, discrimination and retaliation," said Beyer. (His article was published in CBO's December 2022 issue.) His course delved into the Equal Employment Opportunity Commission's (EEOC) current focus on the construction industry due to misconduct reports. Beyer explained why leaders have a responsibility to maintain a safe work environment — and how to reduce your risk.
Beyer also highlighted the sessions he found most impactful: "The three keynote sessions are always exceptional, and this year was no exception. The opening general session, 'The Future of Work Is Now: Are you Ready?' by Cheryl Cran reinforced how vital culture and leadership are to counter the workforce development challenges construction and other industries are facing. Creating workplaces and jobsites for today's workforce requires intentionality from leaders to recognize the differing motivations of today's multigenerational workforces. This underscores the need to understand how culture impacts the employee experience and fuels employee engagement, which impacts the company's outcomes." 
Anirban Basu, chairman and CEO of Sage Policy Group Inc. and chief economist of Associated Builders and Contractors (ABC), updated attendees on the current state of the economy. He outlined the course of inflation from May 2020 to June 2023, including the massive rise in energy prices. He noted that the housing market is still performing well, and confidence is rising. However, nonresidential spending has not shown real growth since 2019. Furthermore, Basu warns of an impending recession. Though he acknowledged that he could be wrong, he explained that the signs point toward a recession this fall and cautioned attendees to be prepared.
Mark your calendar for next year's conference — CFMA's 2024 Annual Conference & Exhibition will be held May 18-22, 2024, at Gaylord Texan Resort & Convention Center in Grapevine, Texas.