Tips & tricks from industry leaders to use on your jobsite
Our new feature, Toolbox Essentials, is aimed at providing you with quick tips for running your construction business more efficiently. This round of Toolbox Essentials focuses on methods for improving workflows on the jobsite, including advice for off-season work in areas with snow, how to choose the correct hammer for the job you are working on and a guide to keeping your technology equipment up and running on-site. Check back for more Toolbox Essentials in the coming months!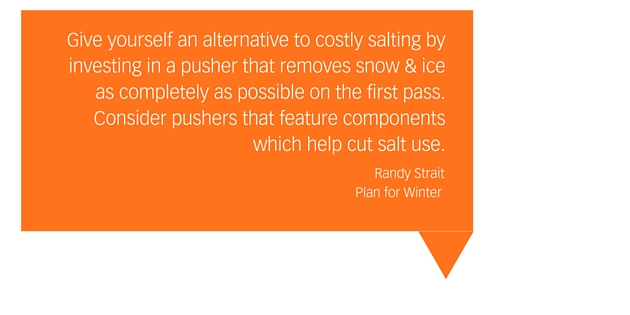 Plan for Winter
Your guide to pushing snow efficiently
By Randy Strait
When winter rolls around, some construction business owners have the opportunity to use their equipment, such as skid steers and wheel loaders, year-round by picking up snow- and ice-removal service contracts. The following are some quick tips on how to offer efficient snow removal services.
1. Respond fast. During snow events, you need to arrive to the jobsite as soon as possible. Save time by backing equipment into your lot, facing the exit. It's a simple step that saves time in urgent snow situations.
2. Designate by location. As you know, winter weather slows travel. If you have a large business and fleet, you should consider hiring drivers based on their location. Park equipment on-site and find operators who live near the customer to quickly access equipment and service those areas. Incorporate a phone-tree calling system or chain-of-command based on location and your desired minimum response time. Establishing a point person close to each site saves time and increases productivity.
3. Size up. Overstocking equipment wastes money and resources. Evaluate each customer's property to determine the amount of machines and operators you need. The largest snow pusher isn't always the best for the job, especially if you are trying to clear narrow parking aisles and handicapped parking spaces during the day with traffic present.
4. Slow down with the salt. Give yourself an alternative to costly salting by investing in a pusher that removes snow and ice as completely as possible on the first pass. Consider pushers that feature components which help cut salt use. A steel cutting edge effectively scrapes even hard-packed snow and ice down to the pavement, reducing the need to salt. Additionally, a sectional, moldboard design allows the pusher to get into dips and depressions in the pavement—reducing the number of passes needed to effectively clean the area.
5. Split it up. Divide each specific lot into sections and map out obstacles. This allows each operator to focus on a specific area and prevents doubling-up on a single area. Pinpoint obstacles, such as light poles, cart corrals and medians. Mapping these out prevents accidents and saves time.
6. Talk to your property owner. Understand your customer's preferences on clearing curbs and sidewalks. This helps you plan for the right equipment and personnel and determine what might require additional time and resources. For example, the customer might expect you to clear additional areas for pedestrian traffic.
7. Maintain it.Keep your fleet properly maintained and serviced. Before the busy season, check the pusher components and replace damaged or severely worn parts. Consider hiring a mechanic to address any issues promptly—that way, the pusher is ready to go when needed. Push success this winter by preparing your operation, equipment and operators for what's expected during the snow season ahead of time.
Randy Strait is the owner and president of Arctic Snow and Ice Products.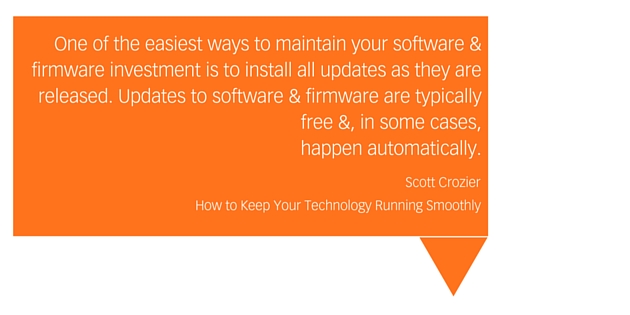 How to Keep Your Technology Running Smoothly
Maintain equipment to conserve costs down the road
By Scott Crozier
The owner of a construction company knows better than anyone the cost of improperly caring for equipment. Jobsites are rugged, dirty, high-impact environments. Follow these tips to ensure that your company's construction technology equipment is properly cared for and serviced, and you will reap the rewards for years to come.
Software maintenance—One of the easiest ways to maintain your software and firmware investment is to install all updates as they are released. Updates to software and firmware are typically free, and, in some cases, happen automatically. It is also important to take the time to read the release notes that come with updates so you are aware of new functionality and changes to the product.
Routine maintenance—Although many field technology devices are designed to be rugged and are able to withstand a certain amount of wear and tear, they still require routine maintenance. Total stations and other precision instruments should be serviced once per year. This service will include checking to see where and how the total station is wearing, including connections between wires, instrument calibration and even tightening bolts. In addition to having equipment serviced annually, precision instruments should be calibrated and checked by operators on a biweekly basis. Total stations can lose their precision with the jostling of being transported, which means it's also important to check the calibration to a known point before each use.
Storage and transportation—Because GPS devices are designed to be durable, it is not uncommon to see them rattling around on the floor during transport. Even though these are rugged devices, it's still important to clean, store and transport them properly. Put equipment back in its carrying case at the end of the day, and store equipment somewhere where it won't vibrate or be knocked around. It's also important to keep field hardware clean. For exterior surfaces, alcohol wipes or soapy water work well, but it's more important to take care when cleaning lenses. Always make sure lens caps are on before transporting equipment, and when cleaning, be sure to use a rag made specifically for lenses, which won't scratch or leave behind debris.
Operator training: Operator training may not seem like an important part of equipment maintenance, but it is. Operators who have been trained by the equipment dealer are more likely to use, store and transport the equipment with care, and they are more likely to identify potential problems early, when they can typically be fixed faster and less expensively.
Scott Crozier is marketing director of site positioning and machine control in Trimble's civil engineering and construction division. He can be reached at scott_crozier@trimble.com.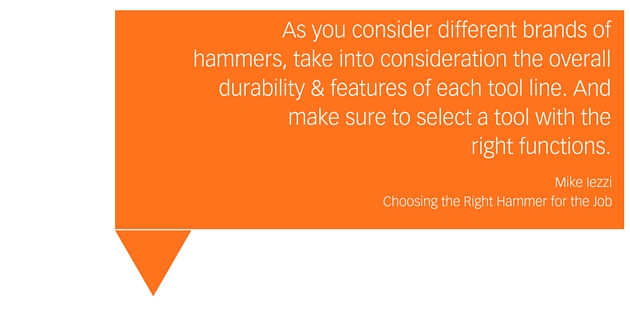 Choosing the Right Hammer for the Job
Which hammer you use is dependent on selecting the right tool attributes, interface system & drill-bit types
By Mike Iezzi
Construction means concrete, and concrete means drilling holes. Many construction jobs require concrete drilling, so choosing the right tool for the job is a game changer. But that breakthrough is dependent on selecting the right tool attributes, interface system and drill-bit types to ensure successful completion of a project. Here are the basic tools:
Rotary hammer—A tool that drills using rotation and a hammering action; it breaks up the concrete as the bit rotates. Rotary hammers are designed for day-in/day-out use.
Demolition hammer—A heavy-duty tool designed to chip or break up concrete.
Combination hammer—A dual-mode hammer designed to either drill or break up concrete.
Before selecting a hammer, determine the diameter of the holes required. The diameter of the holes dictates the type of hammer and the interface system. Then identify the tool's optimal drilling range that correlates with the dimension of the holes required.
The accessory interface consists of the tool's internal components that hold the bit in place and overall power transfer from the electric motor and gearing mechanism to the bit. Most hammers utilize one of three systems: SDS-plus, SDS-max or spline. Spline is a legacy interface system that is being replaced by the SDS-max system.
Though intermittent drilling at capacity is possible, it's always better to opt for the next larger hammer for any series drilling of larger holes. Like any tool, constantly pushing a hammer to its extremes will lead to failure, so investing in the next larger hammer up front will pay off in the long run.  
As you consider different brands of hammers, take into consideration the overall durability and features of each tool line. And make sure to select a tool with the right functions. Some brands of rotary hammers offer up to three different modes of operation: rotary, hammer only and rotation only. By understanding all of the different hammer options available, it becomes clear that choosing the right hammer can make a big impact on the bottom line.
Mike Iezzi is the product manager for corded products for Bosch Tools.