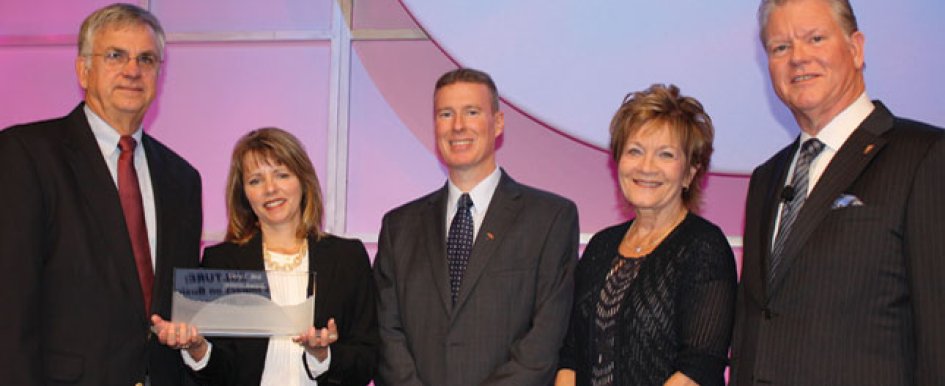 Use these strategies to navigate today's transitional market.
Thursday, December 19, 2013
Once a year, contractors, brokers, underwriters, risk managers and attorneys gather at the International Risk Management Institute (IRMI) Construction Risk Conference to examine the most pressing insurance and surety-related issues contractors are facing. In November, more than 1,200 risk management professionals traveled to San Diego to learn better ways to manage, insure and bond today's project risks.
CBO attended the conference to gain insight into the state of the construction risk management industry for the coming year. A central theme that emerged from this year's conference was that contractors, insurers and brokers must be even more strategic in adapting to a market in transition. Many contractors are diversifying the sectors they work in, and most reported doing more work than they did in 2012. However, for the most part, the slow but steady growth is not accompanied by equal growth in profit margins. Increasing subcontractor defaults and frequent workers' compensation claims have created a more challenging risk transfer negotiating environment for most firms. This issue is only compounded by the loss of investment income in the underwriting community. Fortunately, IRMI offers 24 workshops presented by more than 50 industry experts to help construction firms navigate these rough waters.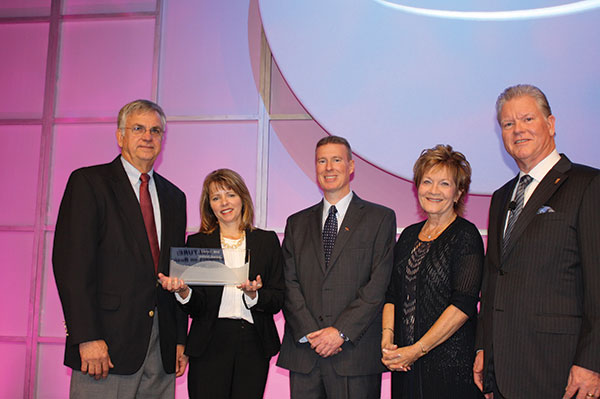 From left: Rick Maursetter, risk manager, and Lynn Skordahl, R.N. wellness coordinator, both of Duininck Inc., accept the 2013 Gary E. Bird Horizon Award, presented by Travelers Construction President Rick Keegan, Donna Killoughey Bird, and IRMI President/CEO Jack Gibson at the IRMI Construction Risk Conference.
Keys to a Successful Renewal
With upward pressure on insurance rates, the underwriting community will most favorably look upon contractors who can best negotiate renewals. In the session "Strategies for a Successful Renewal," Edward Littleton, senior vice president, risk management for Balfour Beatty Construction, and William Noonan, vice president of risk management for Structure Tone Organization, commented on the elements of a renewal that contractors can actually affect. In this new market, Noonan says, contractors must answer the question, Why does the underwriter want us as a part of their portfolio of business? Underwriters want more detailed information than before, so your CEO and executive team must engage with the broker and underwriters early and often, communicating the company's business and secession plan. Risk managers also should begin to work with operations and accounting personnel at least 90 to 120 days before the date of your renewal to gather all relevant information. In addition to showing a genuine commitment to safety management, your company must communicate that you understand the root cause of any claims you have had, Littleton says.
"(A successful submission) ought to look like something you would send to an owner when you are trying to sell a project," Littleton says. You should also be forthright in these negotiations. "Know your deal-breakers—I think it's unfair not to disclose them early," Noonan says. Finally, he adds, if a carrier declines to entertain your business, be sure to find out why.
One of the most important industry changes that Noonan highlights is the continuing game of musical chairs in the underwriting and brokerage communities, worsened by an ever-growing talent shortage. "There's a talent war over technical knowledge in the brokerage world," he says, which is why contractors must understand exactly who is on their brokerage team (i.e., who will take your call at 4 p.m. on a Friday) and to know the real numbers behind your costs—what is a service fee versus what is commission.
Best Practices for Wrap-Up Claims
The industry is seeing more wraps driven by contractors, in part due to the increasing number of large projects but also because wraps can help mitigate additional insured issues. However, wraps are sometimes challenging due to lack of transparency in regard to how claims are handled. In the session, "Best Practices for Wrap-Up Claims," the panel examined factors that could improve claims handling processes.
Todd Schweitzer, assistant vice president for Zurich, says, "It's very important from the enrolled contractor's perspective that they fully review the wrap policy to see what coverage is provided to them in order to determine, working with their broker, if there's any potential gaps."
While most panelists agreed that the industry is doing fairly well in terms of transparency, they see room for advancement. Robert Yeadon, national claim director for Turner Construction Company, encourages subcontractors to speak up when they sense lack of concern for losses that could affect their EMR. From the other perspective, as a sponsor of a wrap, you should be strategic about the way you handle claim investigations. "The art of investigating a claim starts long before the first shovel is in the ground," Yeadon says. At Turner, he explains, there is a field investigation team ready to be deployed in a moment's notice. Assembling the right team is important, but the team should also be provided with an introduction to the project staff before ever conducting an investigation. Yeadon also shares this advice: Every claim—even if it appears on the surface as only a workers' comp claim—should be investigated from the GL perspective too. Even a minor cut, he says, should receive a field investigation, with information locked down in the event a lawsuit ensues. "If there's outright denial of coverage, it could still be triggered by later testimony," Yeadon says.
As Schweitzer explains, one of the fundamental principles of the wrap is to avoid the finger-pointing and heavy litigation costs associated with disputes over construction defect claims, for example. "If you are a sponsor and a general contractor and you build a project today, then a claim comes in seven years from now for construction defect, you don't know what happened after that job ended or what happened to all those subcontractors' policies. The wrap provides certainty about what policy coverages you are going to be making a claim against years down the road," Schweitzer says.
Andrew Barberis, global claim officer for AIG, furthers the advantages of wraps: "The key difference of wrap-up programs is that they offer a singular disposition strategy so that everyone can be united in how to resolve a case."
Workers' Comp Concerns
Contractors are seeing a lot of upward pressure on workers' comp rates across the country. William Perkins, instructor of the Florida Association of Insurance Agents and host of the "Intro to Workers' Comp" session commented on the main drivers of this trend. "If you are looking for one word: utilization," he says. In other words, the frequency of these claims is on the rise. "And I would also suggest that the rates that are being charged may also reflect that carriers are needing to rely more on the effectiveness of their underwriting practices in order to show positive financial business results," Perkins says. This is driven by the loss of investment income in the underwriting community due to low interest rates.
Another significant cost driver is the fact that so many contractors are seeking work in markets where they may not normally work. "You might have cases where contractors are trying to stay in business or doing work that they may not be talented enough to do," Perkins says.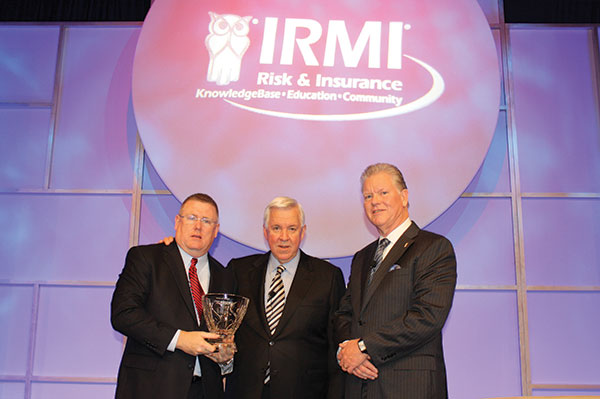 From left: William B. Noonan receives the 2013 WOW Award from William S. McIntyre and Jack P. Gibson, conference co-chairmen.
While it's true that even firms with few claims may start to experience rate hikes, something can be done. The best approach to combat this challenge is one all firms should implement in any case. "Start with a recommitment to your safety program," Perkins says. You must ensure effective implementation and then measure and audit the results of your program, he recommends. Lastly, make sure that senior management leads the way. "This is a non-delegable responsibility. Safety is an executive obligation. All persons have to be stakeholders. It makes no difference to the employees downstream if they see senior management disregarding safety practices," Perkins says.
Safety is the thread that runs throughout all of the sessions at IRMI, and it's a commitment that the risk management professionals there take seriously. The IRMI Construction Risk Conference is also unique because it's the one time a year when what might normally be proprietary information is shared openly and with good will. Noonan underscored this point during his workshop as he shared an anecdote about having learned of a new risk transfer technique from a competitor at the conference: "This is what's great about IRMI—I don't have any original ideas; I just happen to be around good, smart people."
IRMI Conference Gary E. Bird Horizon Award
The annual Gary E. Bird Horizon Award, sponsored by Travelers Insurance, recognizes companies who have improved construction risk management through innovative, cost-effective and efficient risk management techniques. The award is a memorial to Gary E. Bird, a consummate risk management industry innovator, who died in the World Trade Center attacks on September 11, 2001. His wife, Donna Killoughey Bird, spoke with CBO about the significance of this award.
"I think we all want to remember the importance of that event—and we are kind of afraid we are going to forget, so if there are some appropriate legacy awards that recur, it enhances our ability to do so, and more importantly, to look forward and to make some good of that horrible tragedy," she says.
Gary E. Bird was known for bringing innovative ideas to the table during his 30-plus-year industry career. "He lived his life according to all the ideals that these risk management professionals are protecting," Killoughey Bird says. He was always pushing brokers to implement new approaches they had never tried before, she explains.
Jonathan Russell, founder of Russell Risk Consulting and personal friend of Gary Bird's, remembers how he could see through walls of resistance to promote change. "He was able to be articulate enough to express his visions and what could be achieved, and that really underscores the general principle of education, and risk managers are essentially in the business to educate," Russell says.
So it's only appropriate that the 2013 award went to a company who is passionate about educating their employees about their most important asset—their health. This year, the honor went to Duininck Inc. for its employee wellness program. The wellness team at Duininck consists of Rick Maursetter, risk manager; Lynn Skordahl, R.N. wellness coordinator; and Cindy Vander Well, benefits manager.
Duininck began their wellness initiatives in 2006 after noticing how the companies within their GL, workers' comp and auto liability insurance captive group were reducing claim frequency and severity with safety programs. At the time, Duininck was experiencing substantial inflation in their health insurance costs, and they suspected that some of the demonstrated principles of the captive could apply to their health insurance concerns. "If you can run a good safety program, you can run a good wellness program." says Maursetter.
The core components of their wellness program are risk identification, consultation, prevention, education, skill building and incentives. "Basically, our program is centered on awareness—knowing your risk. That's the cornerstone of our program, and that's done through a health risk assessment and a biometric screen," says Skordahl.
Skordahl explained the importance of being creative when it came to setting up their program. Duininck recognized that having employees drive two hours to wellness reviews wasn't feasible, so they offer those by phone. The company also works with nearby community clinics and offers health risk assessments online and on-site. Employees can even teleconference into a Weight Watchers meeting.
Duininck inspires participation through incentive programs. "You come to see Lynn to understand your HRA and biometrics, (and) she writes you a check for $25," Maursetter explains. The company has more than 80 percent participation in wellness reviews, which also include spouses and serve as the employee's ticket to other incentive programs.
For other companies looking to create a wellness program, the team at Duininck offers this advice: Listen to your employees and their families. Maursetter also suggests reading "Zero Trends" by Dee Eddington, which provided a basis for the pillars of Duininck's plan. The time invested in developing a wellness program can yield surprising results: "We thought that the biggest savings would be in health insurance, but that's the third biggest savings," Maursetter says. The main impact, he says, was in increased productivity, and the second biggest savings came in workers' comp costs.