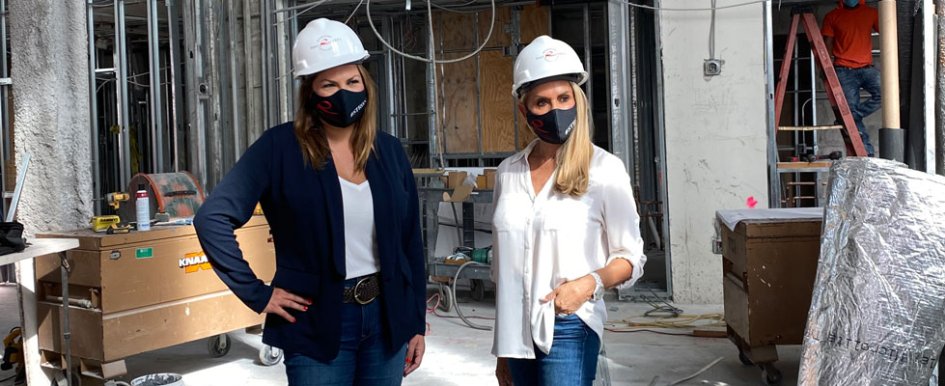 Best practices from a Florida-based general contractor for weathering pandemic challenges
Tuesday, November 10th, 2020
This year alone, the industry has seen major areas of risk skyrocket, not only on construction jobsites, but also in our everyday lives. With the undeniable need to keep working amid challenging and, at times, complicated COVID-19 regulations and protocols, managing the safety of employees has become a massive undertaking for leadership everywhere. And those leaders taking on the task can say a lot about the culture and priorities in a company.
Enter Beverly Raphael-Altman, chief executive officer (CEO) of RCC Associates, and her daughter, Robyn Raphael-Dynan, vice president (VP) of operations. RCC was founded in 1971 by Raphael-Altman's late husband Richard Raphael. Raphael-Altman assumed the helm of the company following her husband's death in 1998. Raphael-Altman credits the strong team at RCC, including her business partner Rick Rhodes, with continuing to keep the company moving forward and establishing itself in the restaurant, luxury retail and entertainment building sectors.
Raphael-Dynan joined the company in 2002, and said she is proud of the fact that RCC has been designated South Florida Business Journal's No.1 Women-Owned Business ranked by revenue for 5 consecutive years. Raphael-Dynan began her construction career in an entry-level position and has since worked her way up to her current role as VP of operations.
Over the past 2 decades, RCC Associates has grown from $17 million to more than $100 million in sales, with close to 100 employees. The company's clients include Zuma; True Food Kitchen; Del Frisco's Restaurant Group; Time Out Market, Punch Bowl Social; Harry Winston; and The Cheesecake Factory, for which RCC has completed more than 80 projects nationally. With a team currently 100 workers strong, developing and implementing a comprehensive safety and risk-mitigation plan during the coronavirus pandemic was an imperative.
Since the onset of COVID-19, Raphael-Altman, Raphael-Dynan and the rest of the RCC leadership team have worked to put protocols and procedures in place to ensure that not only their team, but also their subcontractors and vendors stay safe and healthy. The team has also worked with its clients to provide new modifications to the project plans, jobsite procedures and end products to comply with Centers for Disease Control and Prevention (CDC) guidelines during COVID-19 and in a post-pandemic world. Some of these modifications include:
Designing floor plans where all tables are 6 feet apart
Adding glass partitions between tables and booths
Creating movable
Plexiglass screens
Designing expandable outdoor spaces
Implementing touch-free bathroom technology systems
Installing remote and electric door openers for all doors and bathrooms
Installing hand-sanitizing stations for patrons and employees
Designing modifications to heating, ventilation and air conditioning systems to promote proper ventilation and more intake of "outside air"
Learn more about RCC's COVID-19 risk-mitigation plan and the steps they've taken to ensure safety on their projects below.
CBO: Can you discuss the company's COVID-19 response plan?
Since the outset of this pandemic in the United States, we have been proactive in establishing internal safety protocol and procedures based on science and the health experts' evolving understanding of how this virus is transferred. Our primary goal is to keep our clients, team and subcontractors safe, and secondly, our jobsites active. To that end, we immediately created and distributed a comprehensive COVID-19 Exposure Prevention, Preparedness and Response Plan based on information provided by the CDC and the Occupational Safety and Health Administration (OSHA).
It encompasses screening protocol, enhanced sanitization standards, social distancing guidelines, on-site crew size limitations, personal protective equipment (PPE) mandates, travel restrictions, a phased remote work policy, and other critical modifications to our standard operating procedures both in the office and in the field.
We require the compliance of all RCC employees and subcontractors, without exception. Additionally, we sourced and attained PPE, such as masks, gloves, hand sanitizer, disinfectant spray and antibacterial hand soap, and built handwashing stations very quickly at a time when these items were not readily available.
We purchased and distributed our PPE not only to all our jobsites but also to our office employees to ensure everyone would not only stay safe on the jobsite but also at home. We added strict travel protocol policies for employees traveling to our out-of-state projects as well. Our in-house service department has been a great resource to our clients by implementing recommended safety measures for their existing locations with inexpensive, temporary solutions that have allowed them to remain open, operational and safe for both patrons and employees.
We're proud to say that we've seen our team members unite and excel under these incredibly challenging circumstances, always in the aim of supporting our clients through this difficult time and exceeding their expectations.
CBO: Are there any practices you have seen in the past year that cause undue risk among trade contractors, project owners & other parties on-site?
For the most part, RCC's subcontractors and team have diligently complied with all CDC recommendations. Probably the most common issues are someone wearing their mask below their nose, which puts everyone at risk, and employees maintaining proper distance to each other.
CBO: What has been the most difficult aspect of navigating the pandemic?
The biggest challenge was making sure that everyone could operate remotely during the first phase of the shutdown, which happened rather abruptly. We didn't have any experience with our entire team working remotely, but we were very happy to find that our staff adapted very quickly to their new working conditions, even with the unavoidable accompanying interruptions from children, etc., while operating from home.
Our company culture is one in which we value our team members' families and personal obligations, so everyone remained highly motivated, and it fortunately didn't impact our ability to execute on behalf of our clients and be successful.
CBO: Can you discuss the new risks associated with building restaurants?
The actual construction of our jobs is no different. It's the setting up of the sites, temperature gaging, constantly washing hands, using hand sanitizer and wearing masks on hot and humid jobsites, which are typically filled with debris and materials that make it especially difficult for our superintendents and subcontractors to be comfortable. However, we have enforced that safety is the ultimate priority during this unprecedented time.
CBO: What features are restaurant owners & builders adding to structures to make them more prepared for this pandemic & future challenges?
One example of this would be what our current client, Cuba Libre, is doing with their new Fort Lauderdale, Florida, location, which is currently under construction. In response to new safety standards and dining patterns resulting from the pandemic, our clients, Barry Gutin and co-founder Larry Cohen of Cuba Libre, have ensured that the new restaurant will contain a plethora of pandemic-related design features, including high ceilings at the inside bar and in the main dining room and wide-open storefronts for better ventilation.
They also felt compelled to adjust the design to protect guests and employees by increasing outside seating, so the restaurant will feature 78 linear feet of operable windows and a floor-to-ceiling storefront to better create a connection between their dining room, opening it up to the vibrant neighborhood.
The restaurant's final design also increases the intake of fresh "outside air" into the air conditioning system for the dining room and other guest areas by 72% over the minimum requirements.
Of the remaining air that will be recirculated, "air stream disinfection" and the removal of viruses, bacteria, mold and other particles will be accomplished using UV-C lights and hospital-grade, high-efficiency air filters.
CBO: What do you expect the post-pandemic jobsite to look like? Will RCC Associates keep some COVID-19 processes after a vaccine becomes widely available?
Fortunately, post-pandemic construction sites will probably look the way they do now. We think it is important that we do not let our guard down too quickly. We will continue to operate our construction sites adhering to CDC recommendations. And yes, we will still be upholding these safety measures beyond the introduction of a vaccine.
CBO: What is your advice for other business owners navigating the challenges of 2020?
Because construction was considered an essential business, all the contractors we know personally have operated in similar fashion to what we are doing. For any companies who do not believe that they must follow CDC guidelines, my advice to them would be to more seriously consider the health and safety of both their teams and their industry partners.