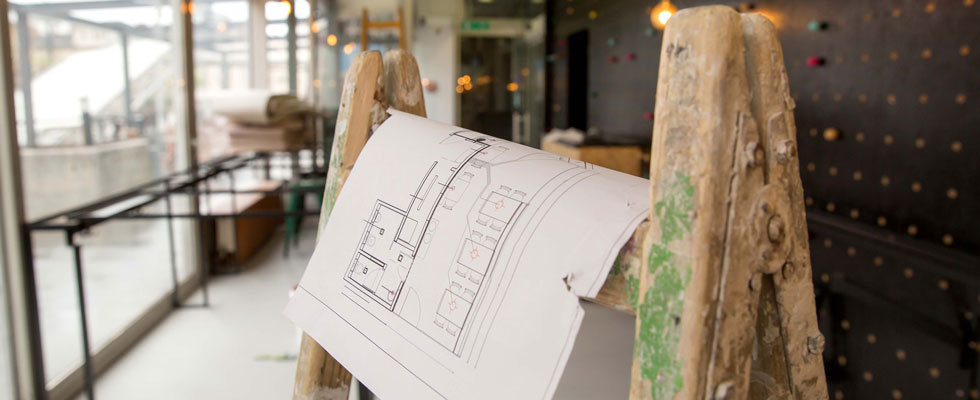 How Origin Construction is counseling clients for a post-pandemic world
Over the last 7 months, the construction industry has weathered the impacts stemming from COVID-19 significantly better than other sectors—all things considered. While there were some states in which local governments deemed construction work to be nonessential, many allowed projects to continue with strict social distancing measures in place.
This was the case in much of South Florida, where construction activity was only down by 15%, according to JLL's H2 2020 Construction Outlook. While some interior build-outs have been temporarily paused, the majority of ongoing projects have continued through the pandemic. Like the different markets, the construction arena has seen varying impacts across the board, with some sectors having fared better than others. However, in the world of retail, restaurant and office spaces, change was inevitable.
A New Dining Experience
As one of the hardest-hit sectors, the restaurant industry has had to undergo significant changes, as is evident in the latest restaurant design trends. Future and existing spaces will likely see the expansion of outdoor dining, interior space planning, investments in technology, and integration of drive-through, delivery and pick-up options.
In markets that are fortunate to have warm-weather climates, restaurant owners can offer year-round dining options with outdoor spaces. The pandemic is creating an increased demand for outdoor dining, and the construction industry is identifying new, innovative ways to expand layouts to accommodate outdoor dining. One solution is leveraging sidewalk spaces or parking lots to create additional open-air dining concepts. For restauranteurs who are in the process of building a new space, some are looking to allocate up to 50% of the restaurant's footprint to outdoor dining.
Indoors, construction is getting creative by making temporary changes to layouts to accommodate the surge of takeout and delivery business that has persisted throughout the pandemic. Dining rooms have suddenly become makeshift fulfillment centers, and restaurant entrances have been replaced with takeout windows.
New technologies also factor into the mix. More restaurateurs are contemplating how to introduce touchless features in entryways, dining rooms and even kitchens. The future of dining will include digital waiting lists, QR codes that allow diners to order from their table with a smartphone and contactless payment systems. Many of these strategies will require some element of redesign and construction.
Retail & New Interior Styles
Long before the pandemic, the growth of e-commerce was already impacting the retail sector; however, it is no secret that the effects of the pandemic have reshaped the face of retail design and construction as we know it. The real estate strategies of big-box operators have been most heavily impacted by the growth of e-commerce, but for the most part, higher-end retailers still value the boutique store model because it allows for more personalized service and creates opportunities to bring a brand to life in a physical setting.
As with restaurants, retailers are embracing outdoor space as a means for limiting indoor person-to-person interaction during—and long after—the pandemic. For example, some retailers are looking to redesign storefronts to offer open-air concepts that lie flush with their building, which ultimately positions the interior of the layout further back.
Again, this is similar to the earlier trend of seeing smaller interior spaces and a greater emphasis on exterior footprints. Another trend that has emerged recently is the idea that retail space can serve primarily as a showroom, which enables a brand to sell an item in-person but fulfill the order digitally through an online delivery platform.
This shift has placed an emphasis on the design aesthetic of consumer-facing spaces while reducing the need for significant back-of-house space. It is expected that retailers will follow this business model post-pandemic, and there will be continued growth in the number of brands offering curbside pickup. All of this is to say that retailers are putting more weight on the quality of store planning, design and construction, as opposed to warehousing all of their inventory on-site.
Office Dynamics
When looking at the future of office space, two factors come into play. The first is ground-up construction. Property owners and developers who are planning to build offices can incorporate new features and design elements that promote wellness, such as open-air common areas, enhanced heating, ventilation and air conditioning systems, which rely less heavily on recycled air, ultraviolet lighting systems believed to kill airborne germs, touchless technologies, automated lighting, thermo-sensors and more. Ultimately, floor plan designs are created by individual tenants, but owners are taking steps to incorporate these safety features into new buildings.
At the same time, office landlords who operate buildings are working with tenants to retrofit existing spaces as best they can. Everything from the addition of glass and plexiglass barriers installed between workstations and structural modifications to office layouts, to the installation of touch-free entry and exit systems that alleviate the need to interact with door handles and elevator buttons is being considered. While there is always more flexibility when planning and building a first-generation space, several strategies can still be implemented to enhance the safety of an existing office, too.
Emerging From COVID-19
At the start of the pandemic, the construction industry saw a loss of over 1 million jobs. With construction starts and put-in-place spending taking a hit, the national industry is experiencing a slowdown. However, as we head into 2021, the forecast looks positive as the industry continues to adapt and move ahead.
Many industries recognize that the pandemic is causing near-term disruption, but believe the same factors that were driving the regional economy before the pandemic will still be in place once the dust settles. Looking ahead, industries such as retail, office and restaurants, are focusing on both the mid- and long-term future.
While the long-term impacts are still becoming clear, the construction industry is adapting to the continuous, sweeping changes stemming from the pandemic and looking at new ways to counsel clients across different asset types by identifying innovative solutions that reflect the new reality of the world and provide the opportunity to resume and sustain operations in a post-pandemic world.