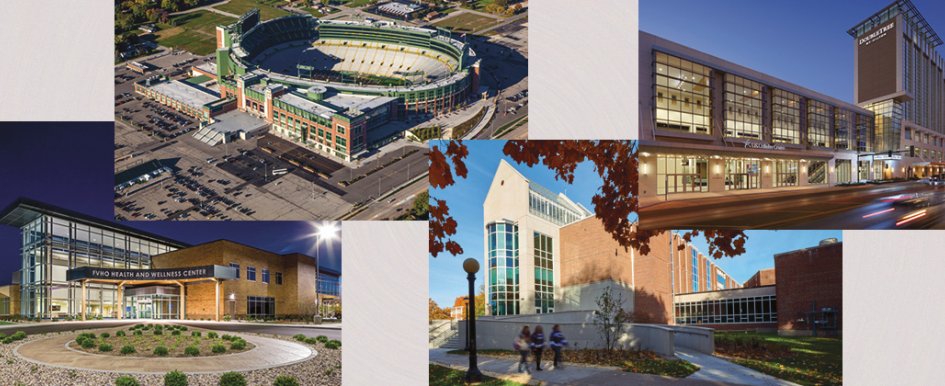 Wisconsin-based construction company leads the industry in green building
General contractor, Miron Construction Co. Inc., integrates a focus on sustainability and quality into all of its projects. But at the heart of the company, relationships with its customers and design-build partners are where it credits its success. Patrick G. Miron founded the company in 1918. and began as a masonry contractor, but diversified projects as it grew. Today, the Neenah, Wisconsin-based general contractor specializes in preconstruction services, construction management, industrial services and general construction. In 2014, the company reported $654 million in revenue. "We tend to go where our 
clients ask us to go," said Theresa Lehman, LEED fellow and director of sustainable services at Miron. "We don't actively pursue work all over the country—we focus on the relationships we have established with our clients and our design-build partners."
And that philosophy seems to be working. The company currently has over $530 million in its project backlog. The current skilled labor shortage is not something that Miron has been able to avoid, though. According to Lehman, the company approaches a need for skilled workers in the same way it approaches its projects, with a focus on building relationships. That means paying attention to employee engagement and providing incentives for current employees to stay. Miron has 
approximately 1,200 employees, with about 200 in the office, 150 superintendents and the rest skilled laborers. In 2007, Miron made a corporate decision to not only focus on construction work, but also offer services that would fill the gap between what its design-build partners offered and when it came time to build. The effort was led by Tim Kippenhan, Miron's vice president and COO, and Corey Brumbaugh, Miron's vice president of business development. During this process, the company focused on developing its six corporate drivers. Miron's 
current six drivers are listed below.
Create relationships.
Fulfill dreams.
Promote innovation.
Develop solutions.
Integrate sustainability.
Serve the community.
In 2008, Miron completed renovation on its existing office and added an expansion to the corporate headquarters. The 112,000-square-foot building is now LEED gold certified and serves as an example of the work Miron can accomplish. "It was my goal to incorporate LEED requirements into the building to serve as a live teaching tool," Lehman said. "We have about 90 category symbol callouts throughout the office, so we can literally point out sustainable 
features in the building."
On the jobsite, the company uses the LEED green building system as a roadmap for its projects. "The LEED rating system is used as a guide to help us integrate [green] strategies throughout construction," Lehman said. "Our true goal is to sit down with clients as a full team and figure out what they want out of the process overall."
For example, for a client interested in enhancing the indoor environmental quality to enhance human health and well-being, Lehman said the company would focus on factors that impact temperature, humidity and lighting. They would also bring in respective subcontractors, such as heating and electrical, for this planning stage to get other professional input.
Because the company is clear about its goals, Miron's workforce is fully on board, too, Lehman said. "We have a waste 
management program and recycle leftover materials, because keeping a clean, well-organized jobsite creates a safer 
environment for the workers," Lehman said. "We also implement an indoor air 
quality management program to ensure a safe, well-ventilated working environment."
Miron boasts a diversified portfolio of projects. Miron is one of the nation's largest biofuel facility builders—by which, it takes food waste products and uses the byproduct to create energy. The general contractor is involved in a variety of different projects—from paper and manufacturing facilities to schools and universities. Miron Construction is also currently the largest K-12 builder in Wisconsin. Currently, the company is working on a project worth more than $300 million for the University of Iowa. All of the buildings involved are mandated to achieve the LEED 
silver category.
"Sustainability doesn't have to be more expensive if it is delivered correctly," Lehman said. The company, which has won several awards for green building and general contracting, is also the "Official Provider of Construction Services for the Green Bay Packers and Lambeau Field." Sectors in which Miron has recently won projects include industrial, healthcare, food processing and educational markets.
Miron Construction Best Practices
Understand your client's goals, objectives and project drivers.
Work together as an integrated project team to achieve those drivers.
Focus on building relationships.